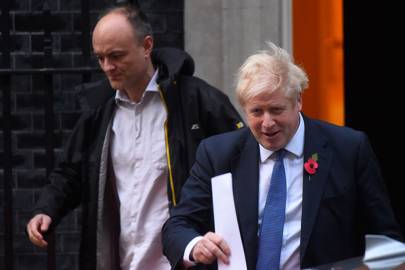 Someone is out to cause trouble at Westminster, of that there is no doubt. Over the past few weeks, there have been numerous leaks of conversations over the planned refurbishment at No 11 Downing Street, former Prime Minister David Cameron's lobbying of Chancellor Rishi Sunak on behalf of Greensill, and now revelations over current PM Boris Johnson's agreement to help Sir James Dyson sort his tax issues. Now, the finger is being pointed at Johnson's former right-hand man and close advisor, Dominic Cummings, who left in rather bitter circumstances at the end of 2020.
A source close to No 10 spoke to The Times last night, claiming: 'Dominic is engaged in systematic leaking. We are disappointed about that. We are concerned about messages from private WhatsApp groups which had very limited circulation.
'The prime minister is saddened about what Dom is doing. It's undermining the government and the party. It might be that Dominic feels bitter about what's happened since he left — but it's a great shame. Dyson was trying to do something for the good of the country.'
The latest scandal erupted earlier this week after it emerged that Sir James Dyson, a Tory donor, had approached Mr Johnson directly to ask for help 'fixing' a tax issue for his employees, following his agreement to manufacture ventilators during the first wave of the coronavirus pandemic last year.
The billionaire wanted assurances that the tax status of his employees would not be changed if they returned to the UK to work on the project, as the Dyson headquarters are now based in Singapore. Johnson replied to his enquiries saying: 'I am First Lord of the Treasury and you can take it that we are backing you to do what you need.'
Two weeks after the exchange, Chancellor Rishi Sunak confirmed to a group of MPs that the tax status of people coming to the UK to provide specific help during the pandemic would not be changed.
In many ways, Cummings is an easy target for Johnson et al to accuse. Once hailed as Johnson's closest ally, he fell spectacularly from grace after he was caught breaking lockdown rules last spring, when he drove his family from his home in London to Durham to stay with his parents, while he was confirmed to have had coronavirus. An ensuing drive to Barnard Castle to 'test his eyesight' only deepened the scandal.
After seemingly weathering that storm, it was the arrival of Allegra Stratton at No 10 in the autumn as a new spokesperson for the PM (she's since been moved to work on the COP26 climate change summit) that seemed to see the tide turning against Cummings and his Brexiteer ally, Lee Banks, as both men left shortly after her hiring. At the time, many speculated that the PM's fiancée, Carrie Symonds, was behind his departure, yet Cummings had reportedly always said he would leave at the end of the year.
Subscribe now for a trial offer of 3 issues for £1 plus free digital editions and home delivery.
More from Tatler
In order to see this embed, you must give consent to Social Media cookies. Open my cookie preferences.