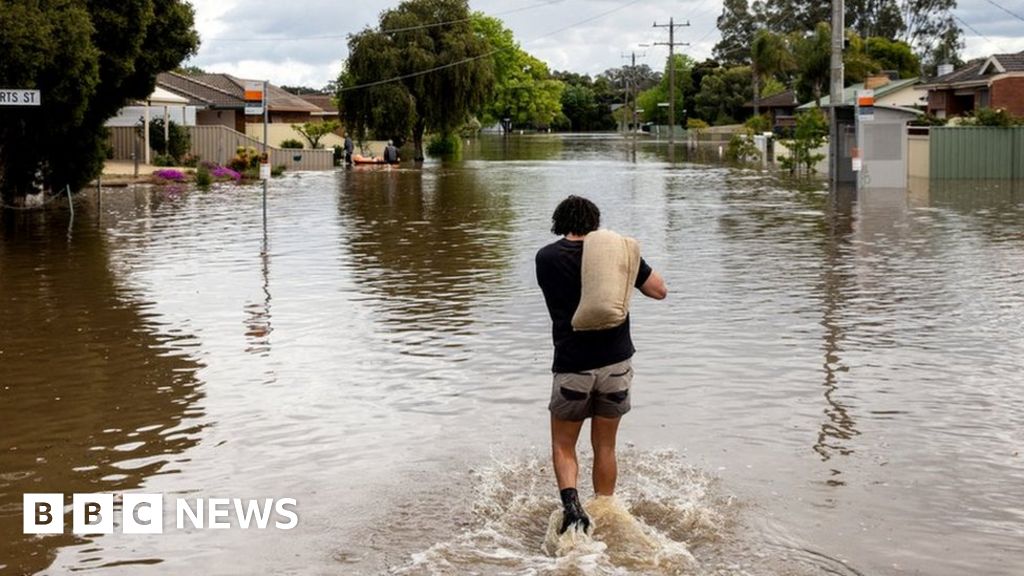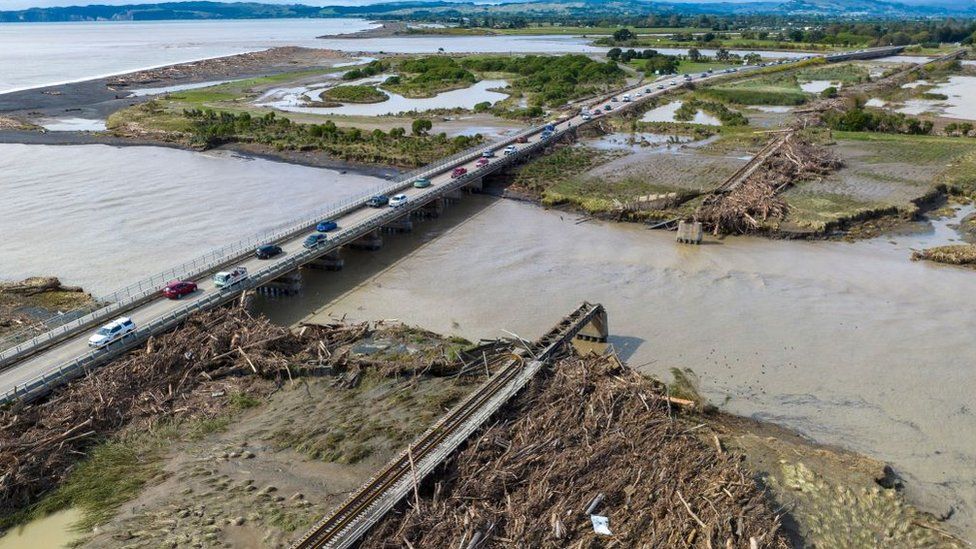 Last month, Cyclone Gabrielle smashed into New Zealand's North Island – killing 11 people and displacing at least 10,000 more. It's triggered a national debate about climate change and whether vulnerable homes should be rebuilt or written off.
"I don't want to go back there," said Amy Bowkett.
The mother of two lived in the Hawkes Bay area, one of the regions worst hit by Cyclone Gabrielle. When the Category 3 storm hit with wind speeds of up to 159km/h (99mph), her home was completely destroyed.
Along with 50 of her neighbours she spent a terrifying 48 hours trapped without power, water or phone signal.  
Eventually she was able to make a call and a friend organised a helicopter rescue from a neighbour's backyard.    
"I feel like if we get flooded a third time, it would be our fault," she told the BBC from her mother's home in the nearby city of Napier. "Unless we put our house on stilts, I'd be terrified every time it rained."
She's not alone in fearing to return. Many of the victims of New Zealand's recent floods lost all of their possessions in the disaster and believe the area their homes are built on has become too dangerous for them to go back.  
The damage caused by the cyclone is forecast to cost NZD$13.5bn ($8.4bn; £6.9bn), similar to the financial impact of the Christchurch earthquake in 2011 – the costliest natural disaster in New Zealand's history.  Last month's event prompted a nationwide state of emergency that only ended on Tuesday.
Cyclone Gabrielle also struck within weeks of unprecedented flooding in New Zealand's biggest city, Auckland, when an entire summer's worth of rain fell in a single day.
New Zealand's climate change minister, James Shaw, attributed the scale of the disaster to climate change, exacerbated by global temperature increases.
"There will be people who say it's too soon to talk about these things… but we are standing in it right now. This is a climate change-related event," he said in a speech to parliament last month.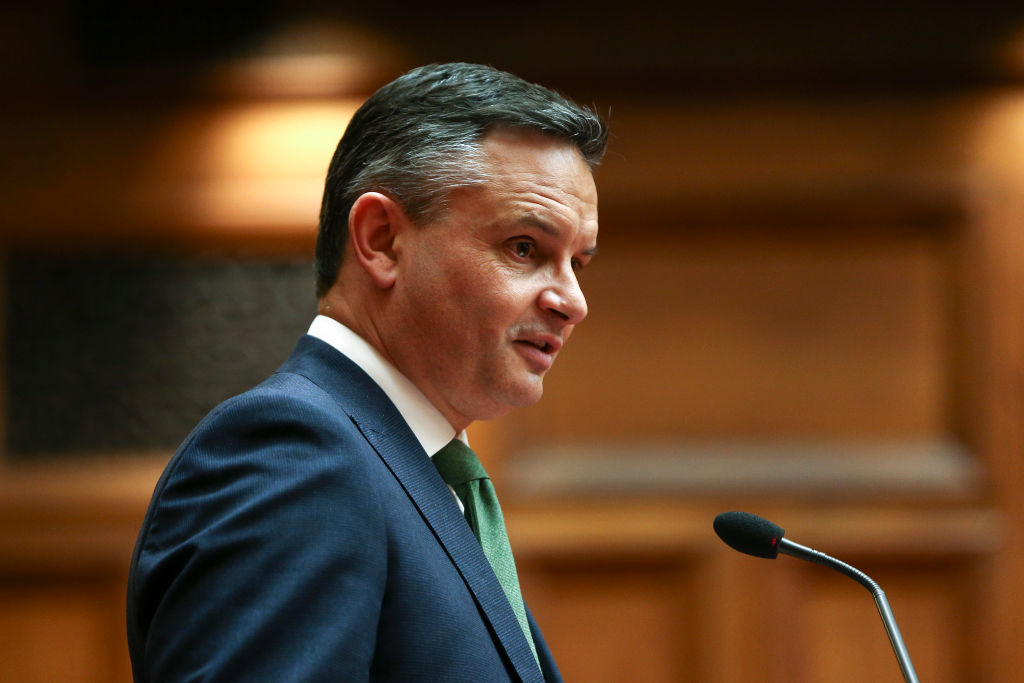 Getty
We're standing in it right now… This is a climate change-related event
Speaking to the BBC, Mr Shaw said that while many homeowners have taken out a "total replacement" insurance policy, which compensates them if their house is destroyed or made uninhabitable, it only covers the cost of the property – not the value of the land it's built on.
This means people feel "they have to rebuild on the current land and of course, they're really frightened", he added.
The country is likely to experience more extreme rainfall events and regional cyclones are likely to become more frequent by 2100, according to New Zealand's National Institute of Water and Atmospheric Research. During warm months days are already hotter, drier and windier, increasing the risk of bushfires.
Some 55,000 homes in Auckland are prone to flooding, according to government data. Another 76,000 homes across the country are in coastal areas, vulnerable to erosion and sea level rise.
"[When] people are sleeping with lifejackets by the door, you know it's bad," said displaced West Auckland resident Morgan Allen. "The anxiety has reached peak levels."
Alongside a group of dozens of Auckland flood victims, Morgan has launched a campaign calling on the government to buy out their homes and turn the high-risk areas into parks or nature reserves. The audio engineer says some of his neighbours spent a year rebuilding their homes only to lose everything again in January.  
Morgan blames climate change for recent events, but also tightly packed housing developments – where rows of homes have been built on concrete, replacing single homes on grass areas.
"Our city has lost a huge amount of capacity to sponge up all of this water." He said this had increased the flood risk for homes built near valleys and wetlands.
Consequently, in the days after the cyclone and the Auckland floods, the government announced a NZD$300m ($185m) package for affected regions.
It also introduced new Severe Weather Emergency legislation, designed to help rural landowners fix their properties and rebuild, without the usual red tape.
The impact for the food-growing regions of New Zealand has also been significant. In just one sector, half of the Kumara crop, a type of sweet potato found in New Zealand, was wiped out.
Just down the road from Amy Bowkett in the small rural community of Puketapu were two orchards owned by Brydon Nisbet, blooming with apple trees ready to harvest.
When the cyclone hit, the infrastructure designed to stop the main rivers from flooding collapsed, completely burying his orchard in mud and potentially toxic silt.
"It was just a disaster zone and pretty shocking really," said Brydon, who couldn't reach his property until three days after the disaster. "Everything was ruined. The water went up around three to four metres in the house."
Brydon, who represents fruit growers in Hawkes Bay, estimates up to half of the region's fruit orchards have been hit, some of them totally wiped out. Farmers are desperate to salvage what they can.
"We're all pretty resilient. I've still had plenty of cries and hugs with my wife and different people. But we need to remain positive and have hope.
"When we made the decision to try and save this orchard, that actually brought hope," he said.
"We thought, we want these trees to bloom again, we don't want them to die."
Related Topics