SINGAPORE: After a decade of endless upward growth, the parent company of Facebook, Instagram and WhatsApp reported its first quarterly revenue drop on Wednesday (Jul 27).
Meta Platforms' total revenue fell 1 per cent to US$28.8 billion in the second quarter ending on Jun 30, from US$29.1 billion last year.
One per cent might not sound like much but this is its first such slip since the firm formerly known as just Facebook went public in 2012.
Meta expects growth in the third quarter to dip even more, and on Wednesday it also reported a 36 percent drop in profit to US$6.7 billion.
What does this mean for everyone and their uncles' favourite social media apps? Is it the beginning of the end of Mark Zuckerberg's plans for world domination?
Meta only owns the world's biggest social media sites. What's to worry?
Like many other companies, Meta is facing economic headwinds as sales in foreign currencies amount to less in dollar terms, Reuters reported.
Meta's total revenue consists almost entirely of ad sales, and recession fears are forcing advertisers to cut back on marketing budgets.
On top of that, Apple's new privacy controls rolled out last year have limited advertisers from tracking iPhone users and reduced the scope for ad personalisation.
And then there is TikTok, the vastly popular Chinese-owned short-video app which is increasingly threatening Meta's primacy and share of users' time.
In an attempt to compete with – imitate? – TikTok, the Silicon Valley giant this year rolled out sweeping redesigns of its key platforms. 
What's this about making Instagram Instagram again?
Noticing more short videos or Reels on Facebook and Instagram these days?
That's Meta increasingly inserting them into your feeds, to match the format which TikTok runs on which is especially popular with younger folks.
The firm has also revamped both Facebook and Instagram to prioritise algorithmic "discovery" and recommendations of new content, instead of posts from accounts which users follow. 
On Instagram – which has announced plans for a more "immersive" TikTok-style layout that fills the entire screen – users have been especially frustrated by a newfound difficulty in finding content posted by friends, family and creators they follow. 
Two of Instagram's biggest users, celebrities Kim Kardashian and Kylie Jenner, on Monday shared a viral post calling on the company to "Make Instagram Instagram Again".
"Stop trying to be TikTok I just want to see cute photos of my friends," it said.
Instagram chief Adam Mosseri on Tuesday tried to address the complaints by insisting that the platform will continue to support photos as part of its "heritage".
"That said I need to be honest, I do believe that more and more of Instagram is gonna become video over time," he added, in a video that attracted thousands of negative comments.
Despite the growing fallout Zuckerberg does not appear to be swayed.
He told employees last month that Reels, while generating more than US$1 billion annually in revenue, was "still only around 15 per cent of the size of TikTok."
The Meta chief also told investors that about 15 per cent of content on Facebook and Instagram is currently recommended by artificial intelligence from accounts users do not actively follow, and that this percentage would double by the end of 2023.
So are there fewer people on Facebook now?
It's a mixed picture.
Monthly active users on Meta's flagship network Facebook fell about two million and came in slightly under analysts' expectations at 2.93 billion in the second quarter.
But daily active users defied predictions of a drop and increased to 1.97 billion, reversing a first-ever decline – of around 1 million daily active users – reported earlier this year.
Is the Metaverse still happening?
Meta is betting heavily on its vision of an interactive virtual world as the future of the Internet. 
Its Reality Labs unit, which is leading this Metaverse project, reported sales of US$452 million, down from US$695 million in the first quarter, after reporting a loss of US$10 billion last year.
US regulators also announced this week they would try to block Meta's acquisition of a VR fitness app maker, citing "reasonable probability of eliminating both present and future competition".
Meta says it's still on track to release a mixed-reality headset called Project Cambria later this year.
But for now, at least, the Metaverse part of Meta's business remains "largely theoretical", as reported by Reuters.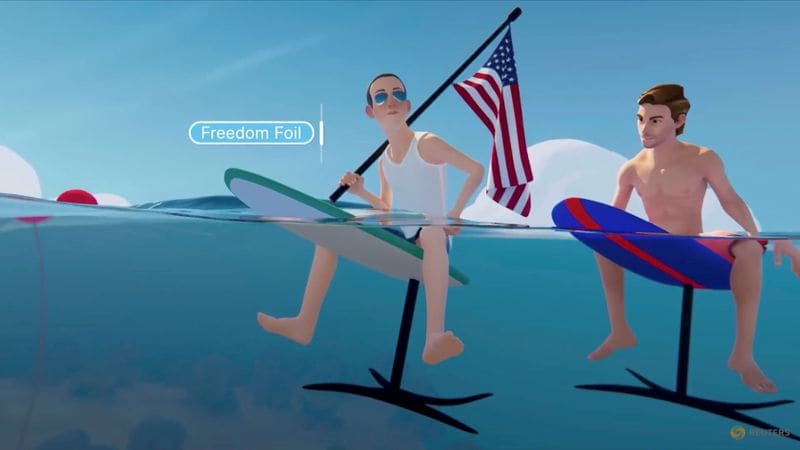 How are the rest of Big Tech doing?
Analyst Debra Aho Williamson told AFP that while Meta's year-over-year drop in quarterly revenue signifies just how quickly its business has deteriorated, "the good news… is that its competitors in digital advertising are also experiencing a slowdown".
Social media players appear to have been impacted more severely than search firms as ad buyers reel in spending.
The world's largest digital ad platform Alphabet reported a rise in quarterly avenue on Tuesday, with sales from its biggest moneymaker, Google Search, topping investor expectations.
However Alphabet-owned YouTube posted its second difficult quarter in a row, with quarterly ad sales growing at the slowest pace. 
Snapchat parent company Snap and Twitter both missed sales expectations last week, and warned of an ad market slowdown in coming quarters.
After bleak results wiped some 30 percent off its stock price, Snap also announced plans last week to "substantially" slow recruitment, mirroring Meta's move to reduce the number of engineers it hires this year.
Zuckerberg had told employees then that the company was "turning up the heat" to weed out staffers unable to meet more aggressive goals.
One expects the pressure dial to be cranked further: After Meta reported its historic revenue dip this week, Zuckerberg said: "This is a period that demands more intensity, and I expect us to get more done with fewer resources."
Source: CNA/Agencies/lk(jo)