By Michael Edwards on Feb 27, 2023 in Belize, Caribbean, Cayman Islands, Central America, Cruises & Boat Travel, Featured, Mexico, North America, Regions, Speciality Travel
For most guests it seemed only hours since Celebrity Apex had sailed from Fort Lauderdale. First we had docked at Key West for an introduction to one of the USA's wackiest cities. Then, we had cruised west across the Caribbean.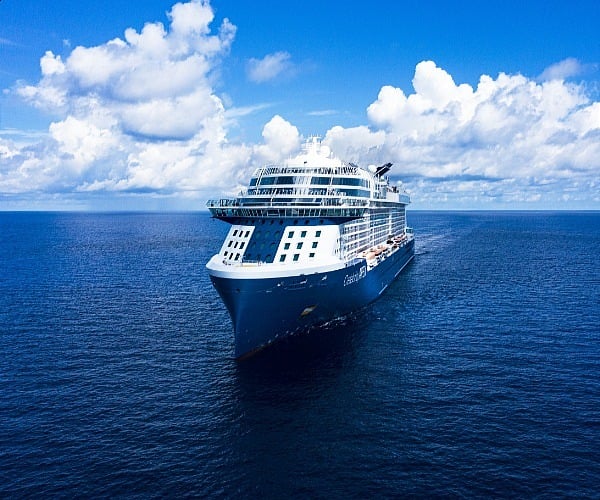 That gave us a day at sea when more than 60 activities were on offer as well as all the regular allure of the casino, gym, shops and spa.
Belize
Already it was Day 4 and we were moored off Belize, tempted by a vast choice of excursions. Including the chance to visit ruins of the once all-powerful Mayan empire that ruled much of Central America.
The tenders departed early taking adventurers to a crystal cave tubing and lagoon excursion. Also, Belize's intensely luxuriant jungles challenged guests to zip-line high above the canopy. Another option was driving an Alternative Terrain Vehicle at Jaguar Paw Outpost.
A tour of Belize City reveals the small country's colonial past. Once British Honduras and now a Commonwealth member, Belize has the British Monarch's head on its dollars. The tour stops at a distillery to taste Belize's rum or the blackberry and cashew wine. Or both.
An Old River expedition, looks out for manatees, dolphins, crocodiles, iguanas, and many species of aquatic birds.
Cozumel
This 30 mile by 10 mile paradise island, sitting a dozen miles off Mexico's Mayan coast, has plenty to keep Celebrity guests occupied for the day.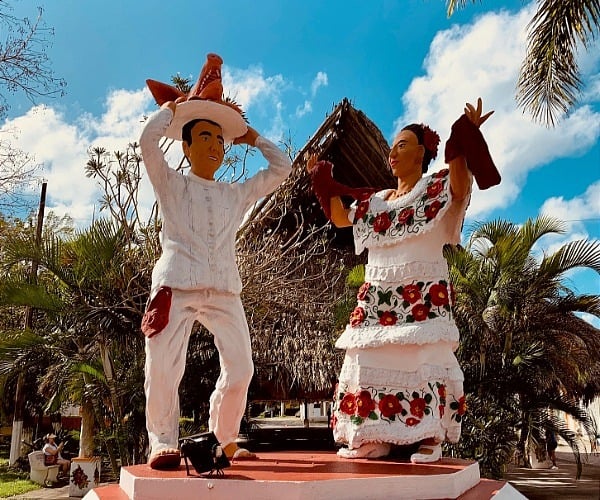 They can snorkel with stingrays, off-road through the jungle, swim the natural cenotes of the Jade Caverns, indulge in chocolate making or tequila tasting.
Cozumel's fame grew after underwater explorer Jacques Cousteau shared his experiences with the world. Cruisers can visit Cousteau's world by booking a place on the Ocean View Explorer and heading below deck to an underwater viewing area
for 360 degree views of coral and se-life on Paradise Reef.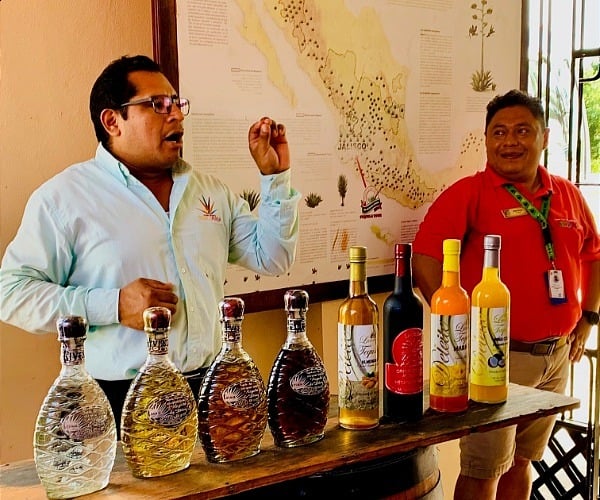 Tasting tequila on Cozumel reveals a fake tradition. Salt crusted glasses and lime juice served with "ter-kill-yer" firewater shots is actually a recent tradition, adopted to mask ethanol burns. Drinking aged artisanal tequila is altogether a smoother experience, especially when almonds are added into the mix.
Another excursion, a tour of Cozumel, translating as the land of the swallows, stops at a beach club for a leisurely lunch and the chance to swim in the warm azure seas of the Caribbean.
Grand Cayman
The panoramic tour of the island of Grand Cayman stops at the site which commemorates the Ten Sail Wreck of 1794.
Sailing from Jamaica for the USA, a storm blow ten ships on to the rocks at East End Grand Cayman. Although the wood of the ships is long perished, the event ultimately changed Grand Cayman's destiny.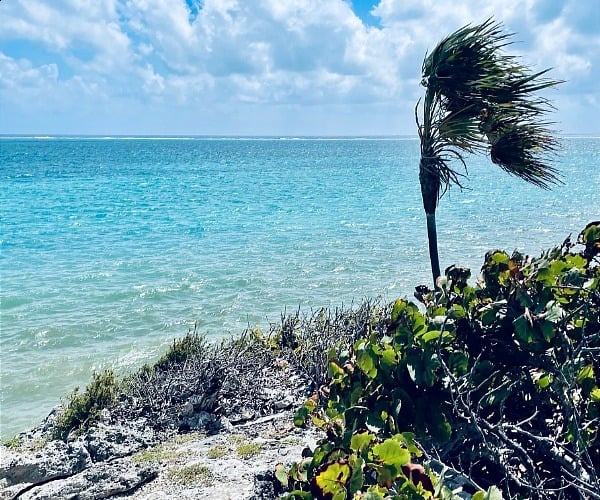 Back in 1794, in gratitude for the rescue of his son from the wreck, King George lll granted tax exemption to the island. Remembering this in the 1970s, the Grand Cayman government decided to develop its status as a tax haven. Capital Georgetown now hosts branches from 280 banks.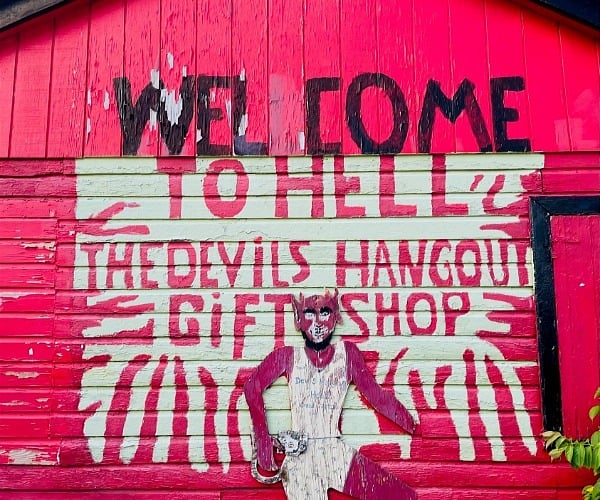 Yet Stingray City is probably Grand Cayman's most famous attraction, alongside the lure of Seven Mile Beach. More eccentrically, Grand Cayman also hosts Hell, a barren terrain of jagged rocks celebrated by a wacky shop selling Hell souvenirs.
---
IMPORTANT NOTICE:
If you are reading this article anywhere other than on A Luxury Travel Blog, then the chances are that this content has been stolen without permission.
Please make a note of the web address above and contact A Luxury Travel Blog to advise them of this issue.
Thank you for your help in combatting content theft.
---
A day at sea
As the ship sails east, passing south of Cuba, a day at sea gives cruisers another opportunity to relax, rest and recharge.
In the shops there is the Captain's Clearance event whilst the Grand Finale Art Auction is scheduled for noon. After art seminars throughout the week, potential buyers have a little more wisdom as they make their bids.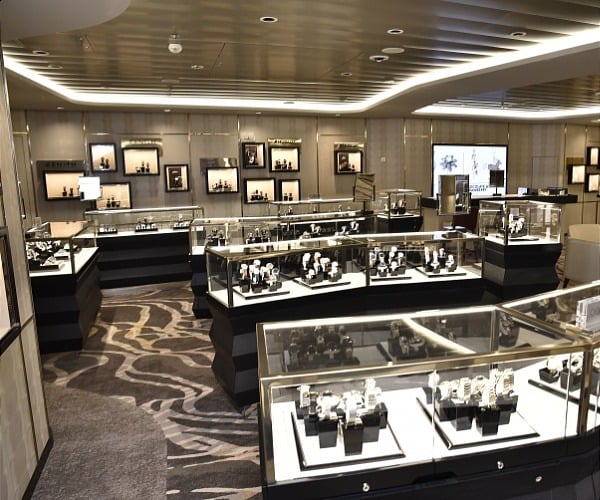 There are more opportunities to acquire wisdom with a Burn Fat Faster session in the F45 Studio and a chance to meet Dr Siu, a face and skin expert.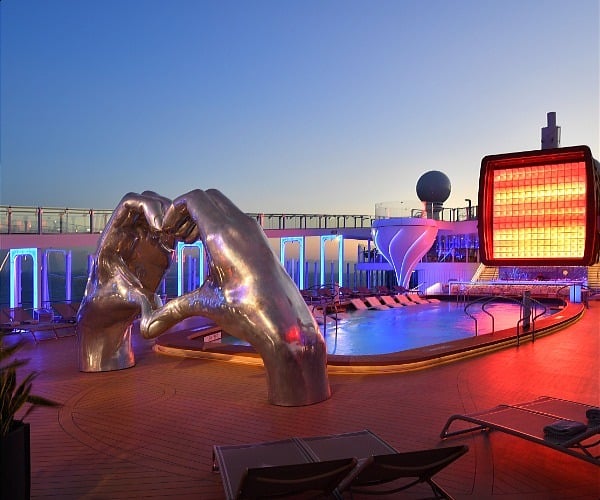 As ever it's a busy day on the Resort Deck.  At the pool there is officers v guests volleyball and the quarterback challenge.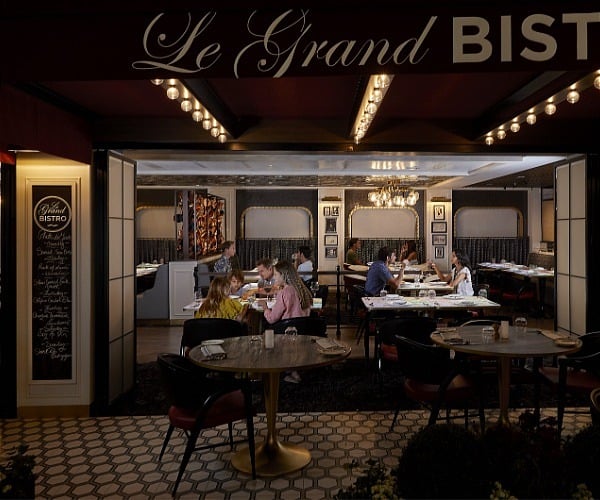 The last dinner is the time to try a new bar or restaurant. Ticking off every one of the 29 bars, cafes and restaurants on a seven night cruise would be some achievement. Many guests book for a speciality restaurant that they are yet to try: Finecut Steakhouse, Le Grand Bistro, Raw on Five or perhaps The Rooftop Grill.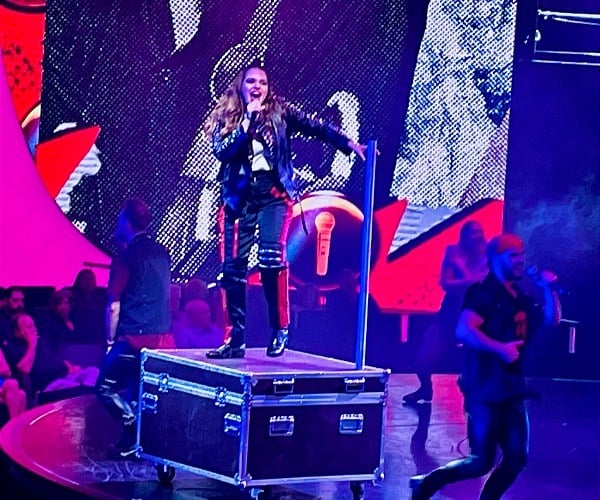 Although it is a busy evening of entertainment in Eden and The Nightclub, the main draw is the two performances of Rockumentary. A wraparound 110 feet wide 17 million pixel screen helps singers and the orchestra tell rock's history through the 60s, 70s and early 1980s.
The cost
Celebrity Apex departs on a 7-night sailing on 25th November from Fort Lauderdale, calling into Key West, Belize and Grand Cayman. With Celebrity's biggest offer of the year, 75% off the second guest, prices start at £1,309 for guest one and £396 for guest two. This is based on two people sharing an oceanview stateroom, and includes $100 per person onboard spending money.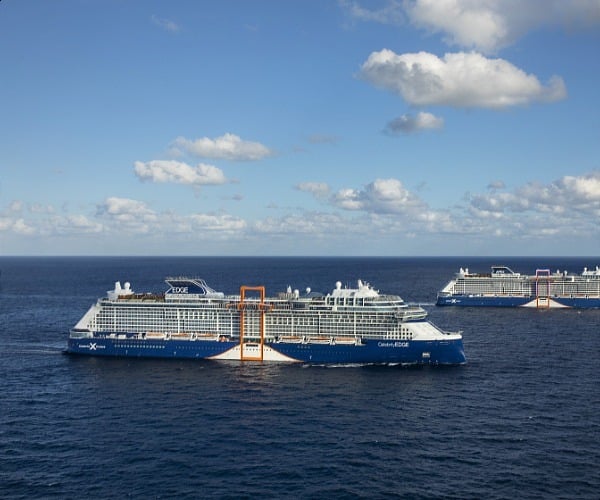 Some guests look to explore European waters and Celebrity Edge, sister ship of Celebrity Apex, departs on 13th May from Rome (Civitavecchia), calling into Corsica, Portofino, La Spezia, Cannes and Palma de Mallorca. Again benefitting from Celebrity's biggest offer of the year with 75% off the second guest, prices start at £1,594 for guest one and £404 for guest two. This is based on two people sharing an inside stateroom, and includes $100 per person onboard spending money. Plus, for an extra £99 per person, flights from London Gatwick can be added (transfers are an additional cost).
The final verdict
On the last day, the five Future Cruises desk are busy as guests book up their next cruise. Celebrity has acquired a reputation for serving up some of the best cruise food on the high seas. This is certainly a big draw for the guests booking up future cruises.
Many of the Americans booking are eager to visit European ports of call, from a Celebrity ship providing luxurious but relaxed cruising.
Disclosure: Our cruise was sponsored by Celebrity Cruises.