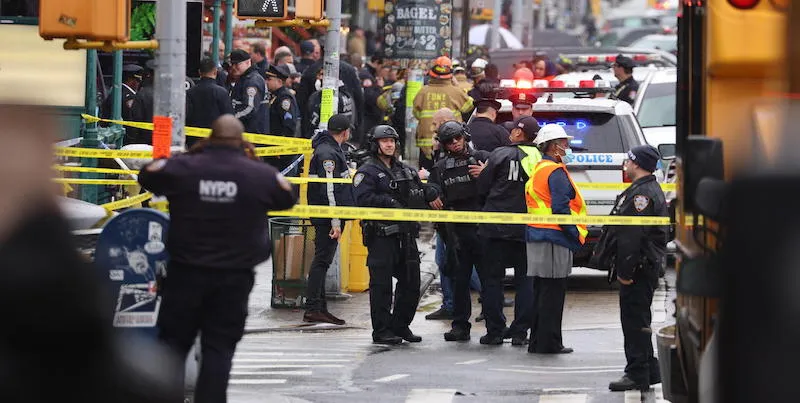 È stato compiuto in una stazione di Brooklyn: sono state ferite 16 persone, di cui 10 per colpi da arma da fuoco
Martedì alle 8.30 locali (le 14.30 italiane) c'è stato un attacco armato nella stazione della metropolitana della 36esima strada a Brooklyn, uno dei distretti di New York. Le autorità cittadine hanno detto che sono state ferite 16 persone, di cui 10 per colpi da arma da fuoco, e cinque sono in gravi condizioni, anche se non sembrano essere a rischio di vita. Non si sa chi ha compiuto l'attacco e sono in corso da ore ricerche da parte della polizia locale: la governatrice dello stato di New York Kathy Mochul ha comunque fatto sapere che al momento le autorità locali non stanno trattando l'attacco come un caso di terrorismo.
Very dramatic video from the incident as the subway arrived at 36th St Sunset Park in Brooklyn. #brooklyn #shooting #nyc pic.twitter.com/5cOdeYPIb1

— Kristoffer Kumm (@Kristofferkumm) April 12, 2022
Secondo le ricostruzioni attuali, un uomo sarebbe entrato in un vagone della metropolitana con un giubbotto da operaio – di quelli che si usano nei cantieri edili – e una maschera antigas: avrebbe poi riempito il vagone di fumo con una bombola e sparato. All'inizio i vigili del fuoco avevano detto di aver trovato nella stazione "dispositivi inesplosi", mentre successivamente un funzionario di polizia ha detto che è stato trovato solo un fumogeno non acceso.
Il sindaco di New York, Eric Adams, ha detto che la ricerca del responsabile è stata ostacolata anche da un malfunzionamento nelle telecamere di sicurezza della stazione della metropolitana in cui è avvenuto l'attacco.
BROOKLYN SUBWAY SHOOTING: A sweeping law enforcement investigation is underway and people are being asked to avoid the areahttps://t.co/drfYxJj73A pic.twitter.com/UxKs62kNL2

— NBC New York (@NBCNewYork) April 12, 2022