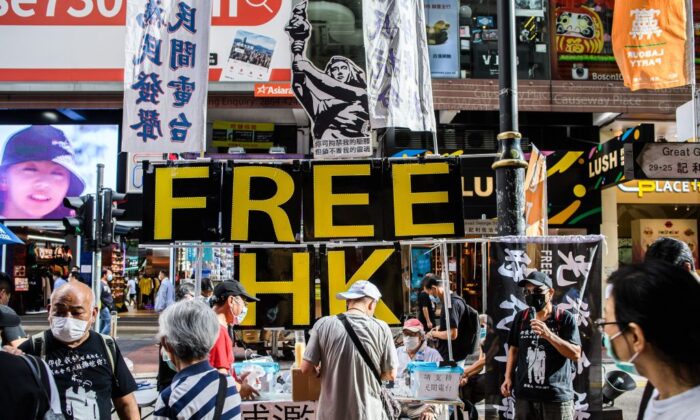 A large display showing the Goddess of Democracy (top C) and lettering that reads 'Free HK' is seen near Victoria Park in Hong Kong on June 4, 2020. (Anthony Wallace /AFP via Getty Images)
A parliamentary committee is urging the government to publicly condemn Beijing's breach of Hong Kong's autonomy and civil rights, calling for co-ordination with allied nations to sanction the Chinese officials responsible.
In a report (pdf) released Feb. 25, the Special Committee on Canada-China Relations calls for support of "universal suffrage" in Hong Kong.
The committee, which includes MPs from all parties, urges the Liberal government to directly challenge the Chinese regime, which has been barring pro-democracy politicians from seeking office.
The report asks the government to consider sanctions under the Justice for Victim of Corrupt Foreign Officials Act (Magnitsky Act) to hold accountable the officials "responsible for or complicit in gross violations of human rights, freedoms and the rule of law in Hong Kong."
Beijing's national security law enacted in June 2020 undermines Hong Kong's autonomy and freedoms, which the regime promised to preserve after the city was handed over from Britain to China in 1997.
The authorities in Hong Kong have conducted sweeping arrests of opposition figures and pro-democracy activists since the national security law was enacted.
The committee's report also suggests scrutinizing the activities of Chinese diplomats in Canada.
"In light of the allegations of threats and intimidation against people in Canada supporting human rights and democracy in Hong Kong, the government of Canada [should] carefully review accredited diplomatic personnel in the People's Republic of China's diplomatic missions to Canada," the report says.
In addition, the committee calls for expanding immigration passages to accept Hong Kong people fleeing Beijing's crackdown.