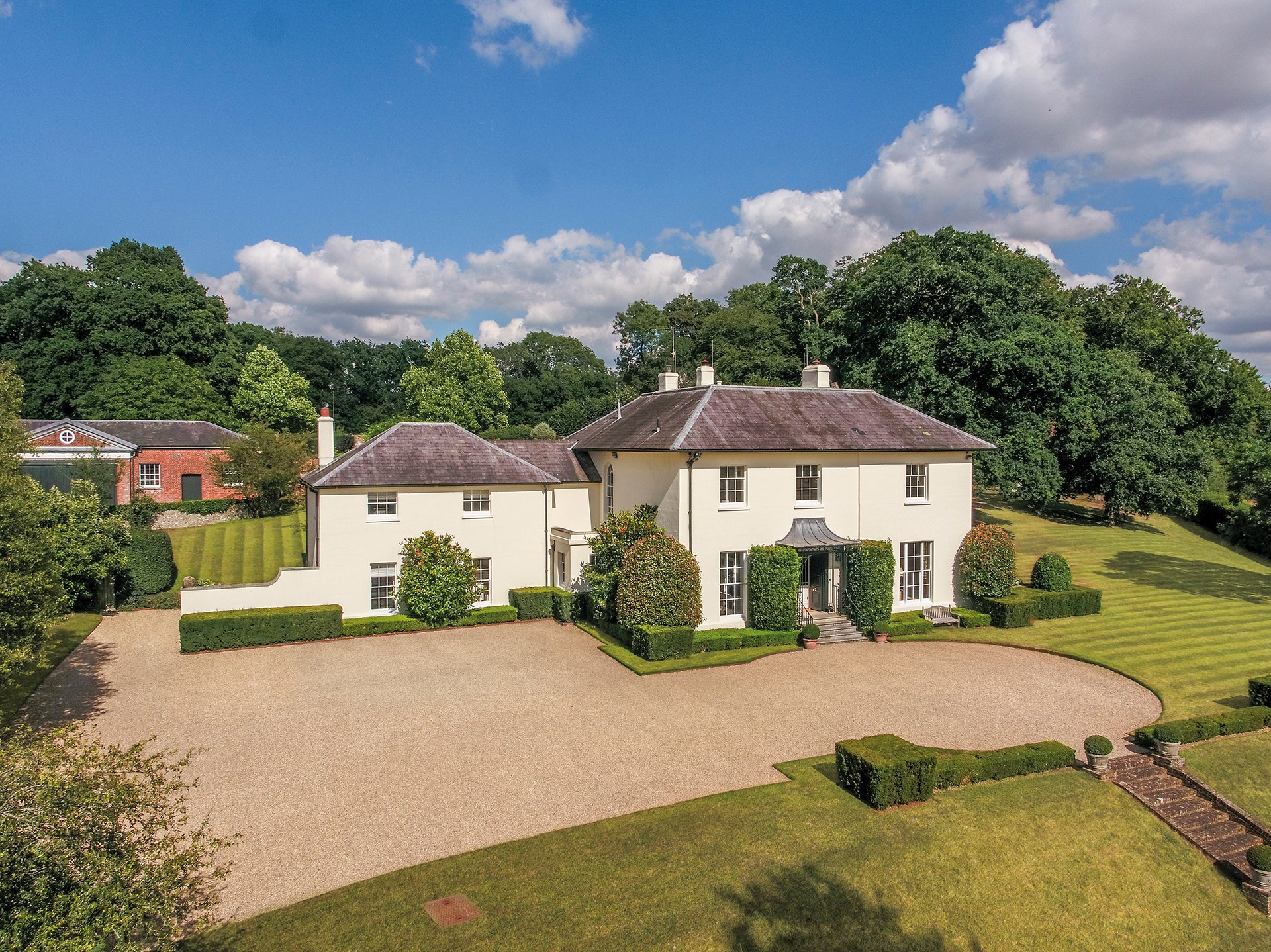 For those who love escaping into a period drama, a rare jewel of a property on the market will be the stuff of dreams come true. Steventon House, in Hampshire, which replaced the house where Jane Austen wrote some of her best-loved works, is now up for sale with a guide price of £8.5 million. 
The magnificent Grade II-listed Georgian house was built in the early 19th century by Jane Austen's older brother, Edward, to replace the home where Jane was born. The author lived in the original Steventon House, which was located within the grounds of the current building, from 1775 until 1801, when Jane's father, a village rector for over 40 years, retired and moved the family to Bath. It was during her 25 years at the rectory that Austen penned some of her most canonical works, including Sense and Sensibility (1811), Pride and Prejudice (1813) and Northanger Abbey (1817). 
The family had lived in the original house thanks to their relative, Thomas Knight of Chawton, with the Reverend George Austen having become Rector of St. Nicholas' through Knight's influence. The Memoir of Jane Austen by her nephew, James Edward Austen-Leigh, relates that their living at Steventon was 'given to him [George Austen] by his cousin Mr. Knight'. 
Thomas Knight was childless and made Edward, George Austen's third son, his legal heir. Knight died in 1794 and left the rectory (passed on after his widow's death) to Edward, who later took on his benefactor's surname. Edward Austen Knight demolished the 16th century building in 1826 and replaced it with the current home. He lived at Steventon House until he sold it to the second Duke of Wellington in 1855. 
It continued to serve as the local rectory until 1930, when the parishes of North Waltham and Steventon became amalgamated. The house is less than a mile from the 13th century parish church of St. Nicholas, which still appears much the same as when Jane Austen frequented it in the 1800s.
Set in 51.64 acres with views across gardens, cherry trees, paddocks, and parkland, the charming Steventon House features white stucco elevations, sash windows and a pretty slate roof. Approached along a tree-lined drive, it has its own gravel parking area, a heated swimming pool, walled garden, kitchen garden, tennis court, rose garden, brick-built coach house and an enchanting two bedroom property, Clover Cottage, within its grounds. 
Inside, the property has been tastefully refurbished, with six elegant bedrooms, four bathrooms and four reception rooms, complete with characterful period features like ornately-carved fireplaces, high ceilings with intricate cornices and hardwood floors. It has also been fitted with luxurious modern amenities, such as bespoke fitted kitchen units, a temperature-controlled wine cellar and an ample dressing room adjoining the master bedroom. 
Ed Sugden, director of Savills country department, says of the property: 'Steventon House was the birthplace of iconic author Jane Austen… While the original house no-longer stands, what is there today is the glorious Georgian vision of her older brother Edward, which is very befitting of the world that Jane wrote about.' He dubs the sale 'the rarest of opportunities to live in one of Hampshire's, if not the UK's most significant country houses.'
Edward Cunningham, of Knight Frank, adds: 'With the beautiful, mature grounds, comprising of cherry trees, wisteria walk and walled garden it is easy to see how Jane Austen's time at the property has been described as the most tranquil period of her life… This property is a rare opportunity to own a slice of history, in touching distance of London.'
For more information visit savills.com.