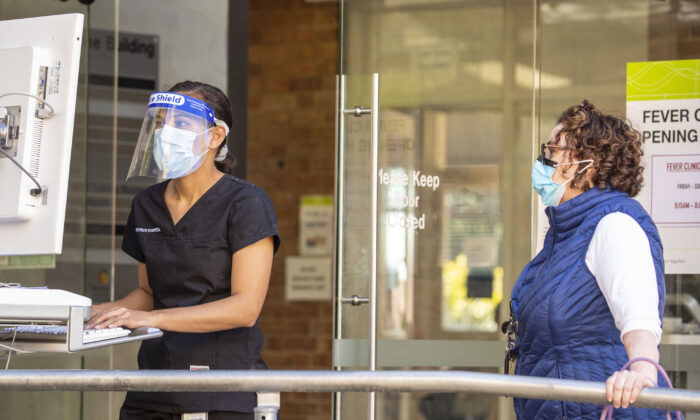 A nurse is seen working at a COVID-19 testing clinic at Ipswich Hospital in Brisbane, Australia on Aug. 24, 2020. (Glenn Hunt/Getty Images)
The Princess Alexandra Hospital in Brisbane, the capital of the Australian state of Queensland, was placed into lockdown on Friday night after a positive case of COVID-19, the disease caused by the CCP virus, was detected in a staff member believed to be a doctor.
Queensland Health said in a statement that the staff member had contact with COVID-19 positive patients in the early hours of Wednesday morning, and was infectious in the community on Thursday.
Test results revealed the staff member has low levels of the virus which means that they may have only been infections for around one day—before being tested on Friday.
Queensland Health did not immediately respond to a request for comment.
MEDIA RELEASE: COVID-19 case identified at PA Hospital

The Princess Alexandra Hospital has been placed into lockdown effective immediately after a positive #COVID19 case was detected today (12 March 2021).

Read more here: https://t.co/zZolu6CEc4 pic.twitter.com/qWk4l3Xeco

— Queensland Health (@qldhealthnews) March 12, 2021
Queensland Health is currently tracing the doctor's movements and any contact they may have had with staff, family, and friends.
The public will be alerted if there is any risk to the broader community.
Meanwhile, all non-essential visits to patients will not be allowed.
"If you must attend PA Hospital, you will be required to wear a mask," the Queensland Health statement said. "The Emergency Department will remain open, but if you're able to receive care at a nearby hospital or at a GP, please do so.
"Staff will wear masks at all times. Patients will be required to wear masks at all times unless it is not clinically appropriate. Non-urgent outpatient bookings and elective surgery will be postponed."
Anyone with symptoms is being advised to get tested immediately and isolate unit they receive a negative result.
The health department will provide an update on Sunday.