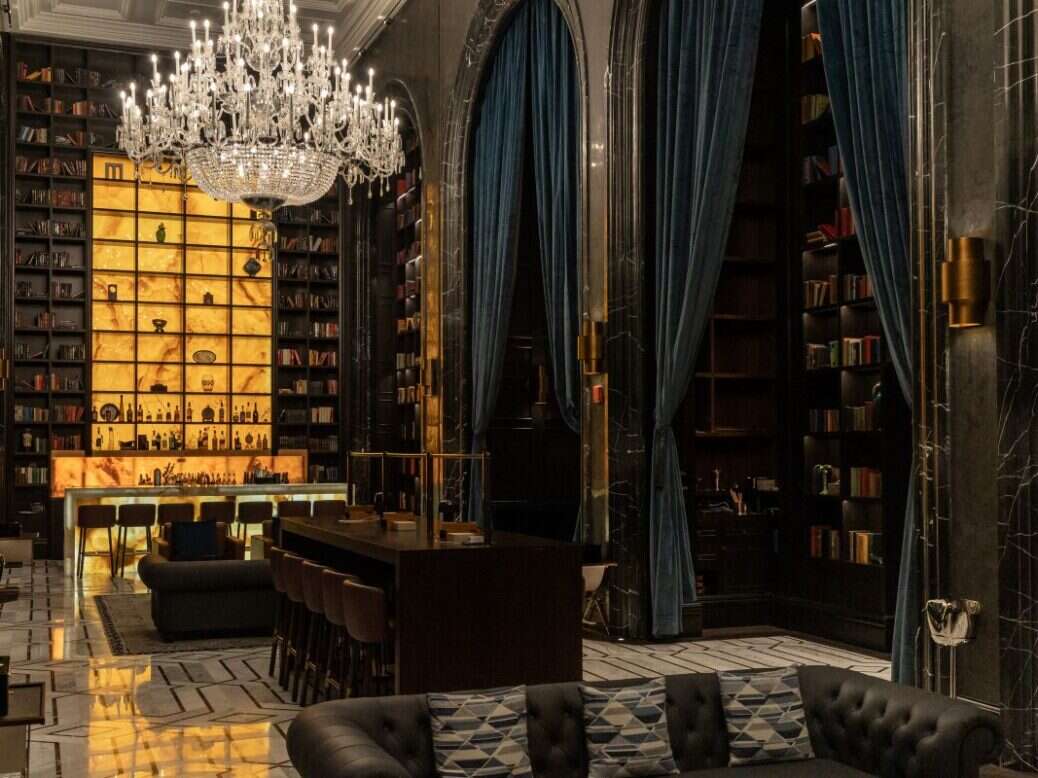 No one does luxury quite like the Middle East. Maybe Louis XIV's pre-Revolution France or Renaissance Florence (with the palazzo-loving Medicis at the helm) could have offered a run for their money; but these days, the GCC countries are clear leaders in over-the-top extravagance. Case in point: the new "six-star" Raffles Doha, which recently opened in Qatar.  
If money talks and wealth whispers, then this hotel screams at the top of its lungs. All 132 keys are suites; no ceiling is a normal height; luminous marble (250,000 sq ft of Bianco Statuario) pours across every imaginable surface; and everywhere you look there's gold, gold, gold. During the 2022 World Cup, this was the hotel of choice for FIFA execs, which says everything you need to know.
However, there is more than just aesthetics at play. Behind the very fancy façade, there's a deeper, meaningful story — especially in Blue Cigar, the hotel's one-of-a-kind cigar lounge, which doubles as a library of rare books (including 200 first editions), making it not only something extraordinary for Doha but for the world.
First, the cigars: Blue Cigar has options from three different countries: Cuba, Nicaragua, and the Dominican Republic.
[See also: Venice Simplon-Orient-Express Heads to the Alps in 2023]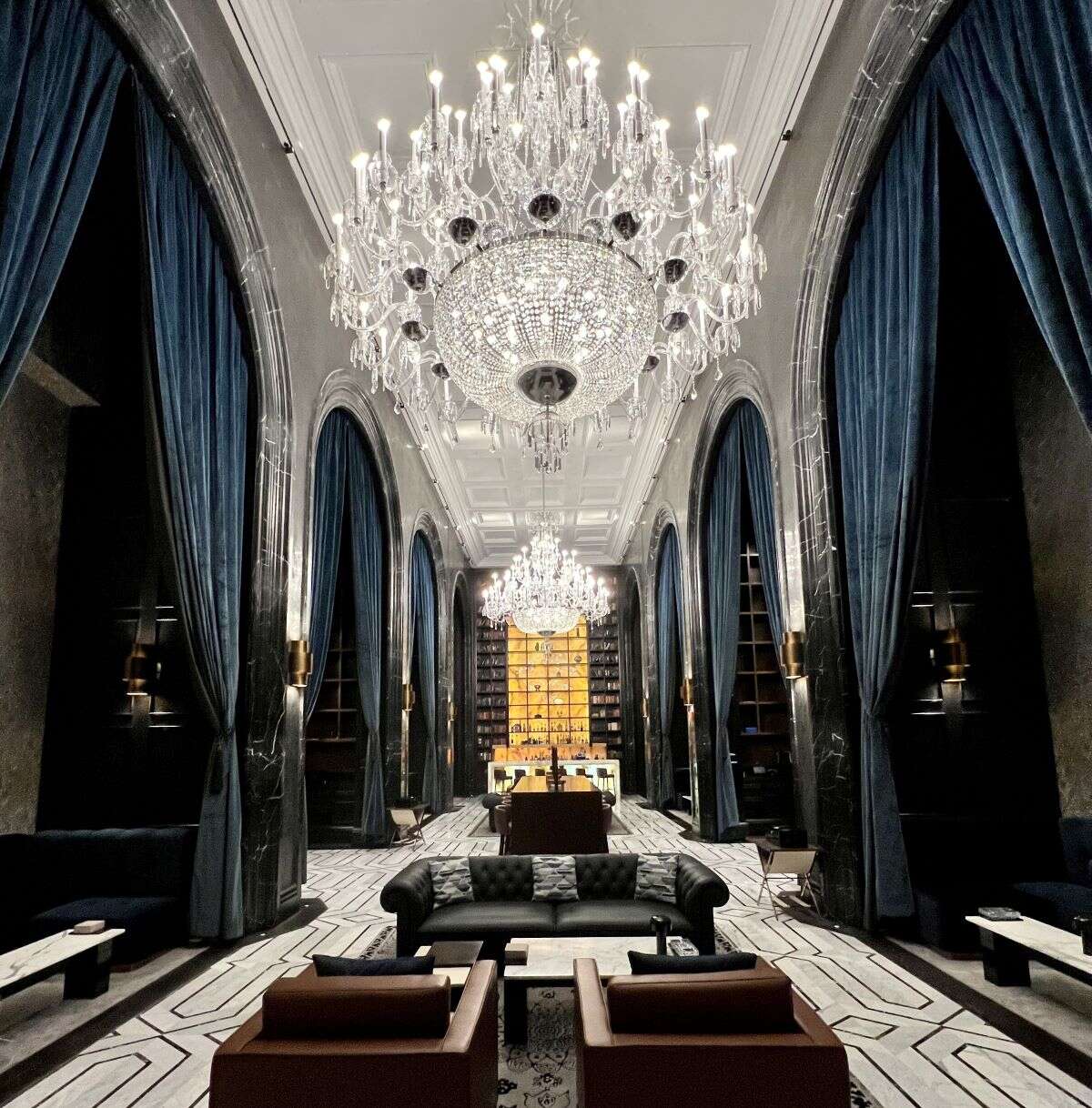 "Middle Eastern aficionados prefer Cuban cigars because they're loyal and traditionists, but they're also open to exploring," says Blue Cigar's cigar sommelier David Alexander Dospassos, bedecked in a debonair uniform (or "wardrobe" as they say at Raffles) of velvet slippers and smoking jacket, designed by British couturier Nicholas Oakwell.
The menu offers 22 lines (the most in Doha), but the real story is the custom cigars. Created just for Blue Cigar by master cigar blender A.G. Molinari (who worked with Cuban President Fidel Castro), three custom lines of cigars will be arriving in the upcoming weeks: A.G. Molinari Don Joses; A.G. Molinari Don Placidos; and A.G. Molinari Big Lucianos—each with unique tastes and different vitolas (shapes).
[See also: The Most Anticipated Hotel Openings of 2023]
"Nowhere else in Doha has custom cigars [and] this is our own exclusive blend," says Dospassos. "These cigars are made with tobacco that has been aged for more than 20 years. They're coming from the Dominican Republic, but we have a blend of different nationalities. The wrapper, for example, is from a blend of Cuban tobacco donated by Fidel Castro to Molinari in 1997."
There will only be a limited number of each line (with the Don Joses and Don Placidos maxing out at 40,000 units each), as all the custom Molinari cigars are made with a capa (wrapper) from the historic Cuban tobacco. "When this is over, it's over—because there's limited tobacco. You can't make more," says Dospassos.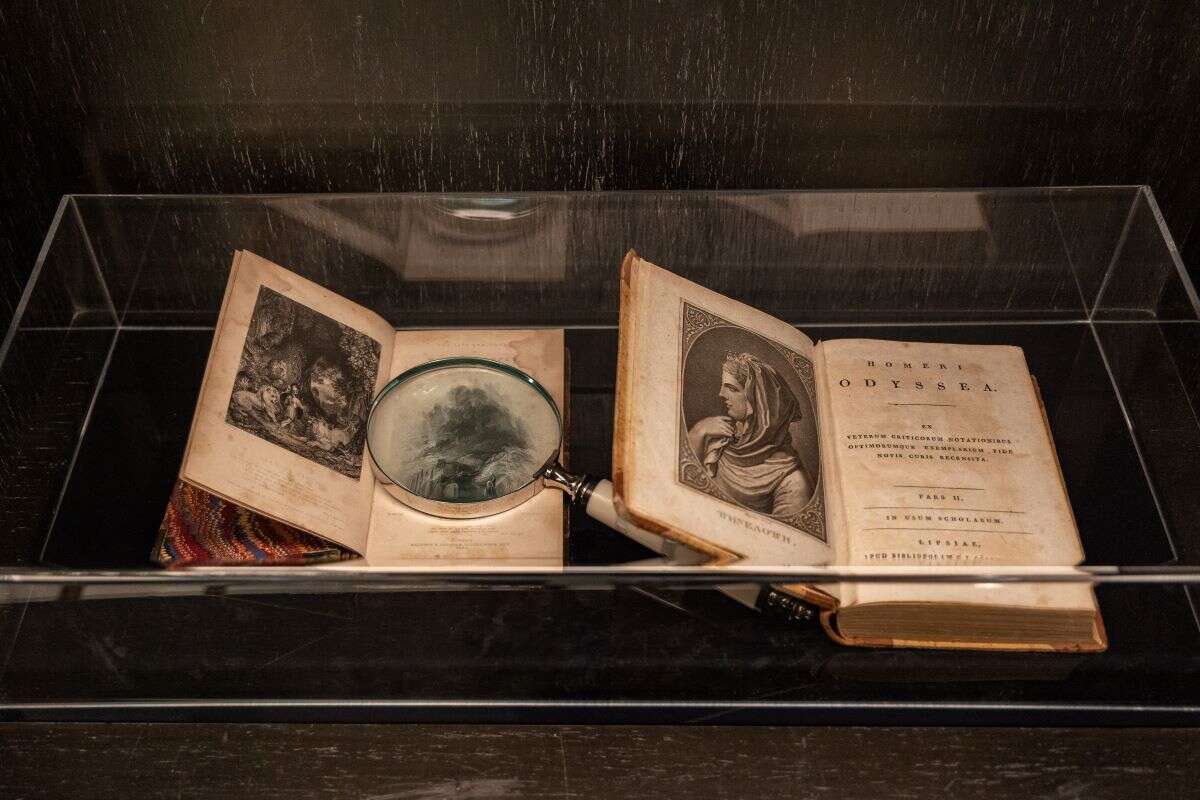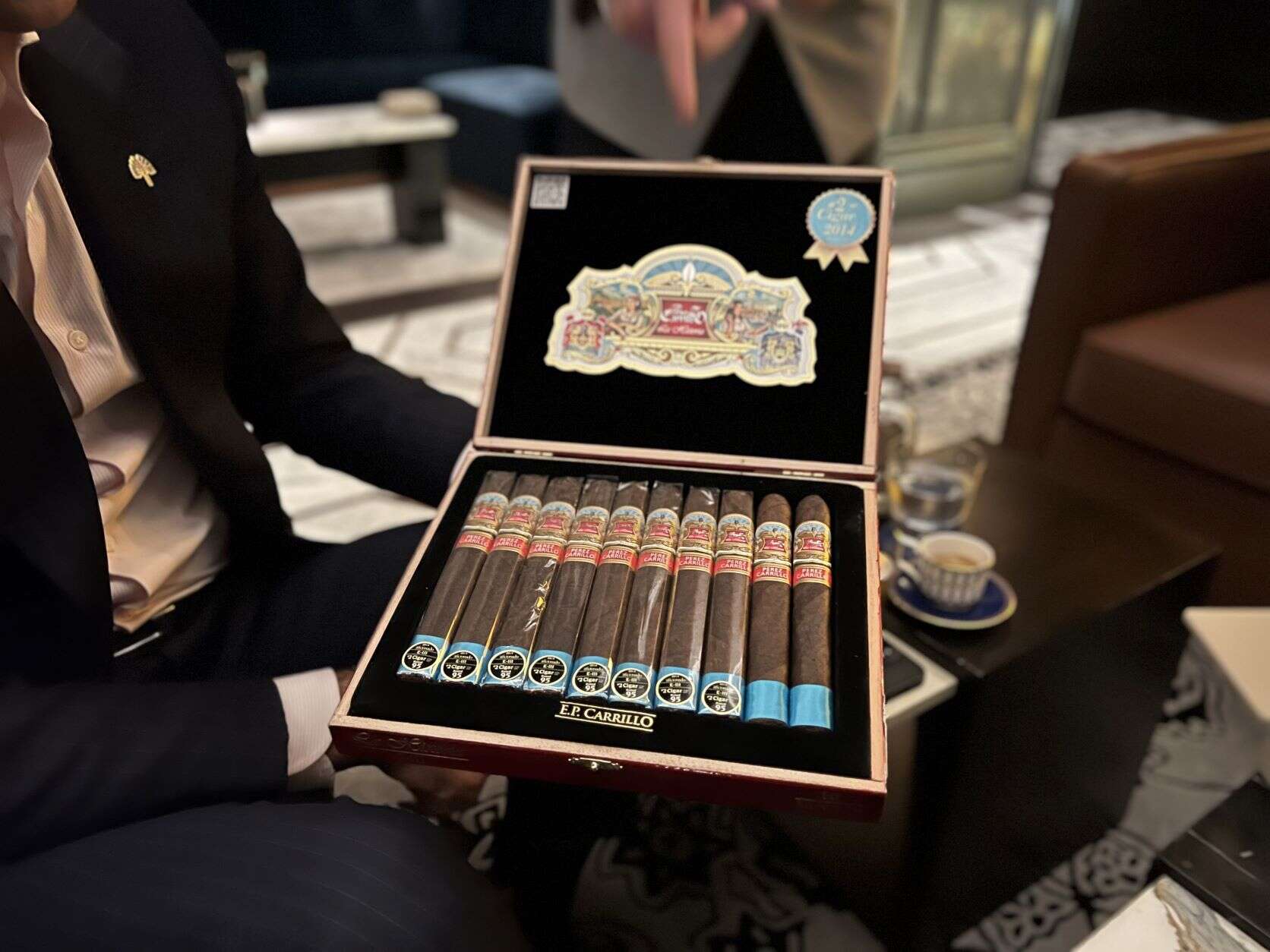 The limited-edition ethos also carries over to the Blue Cigar's sweeping bookshelves, theatrically trimmed in thundercloud-blue curtains and lit by empire crystal chandeliers. "We have 6,500 books from auction and [many] first editions," says Cem Aksahin, Raffles Doha's director of food and beverage, and personal cigar enthusiast (with over 7,000 cigars in his private collection).
"On a daily basis, we have a book-reading ceremony, where we pick one of the books and read one chapter out loud, which you can then match with your cigar and your drink," says Aksahin.
The cocktails (both alcoholic and non-alcoholic varieties) draw identity from the bookshelves. For example, the Captain's Grog — a mix of rum, lychee, banana, lemon, and bitters, served in a pewter mug under a smoke-filled cloche — pays tribute to the library's numbered edition of Moby Dick with a foreword by Jacques Cousteau.
Other rare books include The Iliad and The Odyssey in Latin and Greek from 1707; a 1785 edition of Robinson Crusoe; and a first trade edition of Treasure Island. Excitingly, guests are invited to read and touch the books. Just ask, and any book will be brought to your table with a magnifying glass and white gloves. And if someone spills? "That just becomes part of the story of the book."
Blue Cigar has already developed a local following, no doubt helped along by the selective atmosphere. "In Doha, some of the VIP guests don't like to be seen," says Aksahin, as he reaches for a door hidden within one of the bookcases. The door leads to a secret room, stocked with more rare books — but here, in a playful wink, they are all spy novels and detective books.
Rare tomes. Bespoke smokes. Secret chambers. This is just the beginning for Blue Cigar. There are plans in play to bring in a torcedor (cigar roller) from Cuba, to craft cigars in front of lounge guests for added theatricality; a cigar delivery service — where the cigar sommelier travels to offices and private majlis (sitting rooms), to recreate the Blue Cigar experience; and even a cigar academy and workshops for both guests and locals alike.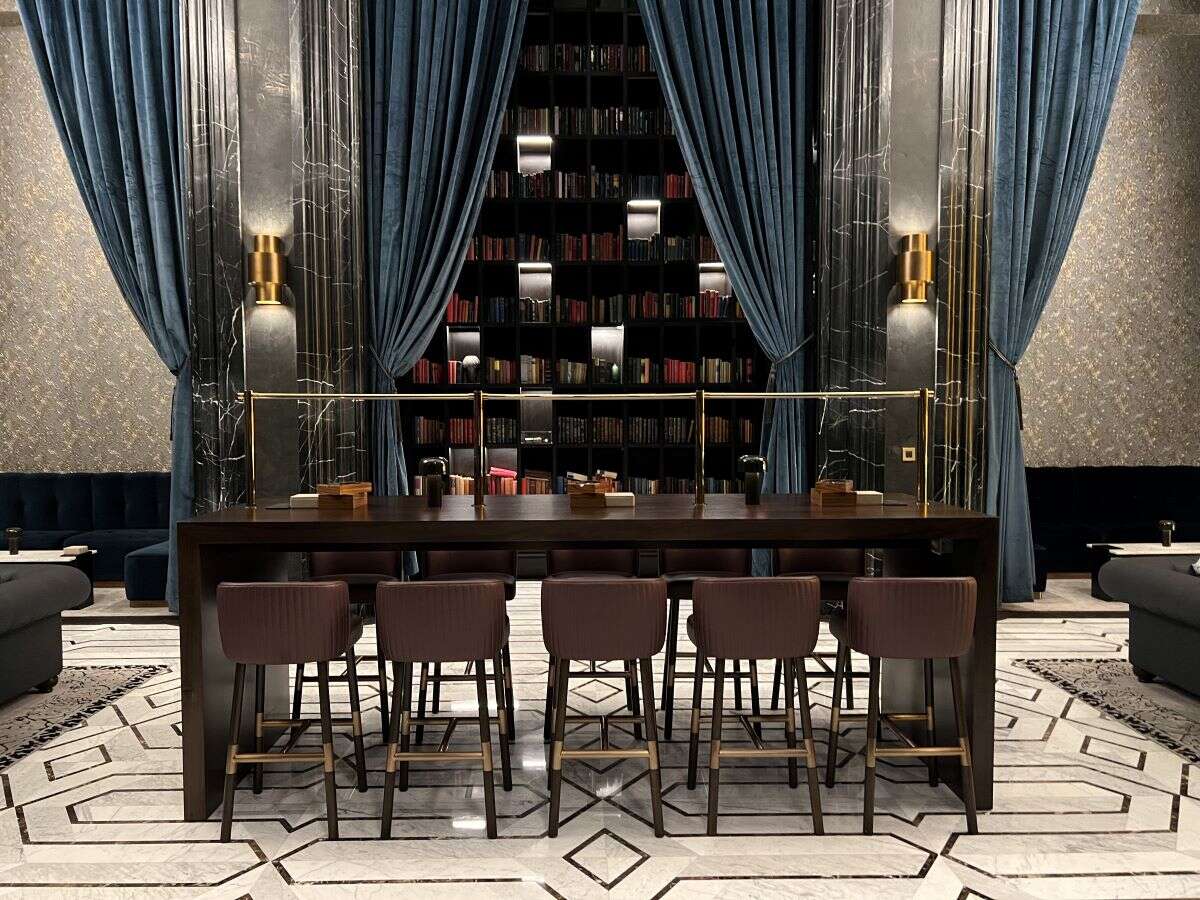 Raffles Doha is located on Marina East Street, Lusail City, Doha, Qatar. Prices start from 4,280 Qatari Riyal per night. Book via raffles.com/doha. Qatar Airways is the national carrier of the State of Qatar and Skytrax 'Airline of the Year' 2022, currently flying to 150 destinations via its hub at Doha's Hamad International Airport. Book via qatarairways.com.