Beijing has reported the Australian government to the United Nations Human Rights Council (UNHRC), claiming it is "deeply concerned" by Australia's use of offshore detention centres for asylum seekers.
The move, which demonstrates a change of tactic in Beijing's coercive diplomacy, comes as a new report (pdf) by the U.S.-based Newlines Institute for Strategy and Policy revealed that Beijing has breached every provision of the United Nations Genocide Convention 1948 in its persecution of the Uyghur minority.
On Friday, Beijing issued a statement to the UNHRC alleging that Australia's offshore detention centres failed to provide "adequate medical conditions" to detainees and their human rights were being violated.
"We urge Australia to immediately close down all offshore detention centres and take concrete steps to protect the rights of immigrants, refugees, and asylum seekers, especially children," the statement read, according to Reuters.
Beijing also called on Australia to carry out "comprehensive and fair investigations" into alleged war crimes committed by Australian Defence Force personnel in Afghanistan in 2005.
Australia will be expected to respond to the complaint.
The complaint comes despite the recent Newlines Institute report concluding that the Chinese Communist Party (CCP) was committing widespread atrocities in an effort to "eradicate" the Uyghur population.
One finding from the report revealed that CCP authorities "systematically target Uyghurs of childbearing years," as well as community leaders, for detention. The report described the conditions as "unliveable" and that CCP authorities imposed birth-prevention measures on Uyghur women, separated Uyghur children from their parents, and transferred Uyghurs on a mass scale into forced hard labor schemes "in a manner that parallels the mass internment."
China was last year controversially re-elected to the UN Human Rights Council, despite being responsible for numerous "industrial-scale" human rights violations, according to Human Rights Watch.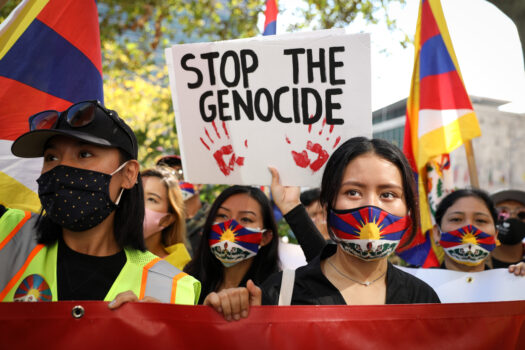 Former U.S. President Donald Trump withdrew the United States from the UNHRC in 2018 in response to the body's lack of action on human rights issues and because of the make-up of its member countries, which included notorious human rights abusers like China, Russia, Cuba, and Venezuela.
However, the Biden administration in February announced the United States would work to re-enter the UNHRC.
In the meantime, the complaint by Beijing over Australia's detention centres comes as bilateral relations continue to sour.
Since May last year, Beijing has waged an ongoing trade conflict against Australia in response to Foreign Minister Marise Payne's calls for an investigation into the origins of the CCP (Chinese Communist Party) virus, commonly known as the novel coronavirus.
The trade strikes swept up a wide array of export industries including beef, wine, barley, lobster, timber, coal, and cotton.
Beijing changed tact late last year and began deploying its diplomatic representatives and propaganda mouthpiece The Global Times to target sensitive Australian issues.
These included publishing editorial pieces and Twitter posts accusing Australia of failing to address issues such as Indigenous rights, sexual assault allegations, racism against local Chinese people, and war crime allegations.
Meanwhile, Australia has refused to engage in tit-for-tat diplomacy and has instead focused on shoring up its national security and diversifying its trade relationships away from China.