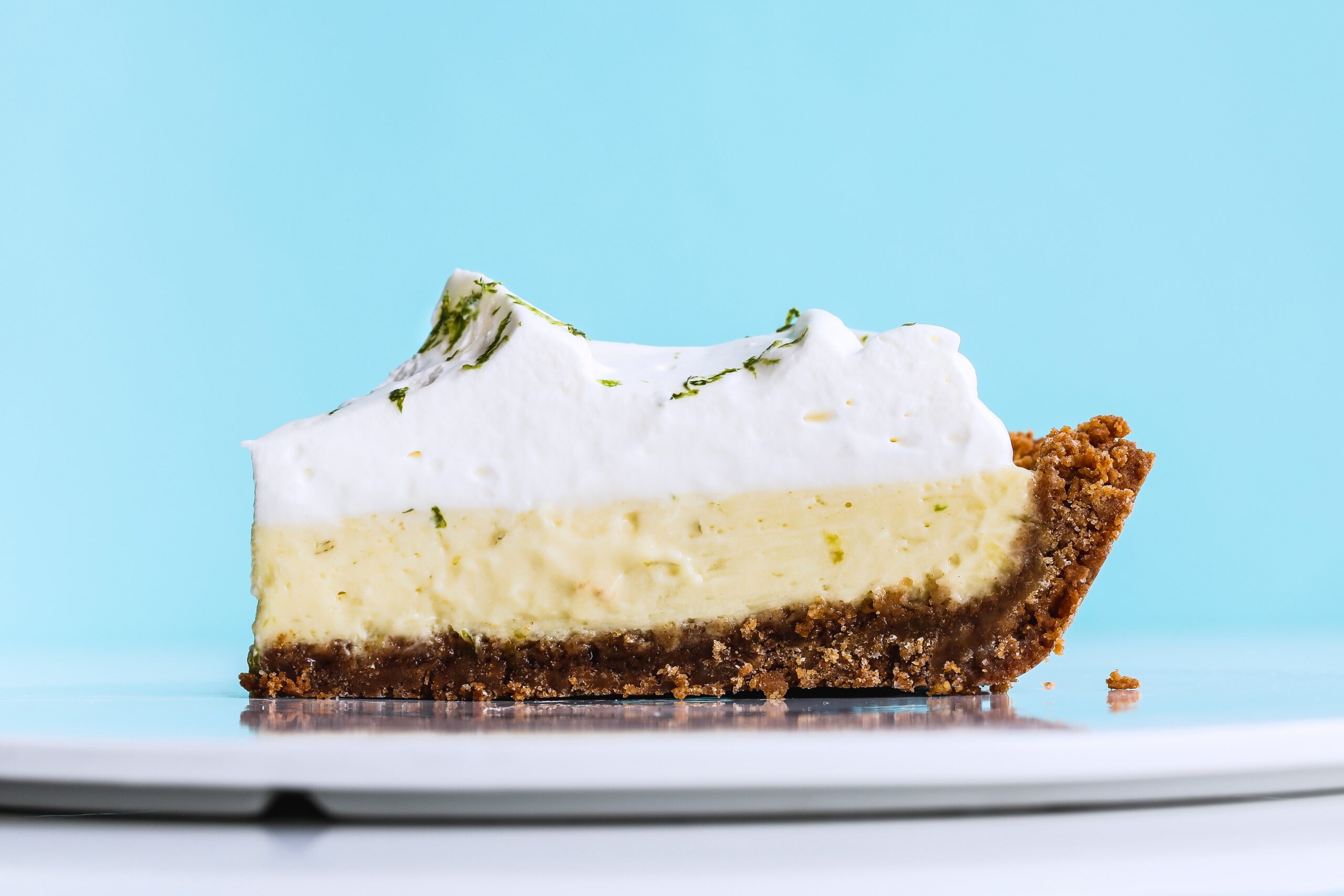 A standout Key lime pie recipe is all about striking balance: The crunch of the homemade graham cracker crust should play off a creamy custard pie filling that's both sweet and tangy. This recipe delivers just that.
It comes down to a few ingredients and techniques: To ensure it stays crisp, the crust is blind baked, meaning it's popped in the oven for a bit before the Key lime filling is added. You can complete this step up to two days in advance or use the baking time to make the custard. Using coconut oil in place of some of the melted butter in the pie crust offers hints of the tropics. Fresh Key limes, which are named for the Florida Keys, can be hard to track down, but they are worth seeking out for their floral finish. If they're not available in your local market, you can snag a bag online via sites like Etsy and Wee!, or opt for Persian limes (the variety available at most grocery stores), which are larger and more tart. Just make sure to stick with fresh lime juice—shelf-stable, bottled versions aren't reliable. Sweetened condensed milk supplies the sugar in the filling and also gives this pie its concentrated creaminess.
For the finish, we eschewed meringue—which can sometimes be a little too cloying—in favor of whipped cream cut with yogurt for one last hit of tang.
All products featured on Bon Appétit are independently selected by our editors. However, when you buy something through the retail links below, we earn an affiliate commission.
Ingredients
Makes one 9″ pie Servings
Crust
14
graham crackers (about 1½ sleeves)
4
tablespoons (½ stick) unsalted butter, melted
4
tablespoons virgin coconut oil, melted
1
tablespoon sugar
½
teaspoon kosher salt
Filling and assembly
4
large egg yolks
1
14-ounce can sweetened condensed milk
2
teaspoons finely grated lime zest, plus more for garnish
¾
cup fresh key lime (or regular lime) juice
Pinch of kosher salt
1
cup heavy cream
¼
cup powdered sugar
1
cup full-fat Greek yogurt
1
tablespoon dark rum (optional)
Preparation
Crust
Step 1
Preheat oven to 325°. Using your hands, crush graham crackers in a large bowl until coarsely ground (you could do this in a food processor if you'd like, just be sure not to process too finely; you want some texture in the larger pieces). Add butter, coconut oil, sugar, and salt and mix until well blended (mixture will resemble wet sand). Transfer to a 9″ pie dish. Using your fingers and the underside of a flat measuring cup, press mixture evenly into bottom and up sides of dish. Bake crust, rotating once halfway through, until golden brown on top and crumbs are set, 12–15 minutes. Let cool.
Filling and Assembly
Step 2
Using an electric mixer on medium speed, beat egg yolks and condensed milk in a large bowl until paler and almost doubled in volume, about 5 minutes. Whisk in 2 tsp. lime zest, lime juice, and salt. Pour into cooled crust. Bake pie until filling is starting to slightly puff around the edges and center jiggles slightly, 15–20 minutes. Let cool completely.
Step 3
Whip cream and powdered sugar in a large bowl until stiff peaks form. Gently whisk in yogurt and rum, if using. Dollop onto cooled pie, creating dramatic peaks and valleys with an offset spatula or the back of a spoon. Garnish with lime zest.
Do Ahead: Crust can be baked 2 days ahead; pie without whipped topping can be made 2 days ahead; pie can be assembled (with topping) 4 hours ahead. 
Editor's note: This recipe was originally published in April 2015. This way for more of our best pie recipes →