If you're a fan of the Netflix series, then you're going to love these fashion inspos to try and love this season.
As we await (very patiently) for the upcoming season release of Netflix's Stranger Things, this spellbinding trailer was just enough to swoop us in once again, catching us at the edge of our seats. If you haven't seen the trailer, go ahead and click play below.
In celebration of the latest season (which we're excited about), we wanted to curate a style guide in honour of the nostalgic yet electrifying era of the '80s, while waiting for the premiere. It's so easy to get you hooked when the series takes us back in time with the phenomenal soundtrack, ambience and fashion styles. Scroll down further to check out what styles we're completely obsessed with and how you can flaunt it today with these trendy pieces as inspo.
You've got to admit, Nancy's office attire throughout her time interning at the local newspaper in Hawkins was a love affair. This boxy raglan-sleeved dress was an iconic look on its own with its subtle geometric prints, accompanied with a pastel green waist belt – how can you not love it? This Isabel Marant Georgette dress hits the mark in our books with the monochrome geometric prints for a fresh update. What makes it better is the lightly padded shoulders and gathered wrap-effect on display for a chic finish to an '80s inspo look.
Season three was a shocker to many fans, as we discovered that Eleven is (actually) growing up. Yes, she discovered her love for clothes and boys. With Max as the mastermind behind Eleven's new wardrobe, we just loved a dose of colours with a side of glam from their friendship. We decided to pair Ashish as our modernised take on the trend, who's known for his extravagant silhouettes in vivid tones. This hand-embroidered sequinned top is not only gorgeous to look at but functional in many ways. You can wear it as an oversized blouse to go with your straight-cut pants (be sure to do the half-tuck) or with linen Bermuda pants for a relaxed look – pick out one of the colours from the top to match your pants.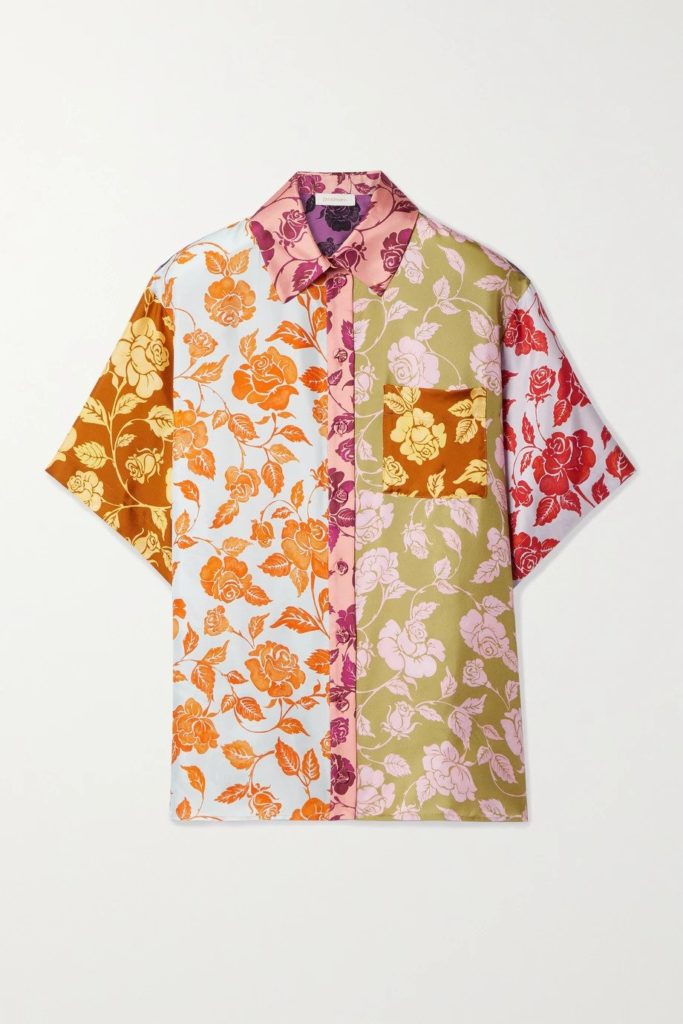 While the season three finale got us feeling emotional, you've got to admire Hopper's attire when he's not in a uniform. This classic 80s essential silhouette is appreciated by every millennial today, and we thought it'd be fun to find an elevated version of the tropical shirt. This Zimmermann piece is a perfect ode to the summertime feel with the blooming roses and this season's trendy patchwork detailing. Imagine wearing this out with linen Bermuda pants or as outerwear, where you can layer over your bodysuit tucked in high-waisted jeans.
Who could forget the moment when Mrs Wheeler stole the show at the local swimming pool? Neon colours played an important role in her wardrobe in season three, which we love. In this scene, in particular, it was the seashell earring that caught our gaze as a refined staple summer accessory. While this would look perfect for when you're lounging by the pool, these Alison Lou seashell stud earrings work well, if you're on the hunt for an everyday staple.
Dustin's style is a neverending story, and this denim vest is a classic '80s kid wardrobe staple. While the bright orange colour does play a part in creating that cool contrast against the denim, we thought this Alexa Chung piece was a playful layer to have today. There are two ways to wear this; you can either style your slim fit denim jeans to go with this pinstripe separate or layer a pastel-coloured tee as inner to make the overall look pop. For a relaxed look, go ahead and pair your favourite sneakers to accompany the fit.