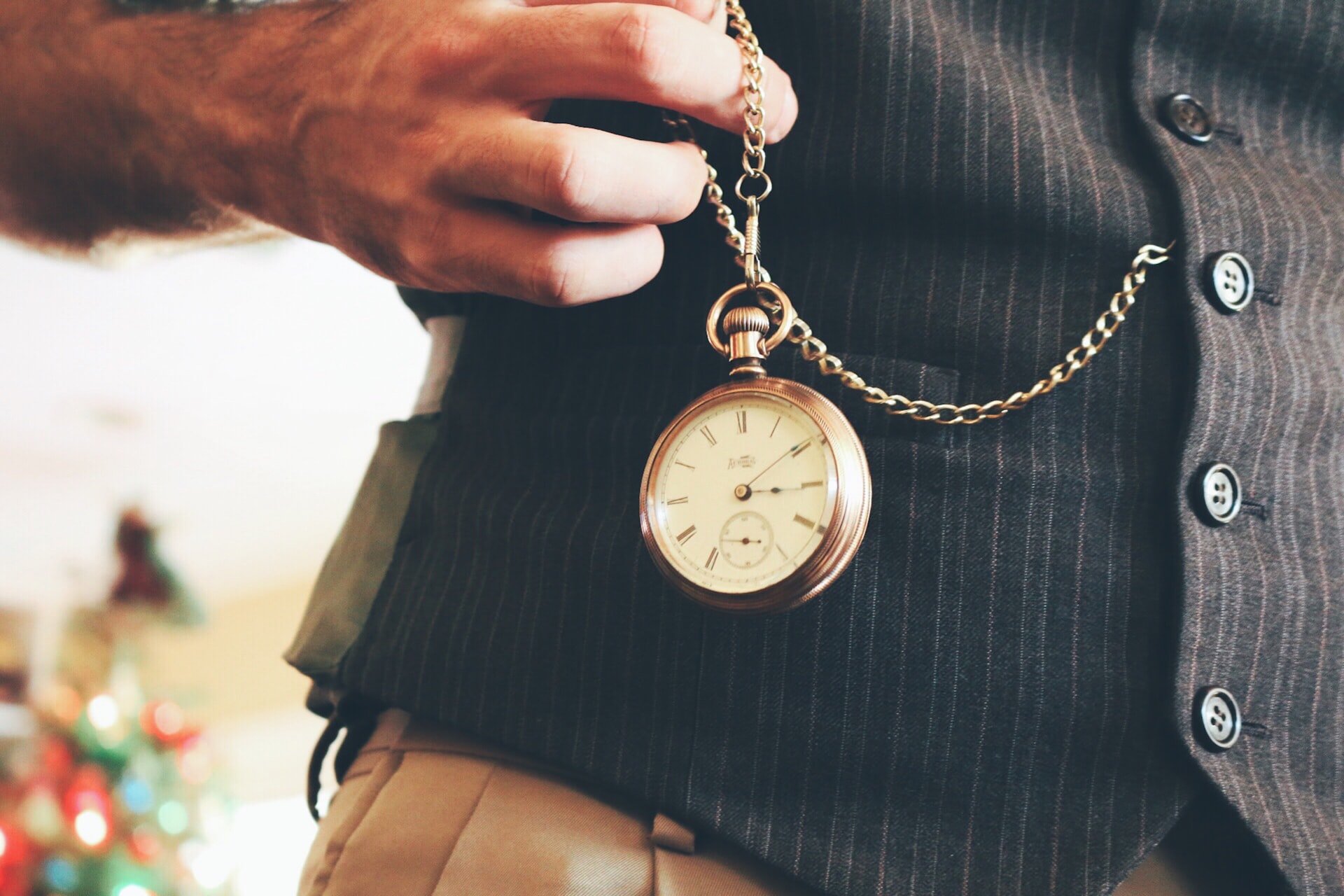 The rise of period dramas on television has had many watch enthusiasts questioning 'are vintage pocket watches back?'. Pocket watches have been a staple in men's fashion for centuries, but the resurgence of this trend is said to be down to the rise in popularity of the period drama. Television shows like Peaky Blinders and Downton Abbey have renewed the public's interest in this vintage accessory by showing their male leads sporting a classic pocket watch. This accessory can be worn with a very formal three-piece suit, or alternatively paired with a simple pair of jeans. The versatility of this vintage accessory makes it a perfect investment piece for a man of every taste.
A Brief History of the Pocket Watch
The pocket watch was invented in the 1500s in Germany. Its distinctive style became increasingly popular amongst aristocrats and became the ultimate symbol of wealth and style. These pocket watches were more egg-shaped than the modern versions, and the flat design wasn't introduced until the waistcoat was popularised. The pocket watch was adopted by labourers who needed knowledge of the time. This led to the accessory becoming more commonplace. The pocket watch was made redundant by the invention of the wristwatch during wartime. Throughout the war, it became evident that it was more convenient to have a watch face on the wrist that could be viewed without needing to remove the watch from a pocket. Despite the more convenient wristwatch, the pocket watch is still seen as an exquisite vintage accessory coveted by many style-conscious men.
What Makes the Vintage Pocket Watch Fashionable?
The rise of vintage fashion has led to the resurgence of classic accessories. This has meant that many celebrities have been spotted wearing vintage pocket watches on the red carpet or at high-profile weddings. There are several styles of pocket watch, with each having a variation in the design of the case. A wearer should select which is right for them based on how it will be worn and for which occasions. Pocket watches need to be paired with a chain to be worn correctly. Again, there are several variations of chain style which can be selected based on how the watch is worn.
The style of how the pocket watch is worn will depend on the wearer's personal style. This can be further adapted based on what clothing the pocket watch is worn with. If it is worn with something casual, like jeans, a pocket watch will be sufficiently dressed down to wear every day. When pairing a pocket watch with a suit, the aim is to avoid it starting to look like a costume. The desire is to look effortlessly stylish rather than as though the outfit is a recreation of something from a period drama. The best way to do this is to pair a vintage pocket watch with a modern, slim-fitting suit. For a modern look, it is often advised to keep the look simple and keep accessories to a minimum in order to allow the pocket watch to take centre stage.
Pocket Watch Recommendations
This elegant Tissot pocket watch exhibits a two-tone colour palette. This model is designed in shades of silver and yellow gold. The two-tone design gives this watch a modern and elegant look. It allows it to be paired with accessories in a range of shades, giving it a very versatile finish. The watch features a white dial with black Roman numeral indices that give the watch a vintage feel. A date aperture is featured at 6 o'clock on the dial, providing an additional utility. This dial is framed by a case that is made from brass. This case measures 48.5mm, making this model large enough to be eye-catching when withdrawn from the pocket.
This Rotary model is powered by a hand-wound movement to provide a truly classic and vintage feel. This movement can be viewed through the dial and the case back of the watch, allowing it to be properly enjoyed by the wearer. The dial is white in colour and is adorned with black Roman numerals and black hands. It features a cut-out at the centre. Both the front and back of the case can open, allowing the watch to be observed from every angle. The case of this model is gold-plated, giving it a truly luxurious feel and warm hue. This pocket watch comes with a matching chain, allowing it to be worn as part of a stylish outfit.
This pocket watch is the perfect choice for someone who is just stepping into the world of pocket watches. It has a clean and simple design with a relatively affordable price tag, making it suitable for beginners or someone who is experimenting with their style. The white dial exhibits black Roman numeral indices and black hour, minute and second hands. This gives the dial a clean design that is easy to read at a glance. A stainless steel case houses the hand-wound movement that powers this watch. The case exhibits a half hunter design, meaning that it has an aperture at the centre that allows the time to be read without needing to open the case. This model features a decorative winder that further enhances its vintage feel.
What are your thoughts on this trend? Are vintage pocket watches back? Let us know in the comments!
The post Are Vintage Pocket Watches Back? appeared first on First Class Watches Blog.