SINGAPORE: Indonesia said on Friday (Jun 10) that it wants global superpowers the United States and China to pay more attention to the Association of Southeast Asian Nations (ASEAN) when it comes to resolving tensions in the South China Sea.
When asked about the situation in the South China Sea, where the US has made efforts to counter what has been termed as China's assertiveness in the contested waters, Indonesia's Defence Minister Prabowo Subianto said he would like to see the "peaceful resolution of all outstanding problems".
Mr Subianto was speaking to reporters at the Ministry of Defence (MINDEF) building in Bukit Gombak, where he called on Singapore Defence Minister Ng Eng Hen and exchanged views on the regional security situation.
Mr Prabowo said Indonesia and Singapore are both "trading nations" that believe in international rules and the freedom of navigation.
"That's why we would like to see what we call ASEAN centrality, ASEAN cohesiveness, that our voice will be stronger heard between the two great powers of the world," Mr Subianto said.
"We consider China to be a good friend of Indonesia, and we consider the United States to be a good friend of Indonesia. If two good friends, they have problems, as a good friend we have to maybe be a bridge so that we can find resolution."
Mr Subianto warned that whatever happens in the South China Sea will "affect everybody" as the planet is "getting smaller and smaller".
"We need the wisdom and benevolence of the great powers to maintain peace," he added.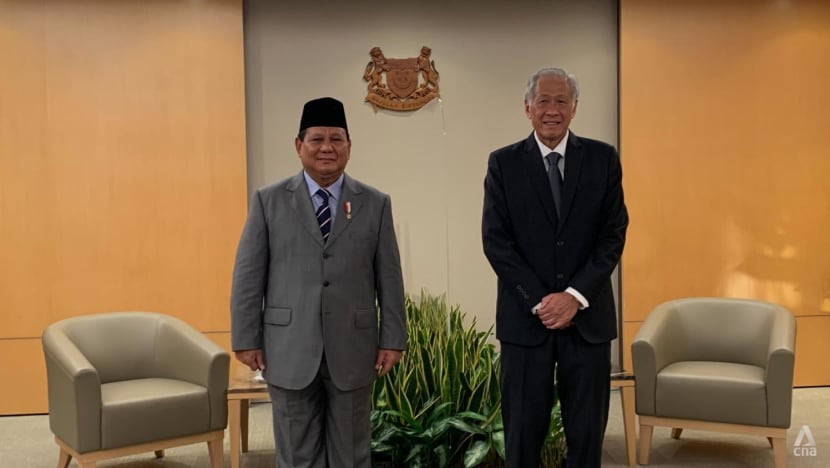 Dr Ng later said he "completely" agreed with Mr Subianto's assessment.
Both Singapore and Indonesia want to mutually benefit each other in the region and press for "international norms" so that they and ASEAN can progress, Dr Ng said.
Mr Subianto said they also discussed getting out of the "difficult" pandemic, "problems" with delineation of maritime borders, as well as piracy issues.
"That's why this close friendship and cooperation is very vital," he said.
"We would like to resolve all these issues in a friendly manner between good friends, and we have other issues that impact on us. Whatever happens very far away will impact on us, whether we like it or not."
Dr Ng agreed, saying these transnational issues cannot be resolved if they are not dealt with "together".
In January, the countries signed a Defence Cooperation Agreement as part of a set of agreements that include an extradition treaty as well as the realignment of flight information regions.
Under the Defence Cooperation Agreement, which will be in force in Bintan, Singapore and Indonesia will continue to strengthen defence partnerships and deepen cooperation in mutually beneficial areas. 
Mr Subianto, who is on his first official visit to Singapore, said it was better to visit after the agreements were "reaffirmed" so the trip could be "substantive".
"I think now it's a matter of procedure, we ratify it through our parliament, and therefore I feel that I can come with a substantive position," he said.
"Once again, (Dr Ng and I) discussed issues or common interest, our position in ASEAN. We have common positions and I look to Dr Ng for advice because he's been longer in the business of defence ministers. I'm a newcomer, I've only been (in this appointment) for two years."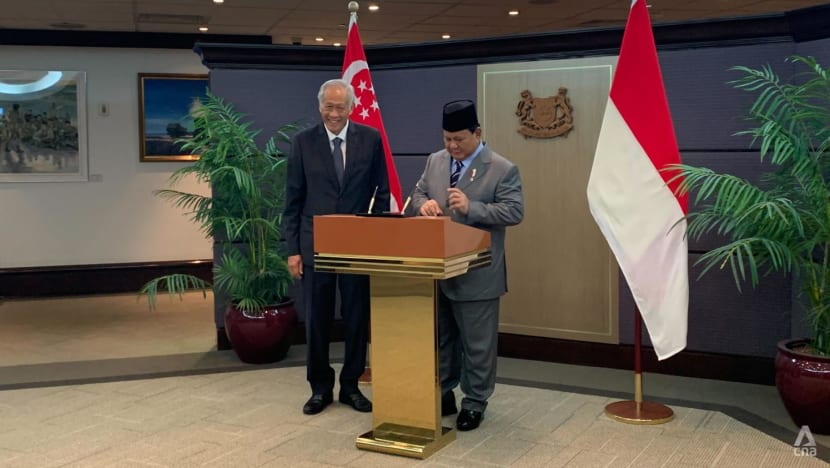 At this point, Mr Ng chuckled and said Mr Subianto is "always welcome" to visit Singapore, thanking him for his support for the Defence Cooperation Agreement and his commitment to improving defence ties.
Dr Ng said Mr Prabowo, a former general, is a professional soldier with an illustrious military history, and that he was delighted the Indonesian minister was here for his introductory visit.
Mr Prabowo will next call on Prime Minister Lee Hsien Loong and Senior Minister and Coordinating Minister for National Security Teo Chee Hean.
He will also speak at the Shangri-La Dialogue on Saturday during a plenary session on Managing Geopolitical Competition in a Multipolar Region.
MINDEF said in a statement on Friday that Mr Subianto's visit underscores the close and long-standing defence ties between Singapore and Indonesia.
"Both defence establishments and armed forces have enjoyed decades of close friendship and continue to deepen their cooperation to tackle common regional security challenges," it said.