It's hard to tackle the scene of American street-art without mentioning Alec Monopoly, one of its most successful stars. Recognizable by its old-school top-hat, this anonymous New-Yorker collaborated with the finest celebrities of the star system : from the luxurious TAG Heuer watches, to the Justin Bieber's Believe tourney, the W Hotels and a plethora of big names (Miley Cyrus, Avicii and Snoop Dogg among others).
An ode to pop-culture
Drawing from the respective universes of pop-culture and capitalism, Alec Monopoly's works depict fictive rich characters in various colorful jet-set inspired sketches.
If he mainly flourishes in canvas and graffitis, the artist is also known for using other formats. Sneakers, luxurious bags, Dark Vador's and Stormtroopers' helmets, skateboards, sculptures… A few months ago, he even unveiled his very first upscale toy : a "self-portrait" figurine inspired by Richie Rich, an American comics characters. Coincidence or not, Alec began his career during the financial crisis of 2008.
Borrowing from Andy Warhol, Drella, Jean-Michel Basquiat and Keith Haring, Alec Monopoly has made the use of cheerful and bright colors a real signature. However, the common thread to all of his works is truly the extremely rich Uncle Pennybags from Monopoly : a character who often is in the middle of his works.
"I was using it as a meta-narrative for what was going on on Wall St. and Bernie Madoff, he explained. It was kind of a negative connotation then. I changed the Monopoly Man from being a negative connotation to being a positive connotation of wealth and prosperity, and as I started selling paintings more, I started living this life of the Monopoly Man, and now I'm almost consumed by the Monopoly Man. I'm living this life of almost a performance art version of him."
Some prestigious partnerships
Unlike his counterparts, Alec avoids vandalism. The artist prefers to work on the grey walls of abandoned buildings or, sometimes, to collaborate with luxurious and sumptuous brands and celebrities.
In 2015, Alec repainted Khloe Kardashian's Hermès Birkin. Adorned with the inscription "Khlomoney", the green-colored bag depicts the Monopoly-Man on the run while holding a bag filled with money. Later, the artist gave a makeover to the Honk Kong tramcar with a fresh bright pink coat of paint and with the inclusion of his signature characters.
More recently, TAG Heuer introduced the special edition Alec Monopoly for its Formula 1 and Carrera Heuer 01. On a white background, their dials were designed by the American artist.
For more "bankable" artists, check our ART section.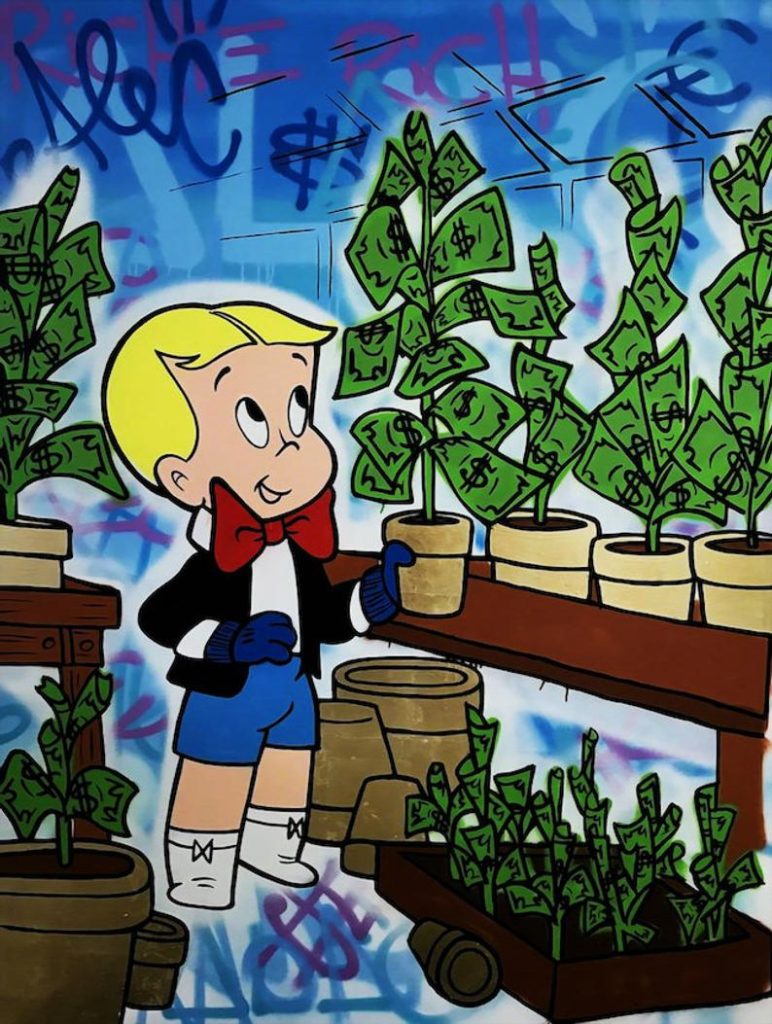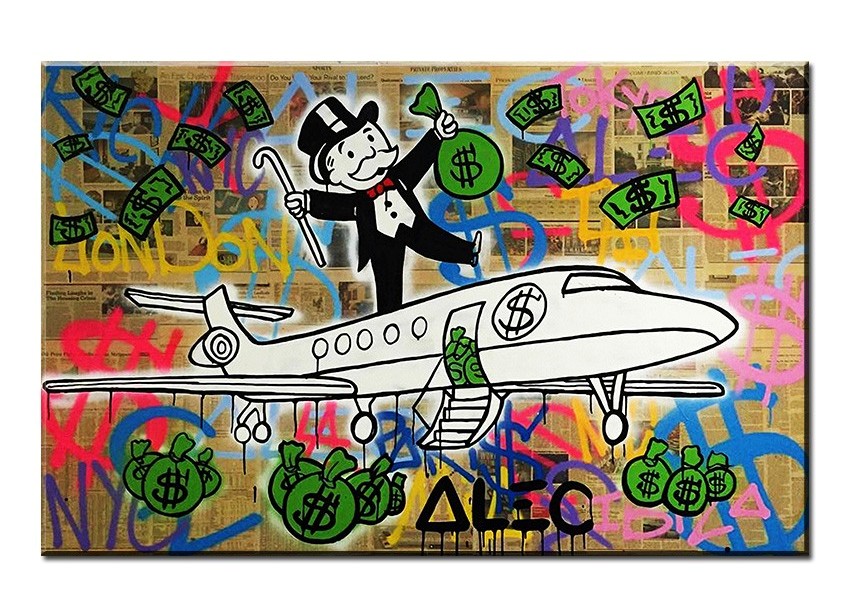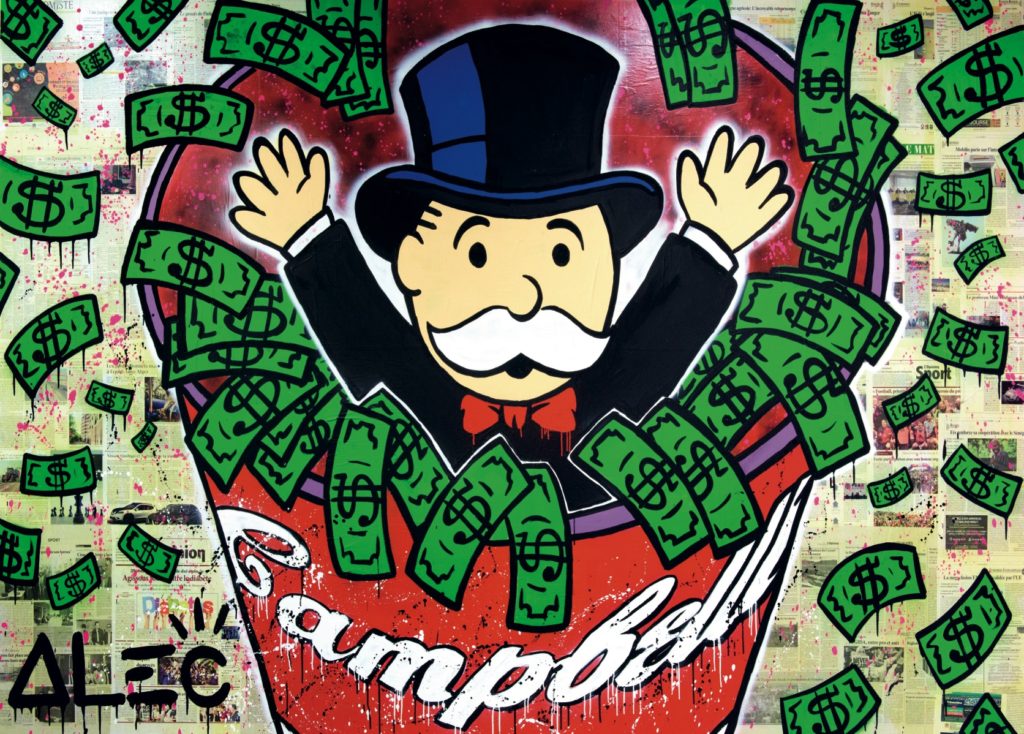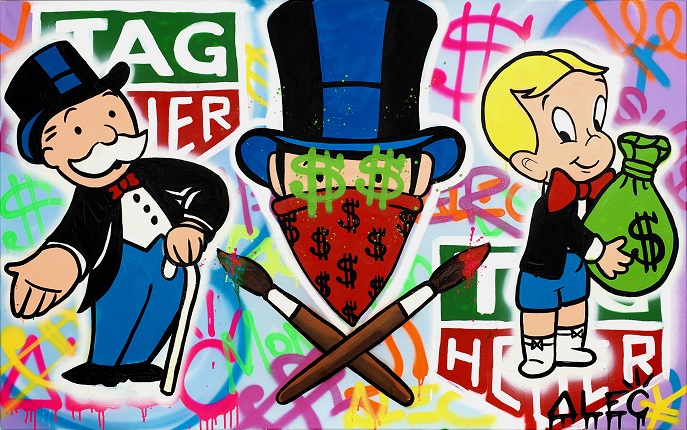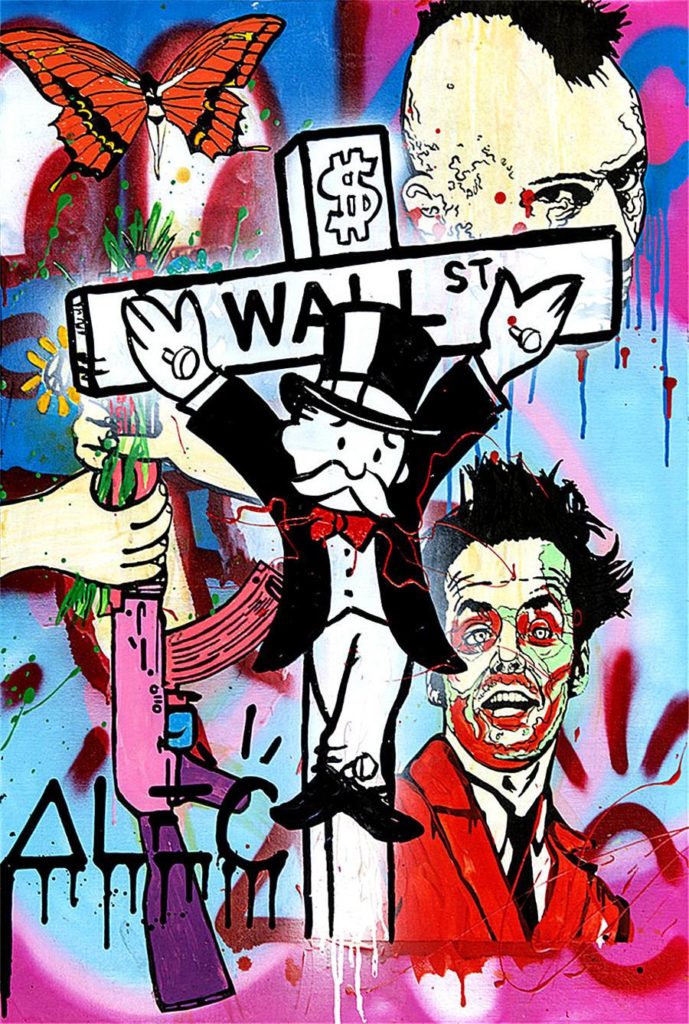 For more details about Alec Monopoly, check out his website.