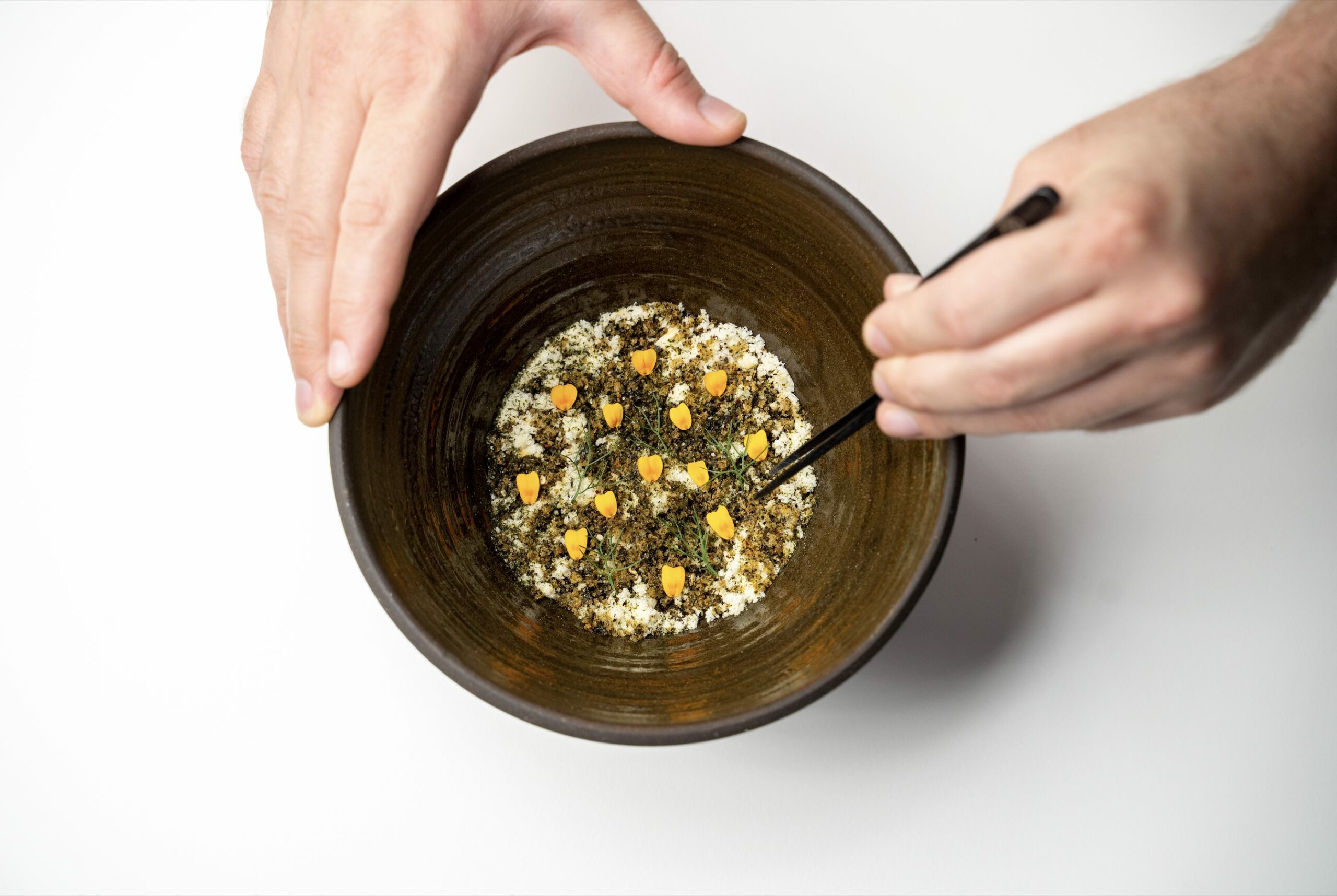 Moonrise fuses the flavours of Japanese and Middle Eastern cuisines.
---
Omakase – loosely translated to chef's choice – isn't exactly new to Dubai, but a new homegrown restaurant named Moonrise has put a unique spin on this culinary concept. Located on the rooftop of Eden House on Sheikh Zayed Road, it features seasonally changing tasting menus that span Japanese and Middle Eastern flavours, ingredients and cooking techniques. The result? Fusion dishes made using the freshest and finest produce that the region has to offer.
Exclusivity is the name of this game, as two seatings accommodating only eight diners are available each night. Priced at AED 475 per person, the Moonrise experience comprises a multi-course menu decided by the chef, with dishes prepared directly at the counter in front of guests. As for the chef in question? Solemann Haddad, who was born and raised in Dubai and draws inspiration from his own multicultural background, capturing Dubai's diversity through his carefully crafted menus. "When I'm asked to describe Moonrise's culinary offering, I usually explain it as using Japanese and Middle Eastern cuisines to tell my story of growing up in Dubai, either using Japanese ingredients for Arabic dishes or using Arabic ingredients to create Japanese dishes," explained Haddad.
The French-Syrian chef and Moonrise founder has been fascinated by Japanese cuisine from an early age, frequently visiting family-owned Japanese restaurants in Dubai, which have left a lasting impression on him. Further fuelling his passion, Haddad underwent culinary training in London and Tokyo, followed by an extensive trip across Japan to immerse himself in the local cuisine and study Japanese techniques firsthand. Moonrise's tasting menu changes seasonally, but the format remains the same, comprising eight or nine dishes that range in size from small bites to appetiser-sized plates, each served up with a thoughtfully crafted beverage menu featuring mocktails that complement the complexity of the food.
"At Moonrise, our mission is to create a lasting impact through food and push culinary boundaries, changing the way people think of food in this region. My main focus is the flavours and ingredients, and I am always striving to create a menu that evokes the nostalgic memories of growing up in an incredible place and melting pot of cultures, like Dubai," added Haddad. His unique fusion culinary style is illustrated by well thought-out dishes such as the Hummus and Furikake (an unorthodox take on traditional hummus), Syrian Sumac and Citrus Crudo (a Japanese hamachi with a Levantine twist), and the A5 Tsukune with Black Truffle Ponzu and Caviar.
Sustainability lies at the heart of Haddad's philosophy, and his goal is to establish Moonrise as an industry leader in this realm. Wherever possible, the chef keeps it local by working with the country's local farmers, mills and suppliers, filling in any gaps with premium ingredients from around the world – fresh seafood from Tokyo and truffles from Italy included. His culinary team, meanwhile, continuously strives to eliminate waste. Soy sauce, for example, is made out of leftover truffle trimmings. And for those curious about how Moonrise's chefs orchestrate the nightly offering, the open kitchen promises a close-up view of all the culinary action as it unfolds.
GO: Visit www.moon-rise.xyz or call 050 697 2946 for reservations or more information.
The post A new omakase restaurant has opened its doors appeared first on FACT Magazine.