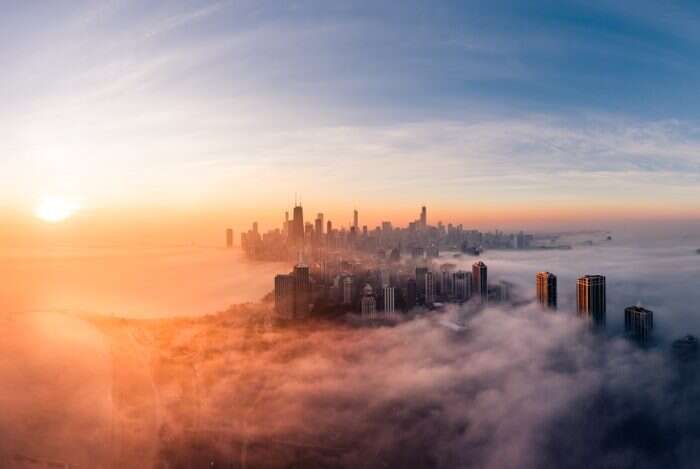 Oprah Winfrey recalls her first days after moving to Chicago as evoking a sense of coming home to her "motherland." Mark Twain described the city as forever "a novelty," while Anthony Bourdain claimed Chicago didn't have to measure itself against anyone: "It's tough, it's opinionated, and everybody's got a story."
For me, the Windy City boils down to the skyline. "Look up," said my favorite architecture professor at university, the one who promised me that I'd swoon at the sight of Chicago's rooftops that punctuate the blue sky, ripping through the clouds. Indeed, Chicago reigns as the home of the world's first skyscrapers — purportedly the tallest buildings in the US. Musingly, Frank Lloyd Wright prophesied: "Eventually, I think Chicago will be the most beautiful great city left in the world."
Whatever may happen later, Chicago's rocking it now. Though it's the US's third-largest city, it strikes an intimate chord. A patchwork of vibrant neighborhoods, each prodigiously distinct and multiculturally informed, Chicago invites discovery.
Driven by its culinary spirit (both haute cuisine and street food aplenty — don't miss deep dish pizza; hot dogs with mustard only, no ketchup; or Greektown's favorites), with 7,000 restaurants, Chicago also boasts more than 40 world-class museums and a long beloved music (the blues) and comedy scene.
Then there's Lake Michigan, spread along 26 miles of shoreline, profuse with distinctive beaches. (Yes, I'm telling you to bring your swimsuit — though Chicago can be frigidly cold year-round). Add in architectural tours, sporting events, theaters, stellar hotels, the largest convention center in the US and leisure options galore, and Chicago, sometimes called the Second City, is second to none.
A guide to Chicago's best restaurants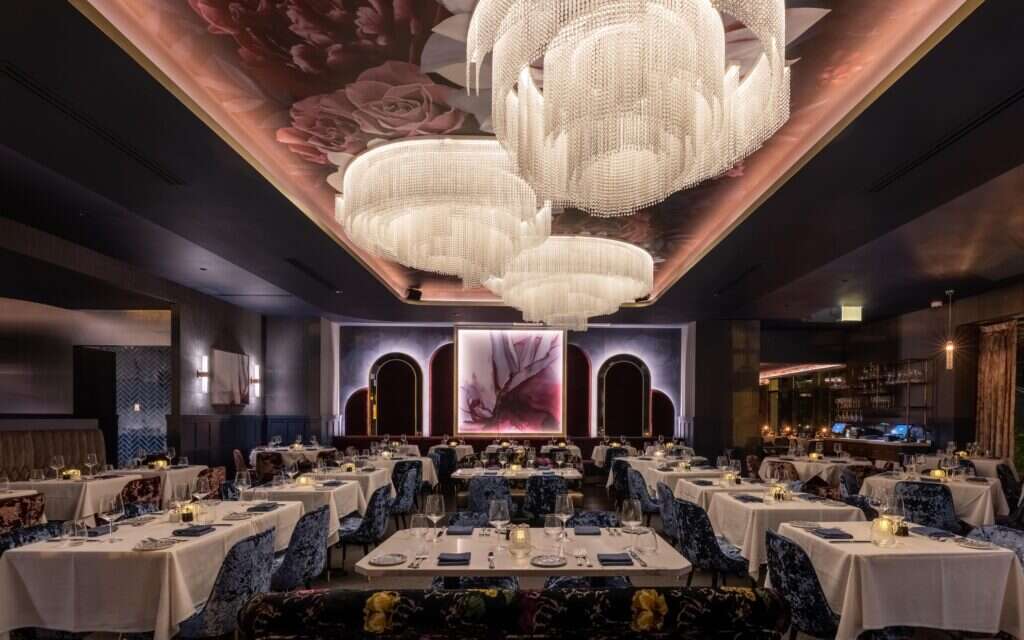 Dine indulgently beneath a chandelier dripping with more than 150,000 glittering crystals at Gold Coast-sited Adalina, the realm of award-winning chef Soo Ahn. Offering a creatively tweaked ramble around Italy, Adalina executes Italian classics with a modern twist — as in the brunch favorite fried chicken and toast or toothsome dinner options: snail-shaped lumache with shrimp and bistecca alla fiorentina, a breathtaking 40oz porterhouse, meant to be shared with your date.
Like a microcosm of eclectic Chicago and its effusive culinary ethnic neighborhoods, 12,000-ft Urbanspace, located near Millennium Park, State Street shopping and the theater district, provides one-stop noshing for those in search of local cuisine in a single, infinitely hip setting. A thoroughly modern food hall (open from 7am to 8:30pm) with myriad local restaurant outposts, Urbanspace allows for sampling an array of Chicagoan cuisines from Thai (Keadkao) to Filipino (Isla Filipino). Wet your whistle at Peregrine Club Bar, famous for its European inspired cocktails.
[See also: The 11 Best Restaurants in Chicago]
Thanks to the railroads, Chicago's central location and the propensity of Midwestern farmers raising livestock, the Windy City became a carnivore's hot spot and a meatpacking epicenter more than a century ago. It only follows that the metropolis would become famous for its steakhouses. Book a table at Gibsons Bar & Steakhouse, an institution for more than 30 years. Expect eight different colossal cuts, each from their own Gibson's Prime Angus beef. Sides like twice-baked potatoes and gargantuan desserts seal the deal.
Most people know that Hanoi was dubbed the Paris of Vietnam at the turn of the century. At elegant Le Colonial diners have an opportunity to partake in that bygone French vibe, a mood as glitzy as a silver screen classic. With white tablecloths, sparkling crystal, formal service and a terrace overlooking Oak Street, this institution serves piquant delights from shrimp on sugarcane to dumpling soup to ginger marinated Long Island Peking duck.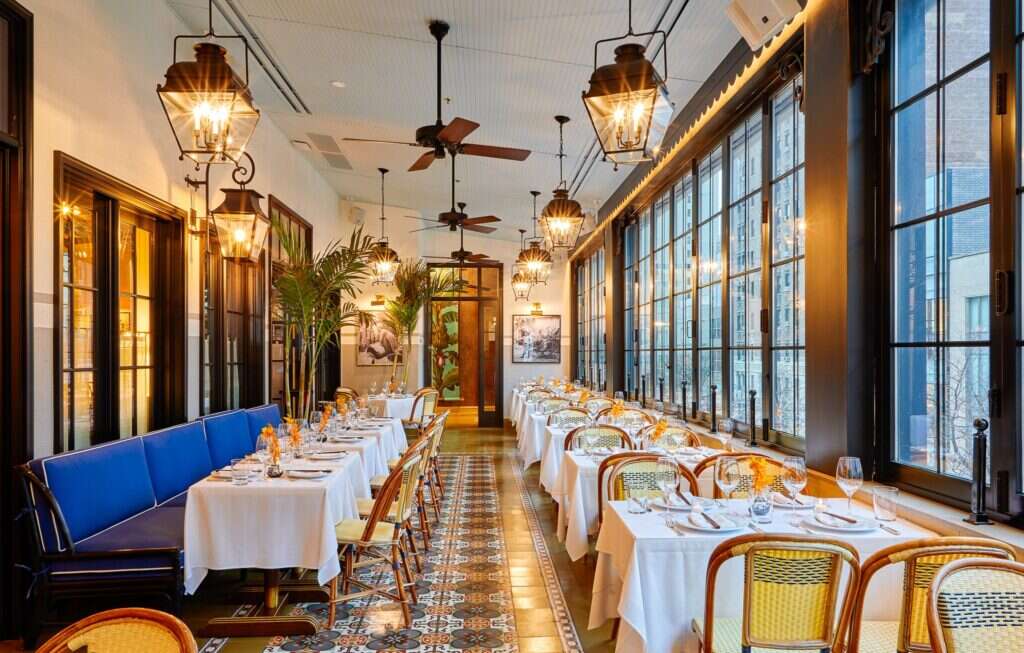 Serious gourmands, as well as curious ones, travel to Chicago just to eat at Alinea, a three Michelin-starred superstar in Lincoln Park. The domain of celebrated chef Grant Achatz, a kingpin in the molecular gastronomy movement, Alinea continues to bedazzle. Sleekly designed so as not to compete with Achatz's inventive food, the intimate restaurant proffers three distinct experiences nightly, each a sensorial gambol, ingeniously curated. Take the Kitchen Table, the restaurant's most exclusive seat.
[See also: The Best Vegan and Vegetarian Restaurants in Chicago]
A guide to Chicago's best hotels
The Langham Chicago, Infinity Suite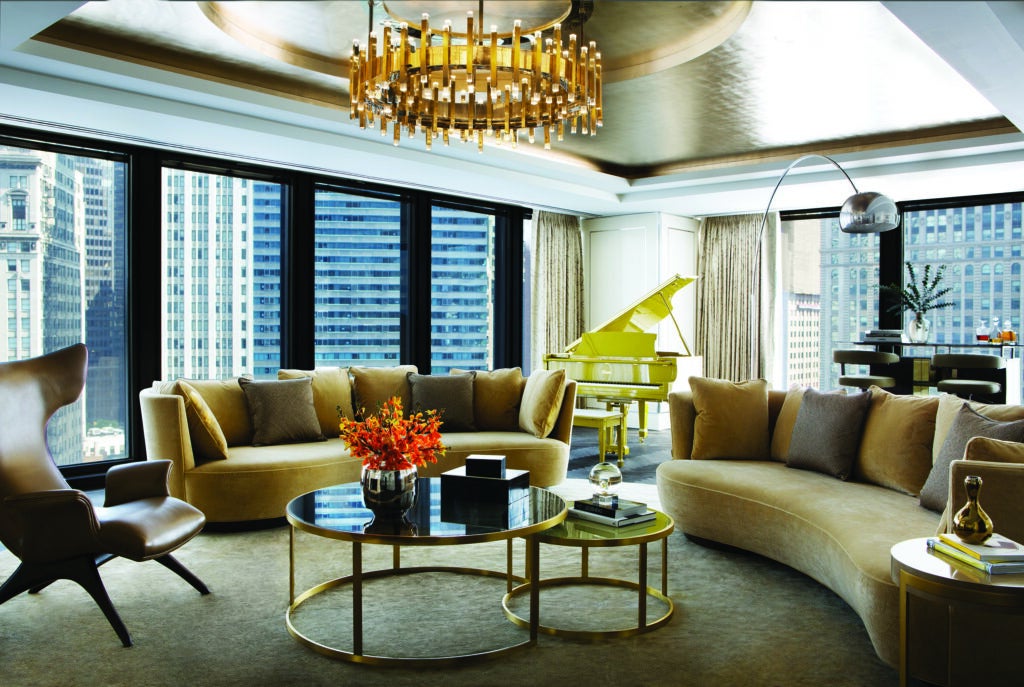 We're certain Ludwig Mies van der Rohe would approve of how The Langham gracefully fills the first 13 floors of his landmark 1971 Bauhaus skyscraper, the 52-story IBM building, a bronze-glass-sheathed architectural wonder. The architect's last office building, it broke eco-conscious ground with elements such as double-paned glass.
Redone in 2013 with reproduction van der Rohe sofas, sleek contemporary elements and Langham's signature pink accent touches, the hotel lords over the Chicago River with views of Lake Michigan. Plan a cocktail party in the spacious Infinity Suite, a two-bedroom, two-bath sanctum, anchored by a beguiling gold-painted grand piano. While in residence, save time for The Langham's famous afternoon tea, order up a champagne cart or reset in the tranquil Chuan Spa.
From $12,000. Contact Lindsay Srednicki, hotel manager, lindsay.srednicki@langhamhotels.com, +1 312 923 9988, langhamhotels.com
Viceroy Chicago, Penthouse Suite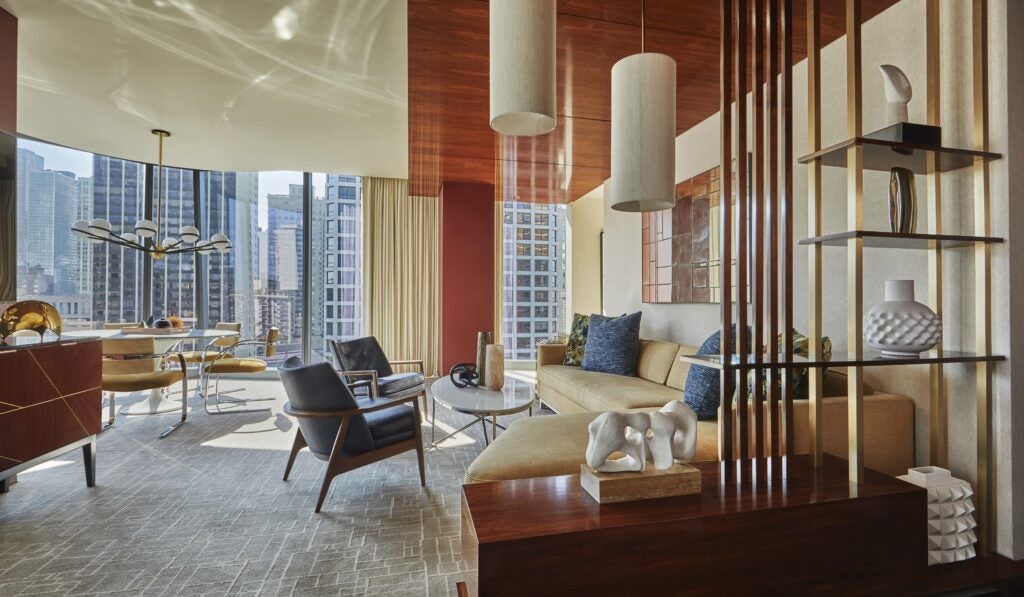 Architecture buffs know that Chicago's astonishing array of building styles mirror the Windy City's history and myriad cultures. Since many structures were destroyed after the Great Chicago Fire (1871), the city took advantage of rebuilding in the most avant-garde trends. Queen Anne, Richardsonian Romanesque and Georgian Revival style paragons dominate the still opulent Gold Coast, a historic district plentiful with bon-ton shops, restaurants and bars.
Exemplary in the area, the glam Viceroy Chicago gives new life to a 120-year-old building, melding the past with the present. Retro gold and black accents, for example, contrast with contemporary city views and a rooftop pool. Take in the vibe in the 16th floor's 1,675-sq-ft Penthouse Suite, which has butler space, a media room and an immense terrace. Splurge with the Luxury in the Gold Coast experience, which includes Penthouse accommodations, private jet air charter to/from Chicago, a private yacht excursion, a specially curated tasting menu and more.
Penthouse Suite from $1,500; from $15,000 for the experience. Contact David Katz, director of sales and marketing, david.katz@viceroyhotelsandresorts.com, +1 312 586 2000, viceroyhotelsandresorts.com
Nobu Hotel Chicago, Nobu Villa
With touches of zen and Japanese gracefulness, this hotel, co-owned by Robert De Niro, focuses, too, on evoking the industrial roots of Chicago's West Loop, exuding the city's multiculturalism and celebrating urbanity. Elegantly chic, it features spellbinding skyline views, expectedly Nobu-driven cuisine options and a place for splashing at the 11th-floor rooftop, which is kitted out with an indoor tranquility pool.
Tuck into the Nobu Villa, designed with soaring 14-ft-high ceilings and bird's-eye city views. With room for 10 guests for private gatherings, a signature pool table, a teak soaking tub and a private sleeping area, the villa-like suite pampers larger crowds or just those who like lots of space. Allow the concierge to schedule a private sound bath to enjoy en suite, courtesy of local wellness center The Lab.
From $2,999. Contact Rhonda Drury, director of sales and marketing, reservations@nobuhotelchicago.com, +1 312 779 8888, chicago.nobuhotels.com
Swissotel Chicago, Vitality Suite
Eye-poppingly design-centric, this flashy, all-glass skyscraper was designed by hero Chicago architect Harry Weese. It boasts far-reaching views that gaze toward the Chicago River, the Navy Pier and Millennium Park. Guests devoted to wellness can work out in the huge, state-of-the-art, penthouse fitness center — or even better, they can reserve the Vitality Suite.
Equipped with Kneipp water therapy features in the bathroom, the fitness haven wows with a Wellbeing Wall, packed with gym equipment, a Peloton Bike, a water rower and a lineup of televised exercise programs. A refreshment center sates with infused water and superfood-packed, house-made snacks, while a crystal bowl sound bath recording, Lunya silk sleepwear (to take home) and pillow options (from Spelt to Swiss Stone Pine Shaving) ensure a good night's sleep.
From $12,000. Contact Brittany Robbins, area director of marketing & communications, brittany.robbins@swissotel.com, +1 506 388 6948, swissotel.com
Pendry Chicago, Pendry Suite
Keeping haute architecture at the forefront, Pendry created an ode to Art Deco with its 2021 reimagination of the landmark 1920s-era Carbide & Carbon Building, a pinnacle in the popular Loop neighborhood, near a slew of attractions. Studio Munge redesigned and reinvigorated the guest rooms, suites and hotel at large with contemporary appeal and old-world gravitas.
With a youthful verve, the hotel displays an impressive artwork collection by both internationally renowned and local artists of many disciplines. Check into either of two Pendry Suites, one each on floors 35 and 36. Opening to approximately 1,000 sq ft, they're sleeky furnished and designed to complement the urbane outdoor scenery. Enjoy a cocktail at Bar Pendry, where a Sunday afternoon Boozy Tea includes live entertainment by Chicago musicians.
From $3,115. Contact James Winning, director of sales and marketing, james.winning@pendry.com, +1 312 777 9000, pendry.com
Waldorf Astoria Chicago, Presidential Suite
For a little Paris in Chicago, sashay over to the 60-story Waldorf Astoria, cannily designed by architect Lucien Lagrange to echo the grand hotels of Paris in the 1920s. Locked into prime real estate in the exclusive Gold Coast neighborhood, the 215-room hotel spoils guests with such attributes as a 14,000-sq-ft spa and health club, 8,000 sq ft of meeting space and 24-hour room service. As the hotel's crème de la crème, the 2,400-plus-sq-ft Presidential Suite occupies the 26th floor as elegantly as a Right Bank pied-à-terre. With two charcoal bluehued bedrooms, as well as a duo of bathrooms, two terraces and a fitness room (outfitted with athletic extravagances such as an Echelon Fitness Mirror), the lustrous home-away-from-home more than suffices.
From $15,000. Contact Judson Corrie, guest relations manager, judson.corrie@waldorfastoria.com ,+1 312 646 1300, waldorfastoriachicagohotel.com
Ritz-Carlton Chicago, Presidential Suite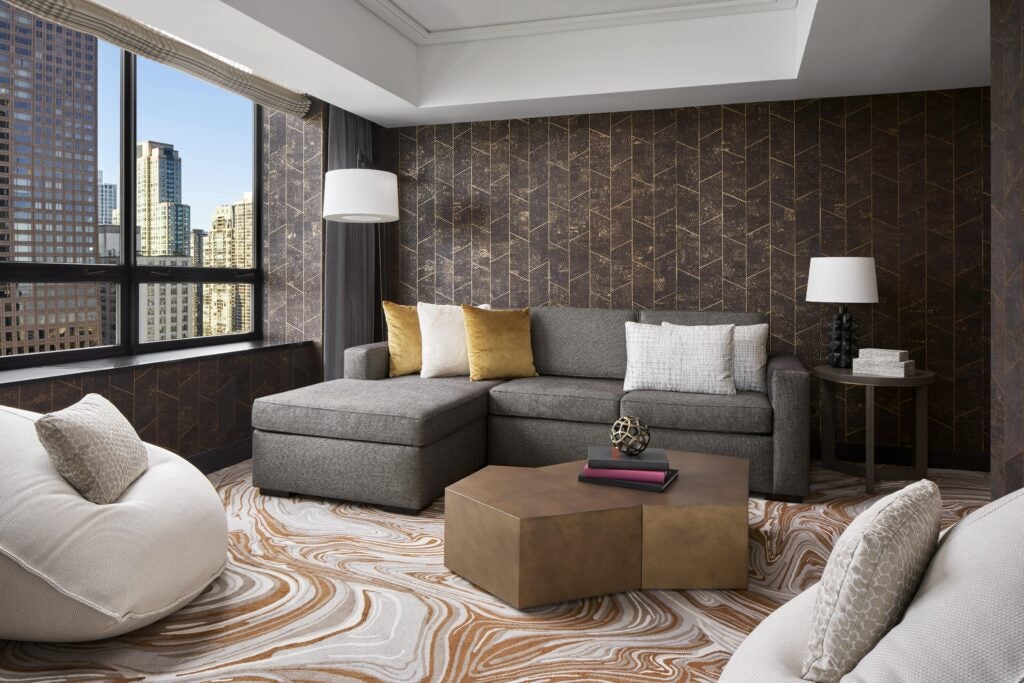 Ever swanky, the nearly five-decades-old Ritz-Carlton Chicago got swishier with its recent, monumental, $100m renovation — a stunning facelift for a Second City legend. On the Gold Coast, ensconced in Water Tower Place just steps from Lake Michigan, the hotel summons history at every turn — think: craft cocktails in the Club Lounge, art that showcases the city's architectural history and views of the incomparable skyline from every window.
So exclusive it cannot be booked online, the Presidential Suite, reimagined with a contemporary flourish by award-winning design firm BAMO, rises two floors by way of a curvy balustrade. While common areas and the commodious bedroom feel airy with views of Navy Pier, the charcoal marbled bathroom with its deep black soaking tub beckons as a hedonistic hideaway.
From $10,000. Contact Lauren Johnson, travel industry sales manager, lauren.johnson@ritzcarlton.com, +1 312 573 3409, ritzcarlton.com
A guide to Chicago's best sights
Night at the museum
Claim the Museum of Contemporary Art Chicago all to yourself when you take a VIP After Hours Tour, a one-hour, bespoke jaunt through the galleries led by local artist guides.
Art and architecture
So much architecture, so little time. Go with the best, as recommended by Langham Chicago's concierge Philippe Gills. Chicago Private Tours and Productions, operated by Steven Garcia, transports art and architecture buffs by Cadillac Escalade or Mercedes 550 to view works that range from murals to Art Deco masterpieces.
Play ball
Football. Baseball. Basketball. Renowned for its sports teams and loyal fans, Chicago is a game fanatic's mecca. Most sporting venues offer VIP packages sure to garner the best seats and insider access. Go for the Ultimate Chicago Bears Experience at Soldier Field, available for most home Chicago Bears football games, inclusive of top-notch tickets, a pregame brunch and more.
Slow travel
Walking's slower pace brings Chicago's fine details into focus. Trek the 606, the Windy City's answer to NYC's High Line. An elevated rail trail that winds for 2.7 miles, it incorporates the Bloomingdale Trail, connecting to four neighborhood parks at ground level. Conversely, trek the eastern shoreline of Lake Michigan along the paved, 18-mile-long Lakefront Trail.
Ahoy matey
Experiencing Chicago from the water, looking back at the cityscape is obligatory. Eschew commercial boat rides when you book a personal yacht, complete with captain, from Knot My Boat Charters. From their vast fleet, opt for the 56′ Sea Ray Sundancer, a two-bedroom, two-bath haven.