It's no secret that a dazzling necklace is (and always will be) the key to a woman's heart. But now we're also calling the alluring accessories our best-kept business secrets. Zoom calls mean that we get to swap out stiff pants and unflattering pencil skirts for a sumptuous array of statement necklaces. And what better excuse to ramp up your jewelry box with our top picks— It's just a professional move to land the right clients right?
When most of your first interactions occur over video, how you decorate your decolletage says a lot about you—personally and professionally. A chunky gold chain alludes to a casual-contemporary style. A vibrant gemstone often lightens the mood with just the right pop of color. And a diamond adds a little sparkle to get you through the grind.
But not all purchases are about how you appear on screen. Stylishly sentimental necklaces remain standout gifts (for someone else or yourself). A birthstone pendant symbolizes unique promise and prosperity. An alphabet or name chain speaks to one's adored individuality. And dainty versatile necklaces allow you to wear the sweet sentiment close to your heart as a daily reminder of a beautiful romance. 
At the end of the day, your jewelry box tells many tales—tales of relationships, style, and self-love. 
Let's make your story shine out from the rest with these best necklaces for women. 
Best gold chains for women
Gold chains are and always will be some of the best necklaces for women. The gold chain comes in a multitude of styles. Keep it simple and dainty. Or jump aboard the chunky trend with contemporary designs. Wear it long and delicate with a pendant at the end. Or stick to a short choker style (with diamonds for extra decadence).
Cuyana Double Chain Necklace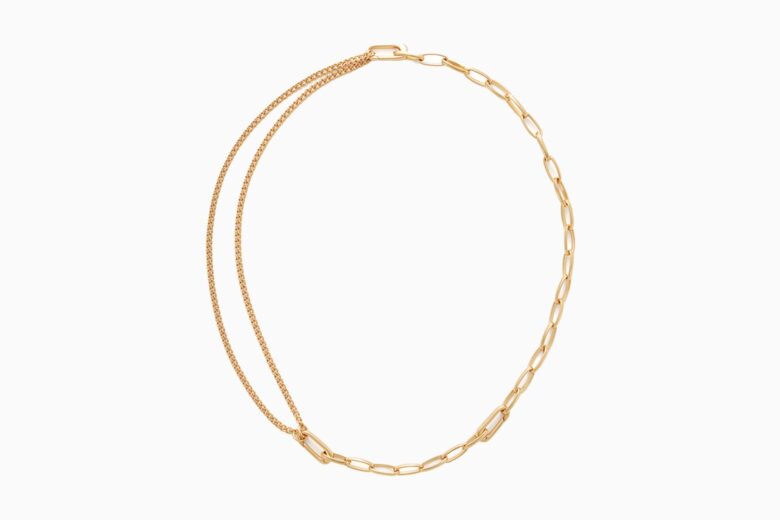 Cuyana is our go-to for elevated essentials. So it's no surprise that this piece makes it one of our favorite gold necklaces for women. Made from 14k gold plated recycled brass, the avant-garde piece makes you the master of your own destiny. The chain comes in separate parts to style as you wish. And receiving this Cuyana staple will feel like owning multiple new necklaces. 
Oliver Cabell Cuban Chain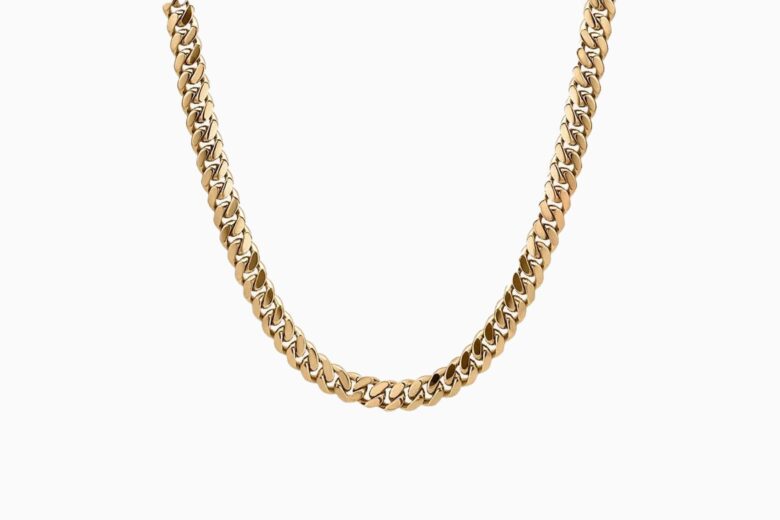 Women's chain-only necklaces are more popular than ever before. And when it comes to the minimalist piece, we love to see them leaning toward more chunky designs. This Oliver Cabell gold chain is the perfect balance between contemporary and classical. And while it'll hardly go unnoticed, it's simple enough to wear daily. 
Elhanati Gold Iman Diamond Necklace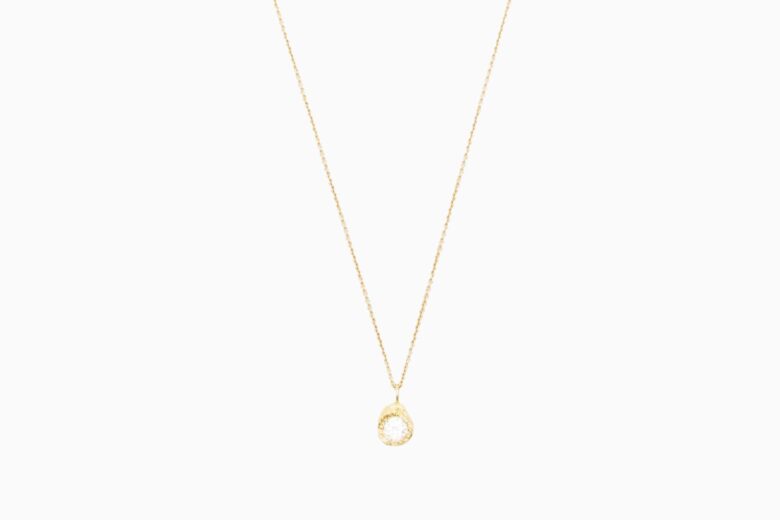 A gold chain with diamonds will never go out of style. But this piece by Elhanati manages to achieve that classical finesse with a new contemporary edge. Set in an irregular setting, the diamond pendant has a whimsical allure. While the solitaire design speaks to the timelessness of a girl's best friend.  
Dorsey Paulette Chain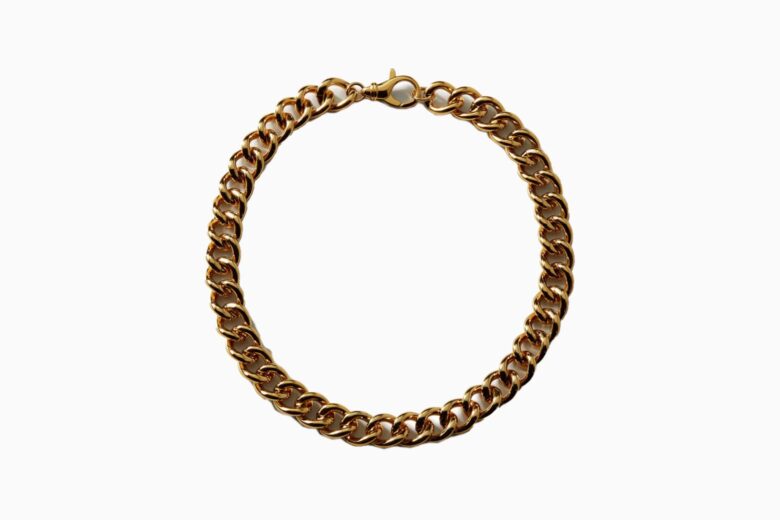 Best known for its modern minimalist designs, it's no surprise that Dorsey's gold chain only necklaces are amongst our favorites. This one in particular caught our eye with its chunky style and avant-garde design. The everyday necklace is prepared to be dressed up or down and will add a contemporary sparkle to every ensemble. 
Best chokers for women
Layering your necklaces is an art—albeit not a difficult one to learn. To get the cover-worthy look start with a choker and work down from there. Or don't. These popular necklaces are equally stunning as stand-alone pieces. Swarovski makes a statement with its signature crystal necklaces. While Anine Bing gives your grandmother's classical pearls a contemporary spin.
Swarovski Harmonia Choker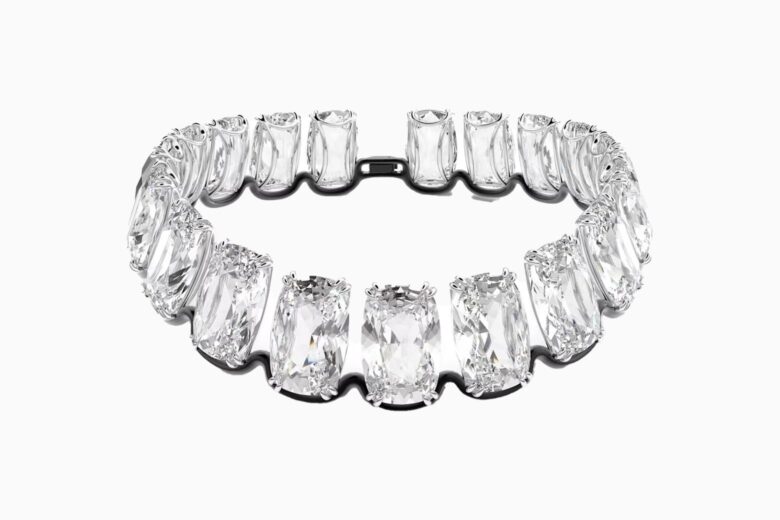 Known for its red carpet-ready designs, Swarovski is one of our best jewelry brands. And this crystal necklace for women shows you why. The decadent piece comes in gold or silver and flaunts huge floating crystals. The statement piece is bound to attract compliments and is the perfect way to add some pizzazz to your LBD. 
Anine Bing Classic Pearl Choker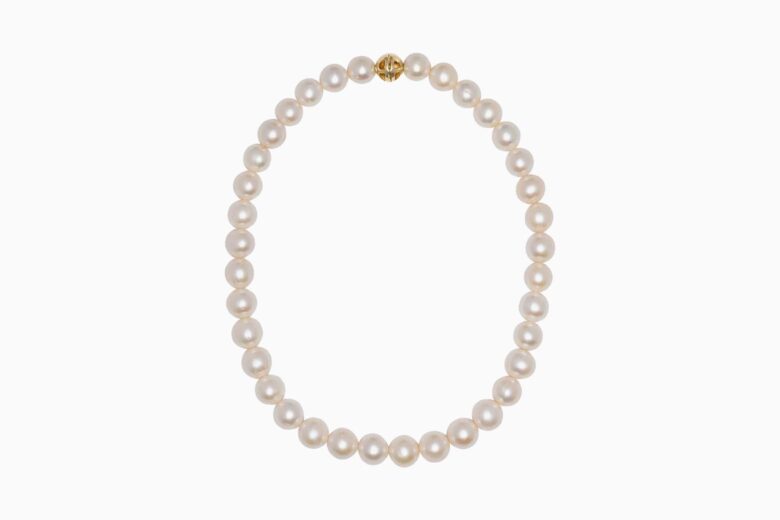 This Anine Bing design is nothing like your grandmother's. The short choker style speaks to a chic contemporary design. While the string of freshwater pearls pays homage to the classical heirloom. This elegant jewelry necklace is right on-trend, yet remains effortlessly timeless for daytime or nighttime wear. What more could you want in a new accessory? 
Bryan Anthonys Moon Phases Choker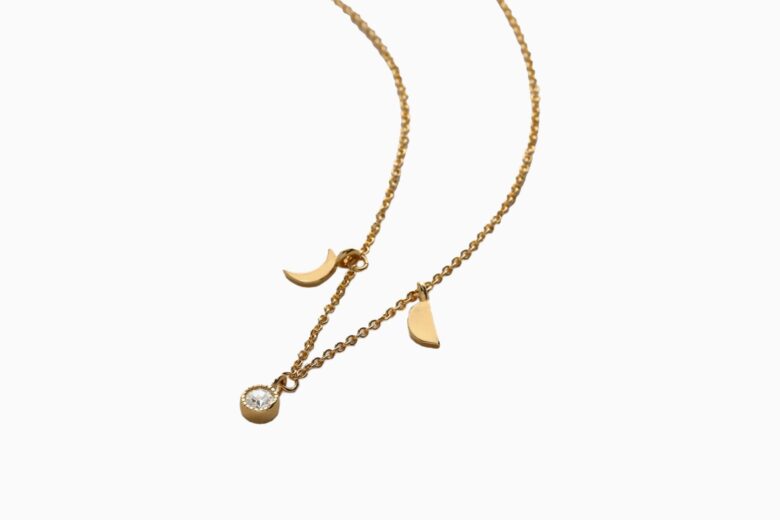 Like the moon, your style is full of phases, but that doesn't mean your jewelry has to change with them. Bryan Anthonys trendy necklaces meet all the latest styles with timeless elegance. This alluring design is no exception. A simple gold chain showcases different moon phases on either side of a scintillating stone. And the meaning behind the design makes it a sentimental gift for that special someone.
Best charm necklaces and pendants for women
Many women adore these charm necklaces and pendants for their deep-rooted history and significant symbolism. While others can't get enough of the vibrant hues and contemporary cuts to elevate any outfit. Either way, these cute necklaces are the perfect anniversary gift to win points for sentimentality and style.
Vincero Sapphire Pendant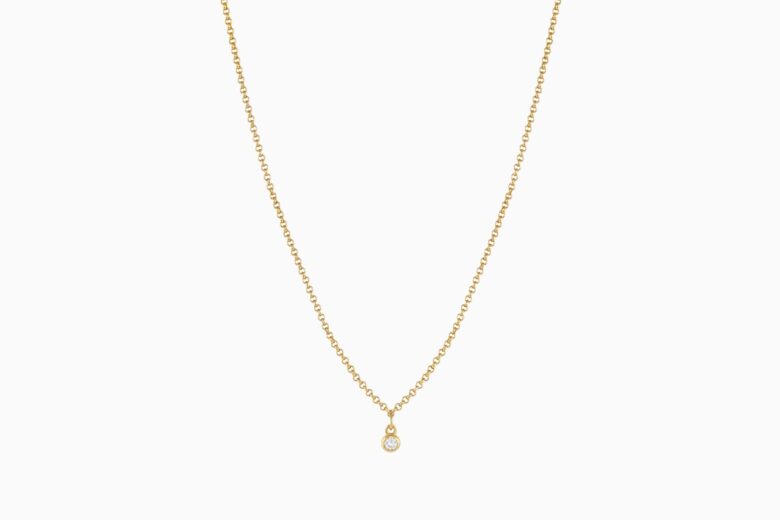 White sapphires are making their way into engagement rings and other high-end jewelry. They are similar to a diamond in every way but the price tag. And if you're looking for a simple gold accessory to wear daily, this Vincero long pendant necklace is an exquisitely subtle piece to complement everything. 
Kimai Love Diamond Pendant Necklace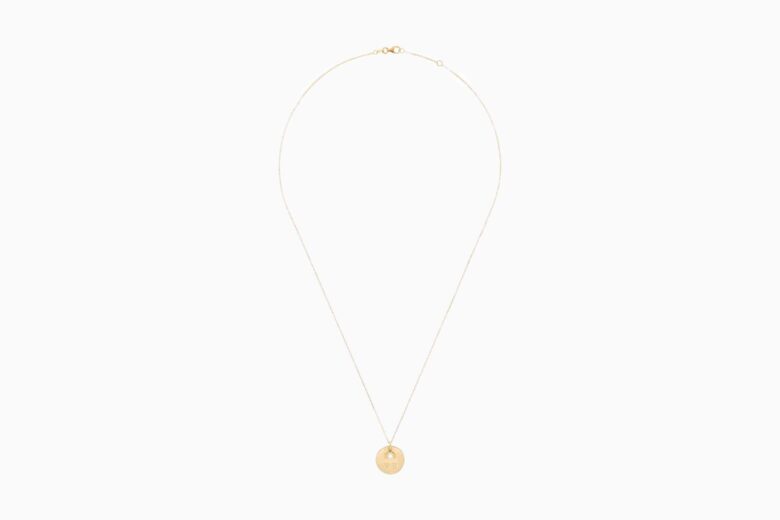 Looking for a romantic gift for your latest milestone? These gold pendants for women say it all with a simple engraving. And when Kimai spells love, it does it properly—with a diamond pendant for the O. Alternatively, show yourself some love and add this sentimental piece to your cart. We're all about that here at Luxe Digital.
Gorjana Evil Eye Charm Necklace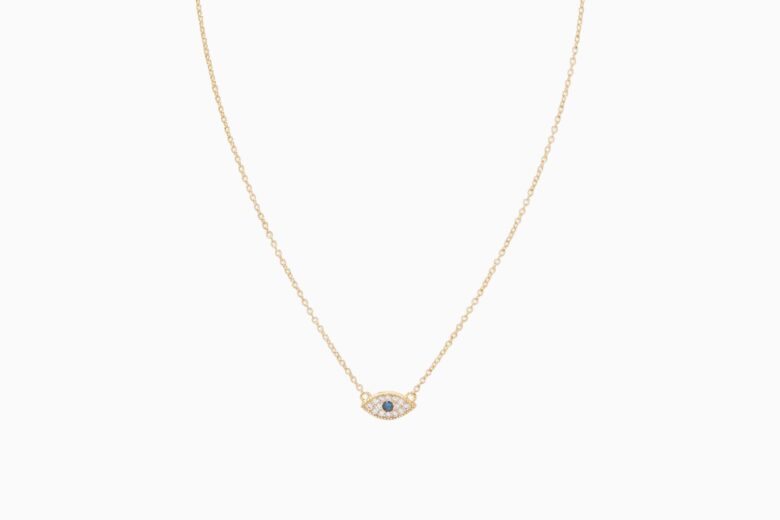 The meaning behind the evil eye talisman makes it a special purchase for personal reasons. And although we can't promise magic powers, we can guarantee that this versatile women's necklace will protect you from bad styling. The gorgeous pendant is made up of white cubic zirconias and centers a London blue nanogem for the pupil. Paired with a delicate gold chain, it's the kind of accessory you'll never take off.
Best long necklaces for women
Long necklaces for women are an effortless way to decorate your decolletage. 
Gucci Link to Love Lariat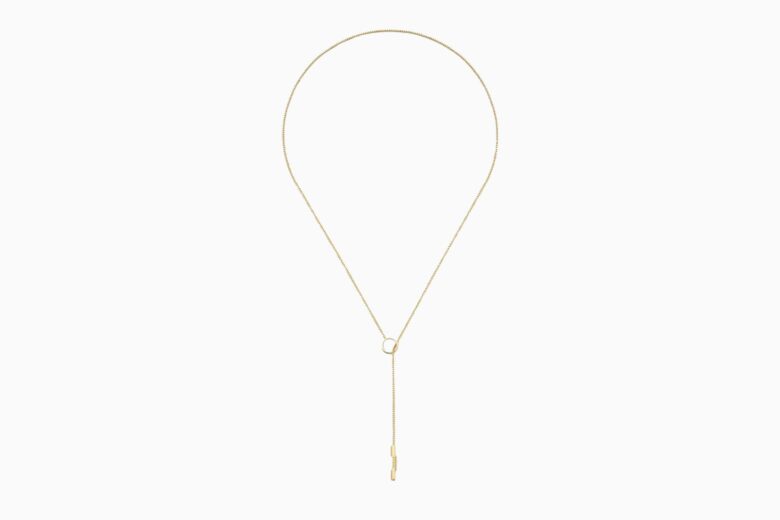 Gucci is renowned for its opulent accessories—from luxury watches to shoes to bags—so it's no surprise that its jewelry line is just as glamorous. The designer necklaces in the Link to Love collection explore new ways to embody contemporary romanticism. And that is exactly what this Gucci gold chain lariat does so effortlessly.
Alighieri The Clouds In Your Mind Necklace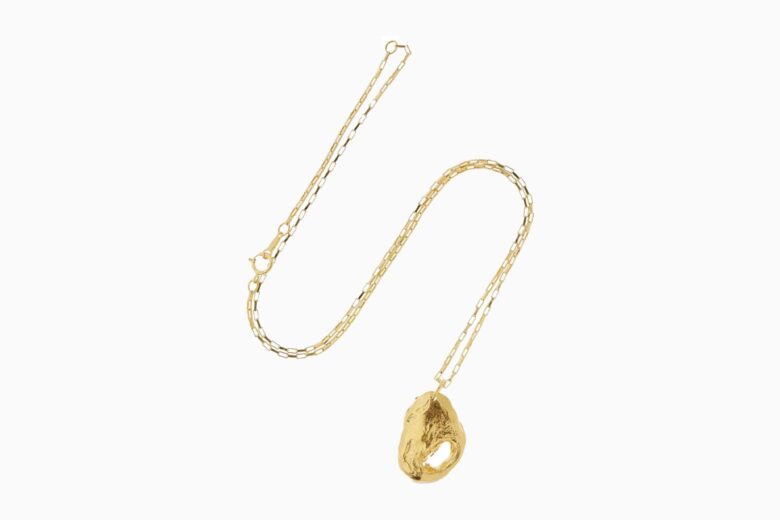 Irregular gold pendants for women are all the rage this season. And Alighieri has hit the trendy nail on the head with this contemporary rendition of the long pendant necklace. The sizable irregular medallion speaks to avant-garde sculpting. While the neutral gold plating maintains the design's versatile timelessness. 
Aurelie Bidermann Miki Knotted Long Necklace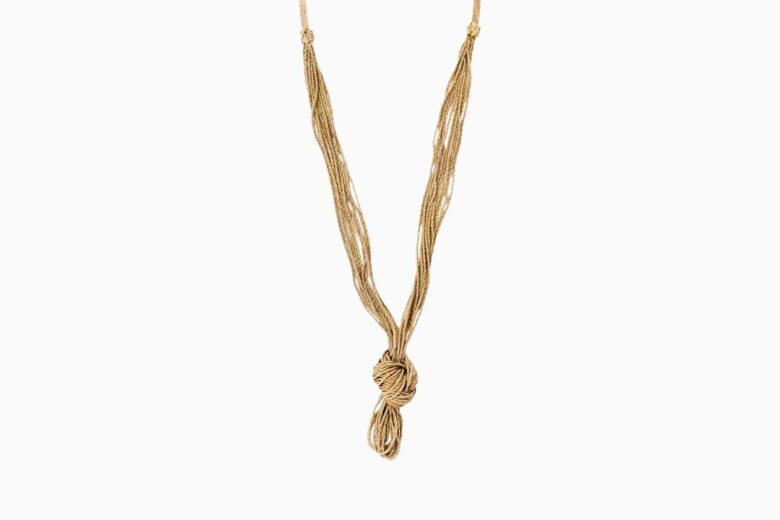 Trendy necklaces come in all shapes and sizes. This one just so happens to come in the form of a giant knot. The French designer knew exactly what she was doing when she created this gold piece. And the standout design exudes a contemporary chic style with a chunky silhouette and casual formation. 
Best gemstone necklaces for women
Whether it's symbolic birthstones or exotic hues, gemstones remain one of our favorite pendants for women.
Dior Mimirose Emerald Necklace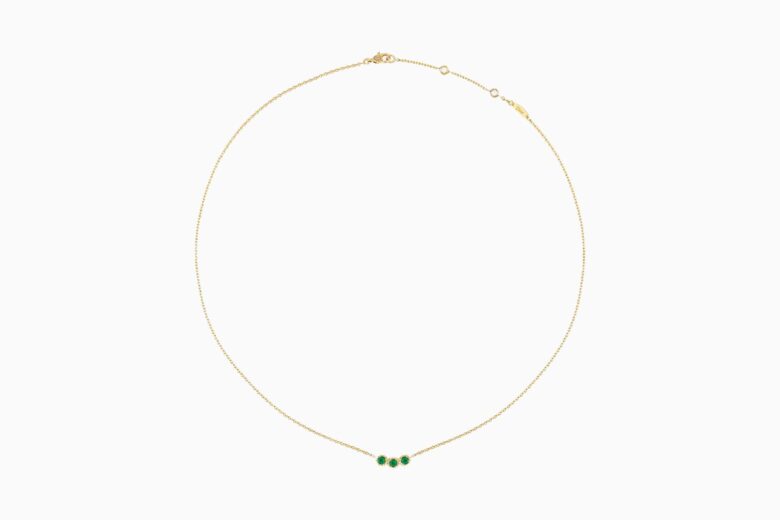 Renowned for revolutionizing women's fashion, Dior's designer necklaces stay true to the brand's iconic reputation. And this Mimirose design is everything we love about the brand. The three small emerald gems are the perfect pop of color for your everyday wear. And set in gold, the contrast couldn't be more alluring. 
Gorjana Venice Gem Necklace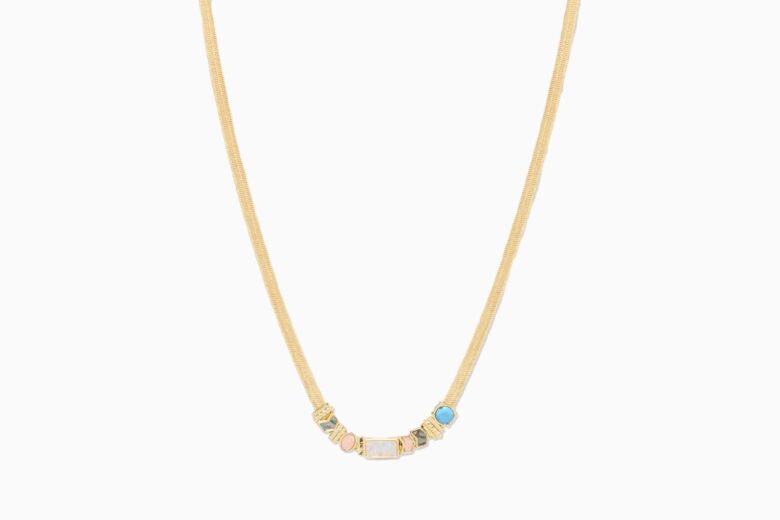 We're all for mixing and matching various gemstones. And when done well, the result is radiant. As expected Gorjana has achieved the look flawlessly with a rainbow of turquoise, pink mother of pearl, opalite, and abalone set in gold. Pair this Gorjana everyday necklace with your neutral linens to spruce up your relaxed Summer style.
Missoma Amazonite Lena Chain Choker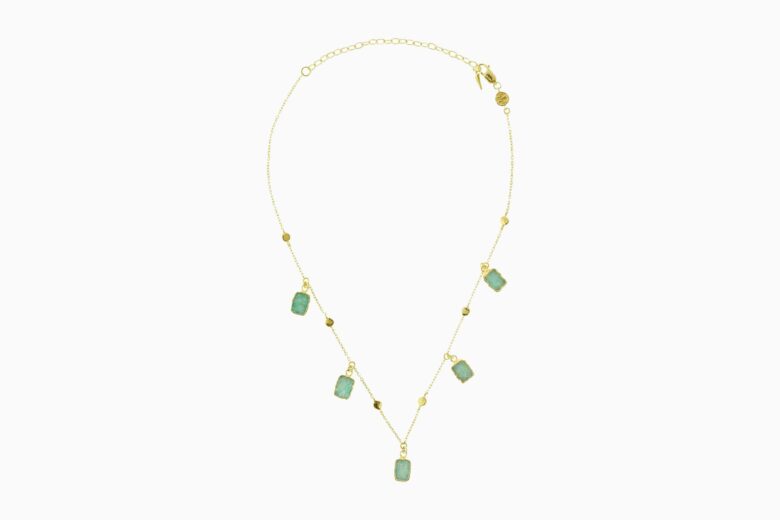 This Missoma Amazonite choker is here to make your everyday average getup feel like a million bucks. We're calling these exotic green gemstones the color of the season. And set in gold with round accents, you won't be able to help working your daily wear around the accessory. Although you won't have to work very hard, we think that this jewelry necklace pairs well with pretty much anything.
Barkevs Ruby & Diamond Halo Necklace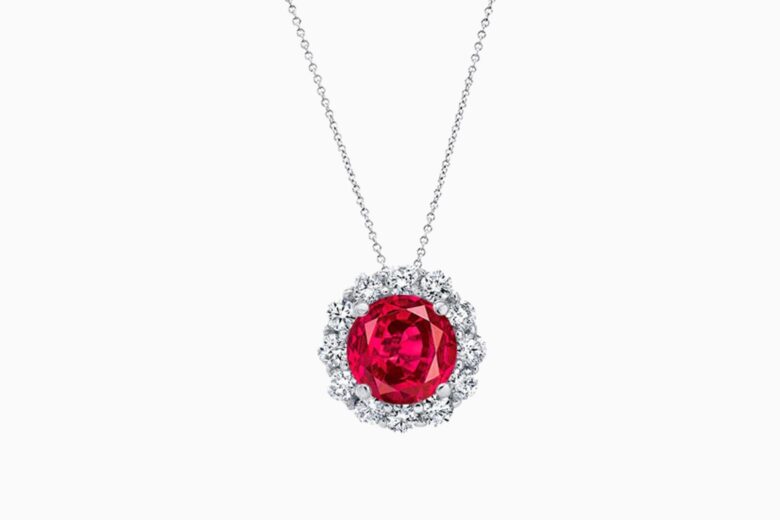 Barkev's statement necklaces know how to make a scene the right way. And this ruby pendant does just that with a scintillating diamond halo. The exquisite stone is set in 14k white gold. And contrasted with a vibrant red, this sumptuous ensemble will hardly go unnoticed. So be prepared to be showered with compliments.
Jia Jia Aquamarine Necklace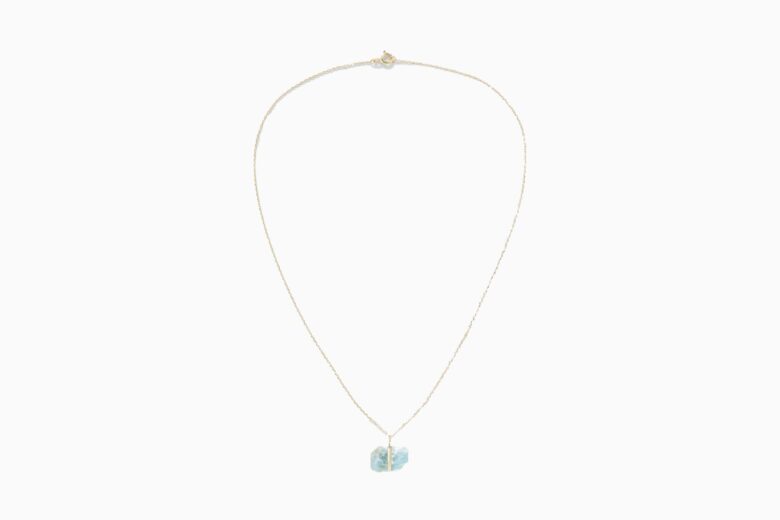 Marked as the birthstone for March, aquamarine speaks to a soft but strong sentiment. And contrasted with a 14k gold chain, this captivating piece of jewelry does just that. The delicate handcrafted design adjusts to your preferred length. And the gentle hue adds some color without stealing the show, making it effortlessly versatile. Jia Jia cute necklaces are always a good idea for gifting. But this one is extra special.
Best beaded necklaces for her
Beaded necklaces for women are back with renewed vigor. And we couldn't be more pleased. The casual-chic style comes in many distinct iterations.
Gigi Clozeau Beaded Necklace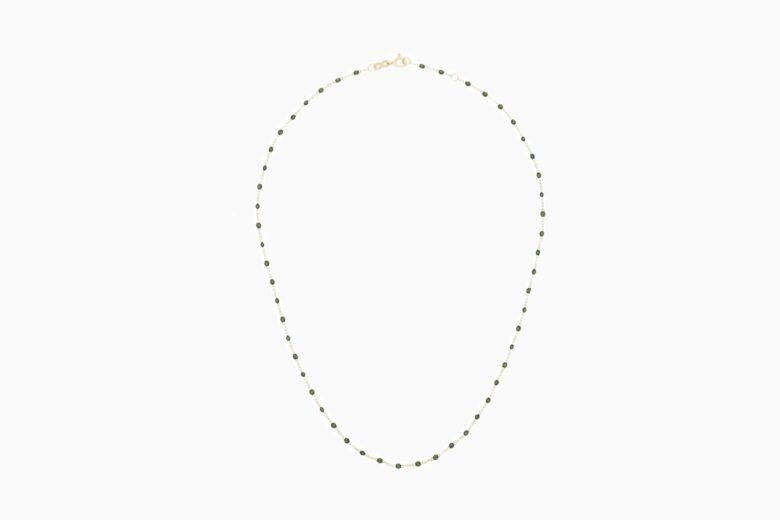 Gigi Clozeau's cute simple necklaces are just the right amount of color for our minimalist heart. The delicate beads flaunt green and blue hues with specks of gold. And set into an 18k gold chain, the mystical allure is far too tempting to resist. Our relationship with this timelessly trendy piece is a true love affair. And we think yours will be too. 
Isabelle Toledano Amazone Necklace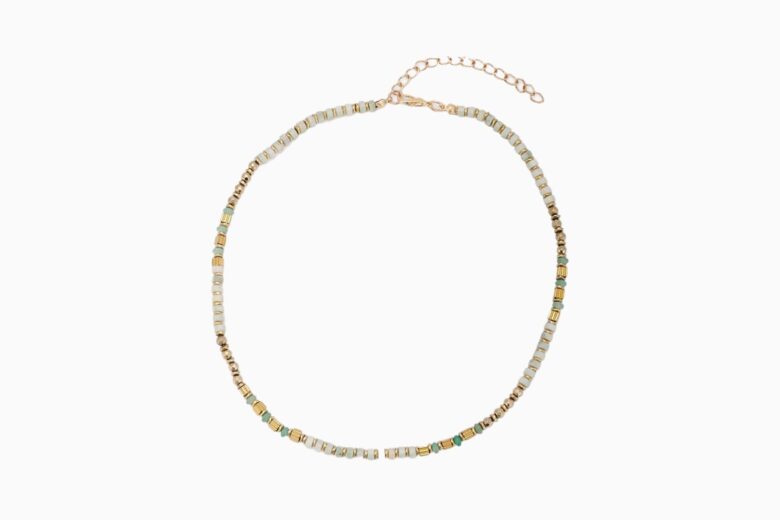 Appropriately named after the famous forest, this women's necklace flaunts different tones of neutral greens. The combination plays with whimsy yet stays true to the brand's sophisticated appeal with touches of gold and pearl. Add a playful edge to your office suit. Or dress it up for your night out. Either way, these multicolored beads are bound to refresh your entire look. 
Gigi Clozeau Y Party Necklace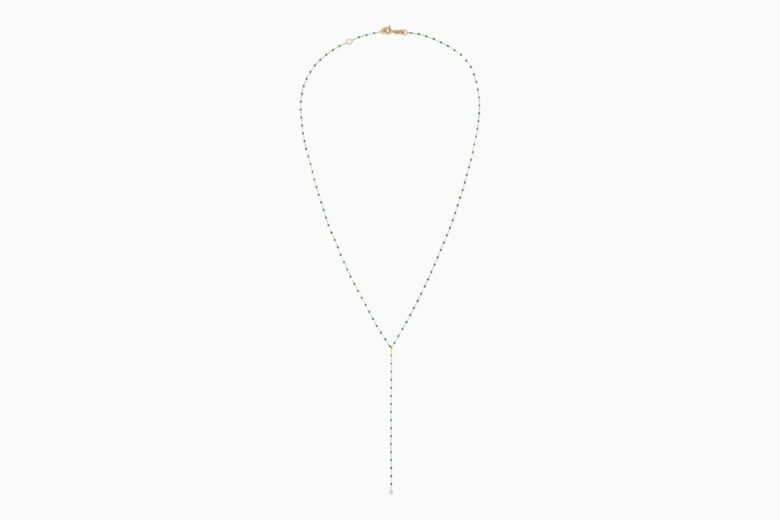 Simple and elegant, this Y-shaped accessory is amongst our best necklaces for women for good reason. The slender gold chain is dotted with emerald beads. And the alluring lariat drops into a dazzling diamond. This piece pairs well with absolutely anything. And the Spring hues add fresh finesse to ordinary outfits.
Anine Bing Beaded Necklace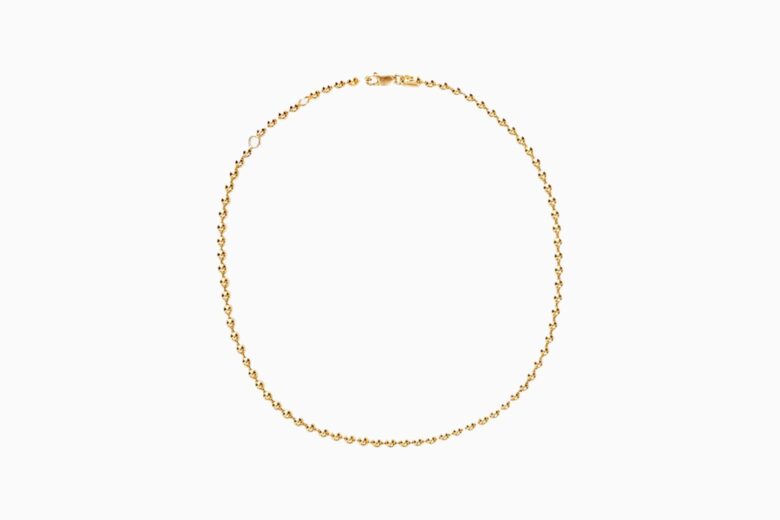 We love simple, sophisticated necklaces for women. And this gold beaded gold chain reveals all the reasons why. It's perfect for layering with any other piece—plain or bold. But it isn't afraid to stand alone. It's that lifelong companion that you never separate from. And the gold on gold will always add a subtle sparkle to your daily routine. 
Best silver necklaces for women
Silver necklaces will never go out of style. The versatile metal leaves ample room for unique designs. It may be a simple snake chain to layer with the one you already wear. Or perhaps it's a chunky chain to embody your contemporary chic style. Whatever your choice, you can't go wrong with one of our favorite silver necklaces for women.
Vincero Snake Chain Necklace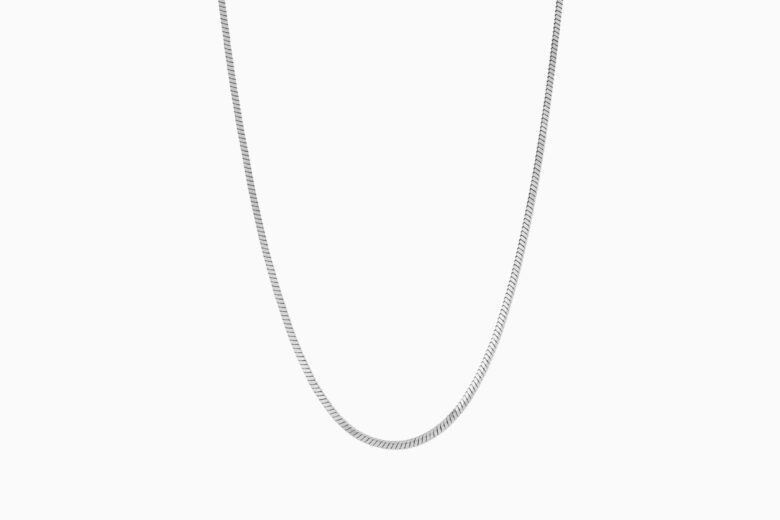 Take a masterclass in modern minimalism with this effortlessly chic snake chain. Known for its high-end watches, Vincero understands affordable luxury. And this clean-cut accessory is no exception. The everyday necklace comes in sterling silver or gold. And falling just below the collarbone, it'll create that opulent look without trying too hard. 
Tous Faceted Rose Quartz Necklace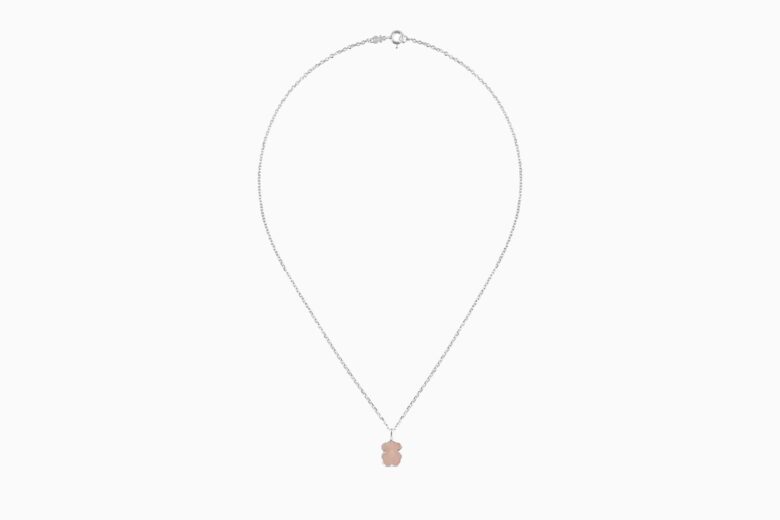 Pair a silver chain with soft rose quartz and you've got yourself a fairytale ensemble. This long silver necklace is likely to fall over your white blouse or summer dress for subtle contrasting. And the irregular-shaped pendant vaguely resembles florals for a feminne flair. There's hardly ever a reason to take this elegant piece off. And it will easily settle in as your new stylish accomplice. 
Dorsey Lilletta Silver Necklace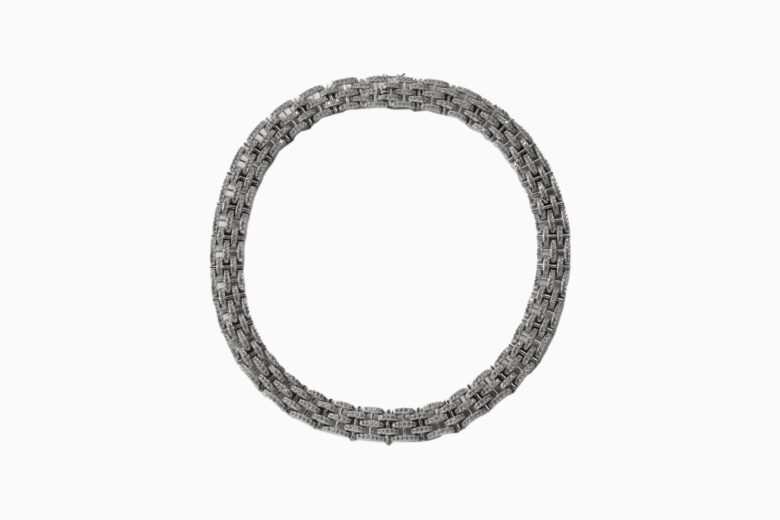 With so many different types of necklaces to choose from, you should never overlook the power of a simple silver chain. And while Dorsey's Liletta isn't fussed by extra accents, the chunky chain is anything but boring. Featuring 400 crystal stones and hitting the collarbones, the silver necklace draws just the right amount of attention to your decolletage. 
Loren Stewart Silver Necklace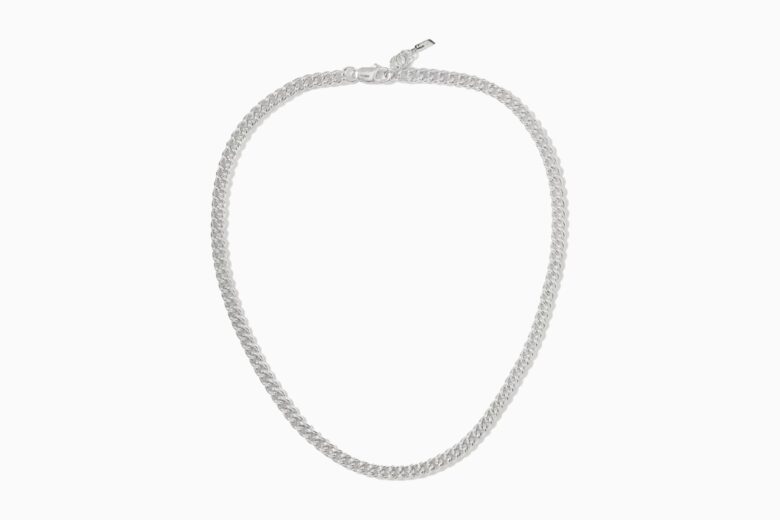 Polish your laidback look with Loren Stewart's cute simple necklaces. This silver chain never gets in the way of more eccentric styles. And it subtly adds a touch of sparkle to less-is-more ensembles. Layer it effortlessly or stick to a single. This everyday necklace is the perfect package for even the most jewelry-averse ladies. 
Riviere necklaces for her
Riviere necklaces for her are ravishing in every way. Each rendition of the tennis classic speaks to the brands' unique designs. Whether it's white sapphires, chokers, or rose quartz statement necklaces—you'll want to be seen wearing one of these in high-end stylish circles.
Dorsey Kate White Sapphire Silver Riviere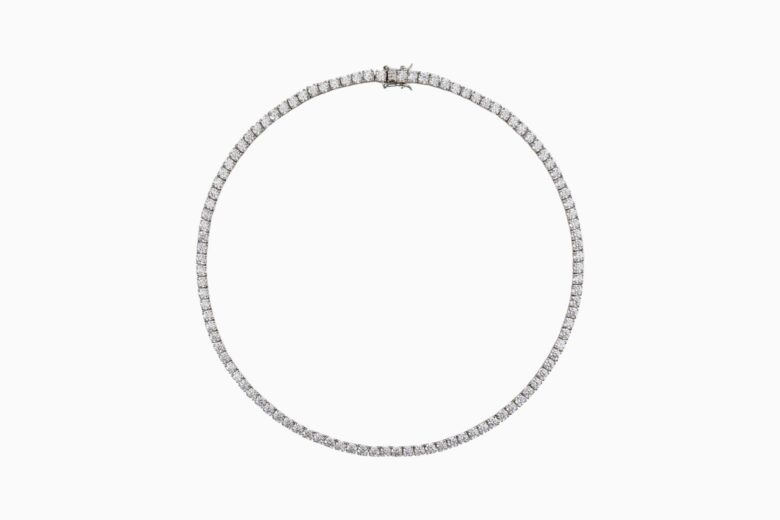 Here's another Dorsey classic to meet your daily needs. And this one is made to shine out with a full neck of scintillating lab-grown white sapphires. They're almost as dazzling as diamonds, but they won't break your bank. That's what we call winning. 
Swarovski Millenia Necklace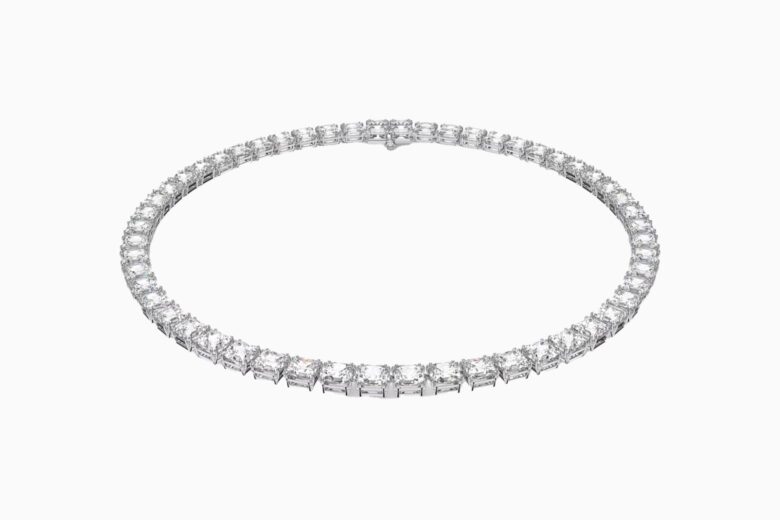 With its classical tennis style, Swarovski's Millenia necklace is bound to make you swoon. The square-cut crystals add a contemporary twist with straight edges that will elevate even the simplest of white T-shirts and denim ensembles. And the twinkling necklace is a captivating contrast set against darker palettes for your evening soirees. 
Camille Classic Tennis Necklace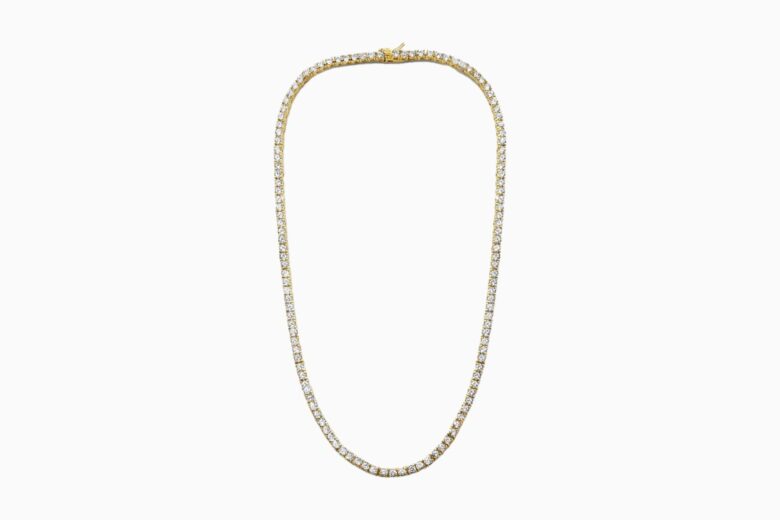 Chokers for women take a delicate turn with this dazzling Camille. The classic tennis style sees cubic zirconias dancing around your neck. And the effortlessly versatile composition is guaranteed to be a hit with every outfit. While the timeless design remains on-trend through ever-changing seasons. 
Larkspur & Hawk Bella Mini Rivière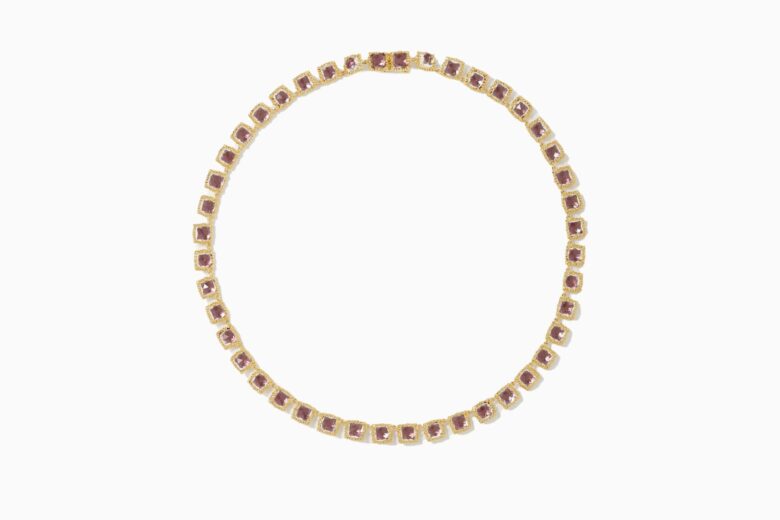 Created using the brand's unique foiling methods, this women's necklace by Larkspur & Hawk looks like it's made for nobility. And you'll feel nothing less than royal with the ethereal piece resting on your collarbones. The soft pink quartz speaks to an elegant femininity. While the gold square settings add a contemporary component. 
Best custom women's necklaces
Looking for cute necklaces for your girlfriend? Take our advice—custom designs always go down well. And our top picks go down the best. 
Sincerely Silver Dainty Name Necklace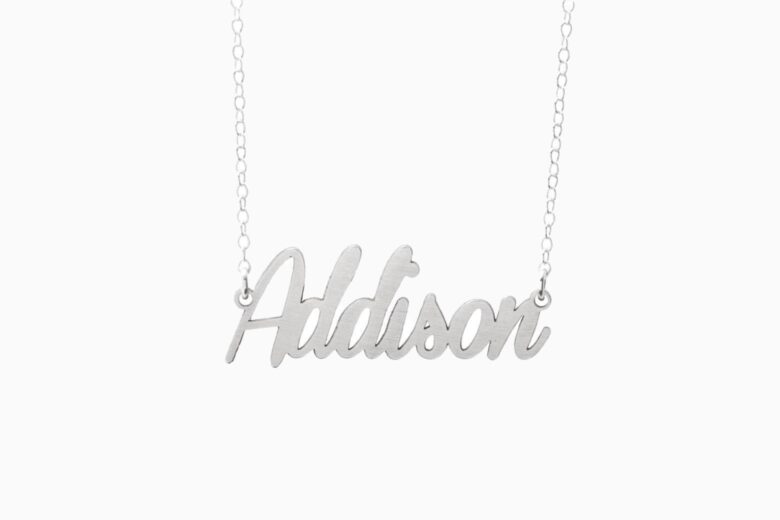 This season's all about personal branding. And what better way to do it than with your name nestled on your neck. This Sincere's custom necklace for women comes in sterling silver, gold, or rose gold. And it can be personalized with any name you choose. In short, you'll never have to be plagued by birthday shopping indecision ever again. Yours sincerely. 
Gorjana Gold Alphabet Necklace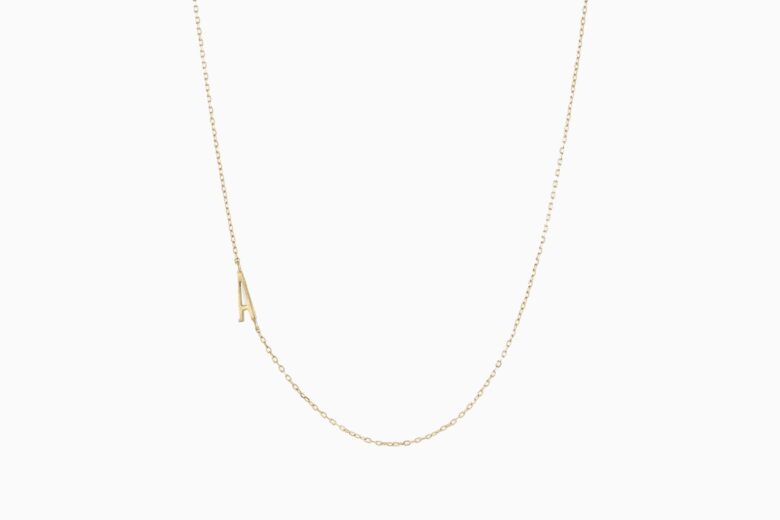 There's nothing cliche about these custom alphabet charm necklaces. Each gold letter is created in an elongated font. Instead of hanging off the chain, the character is set into it. And it sits on the left collarbone for an asymmetrical contemporary style. This simple accessory is perfect for the modern minimalist. And it is easy to layer for those who love the extra bling. 
Capsul Personalized Locket Necklace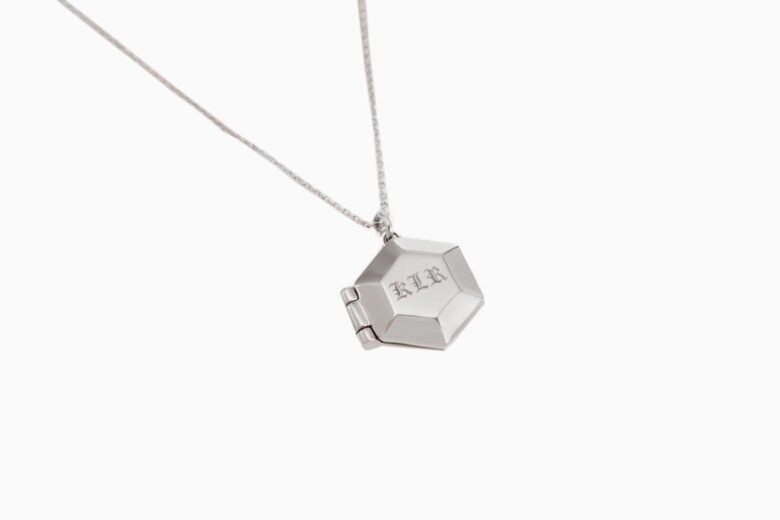 Keep your loved ones close to your heart with these cute necklaces. This picture necklace for women speaks to an old-school romanticism but with a refreshed style. The hexagon shape adds a unique allure to the classical piece by Capsul. And the gold, silver or rose gold pendants can be engraved with a meaningful monogram for extra significance. 
Frequently asked questions about women's necklaces
What are the different necklace styles?
There are many different types of necklaces out there. We love a chunky gold chain for contemporary versatility. While a good gemstone pendant adds a pop of color without trying too hard. And a sentimental picture necklace for women is all you need to win her heart over and over again. For more inspiration, review our list of the best necklaces for women.
What is a good necklace to wear all the time?
Our favorite women's chain only necklaces are made to live around your neck. And while they're endlessly versatile, they're far from boring. Chunky chains speak to the modern minimalist, while delicate chains are perfect for laying with some of our other best necklaces for women.
What is the most popular style of necklace?
The popularity of a particular style ultimately comes down to its audience. A custom necklace for women will always be a winning gift. You can also never go wrong with a gold chain with diamonds. And when done well, a color-popping long pendant necklace remains one of the best necklaces for women.
What necklaces can you wear every day?
Gold chain only necklaces are perfect for everyday wear. They're effortless to layer. And they'll add a subtle sparkle to any ensemble. A long silver necklace is also one of our best necklaces for women. Whether you pair it with a pendant or let it stand alone—you can seldom go wrong with wearing a daily simple accessory.
What is the most durable type of necklace?
We're all for exaggerated silver or gold chains for women. And dare we say—the chunkier the better. Not only are large accessories all the rage this season. But our high-quality picks are made to endure everyday wear over a lifetime of adventure.