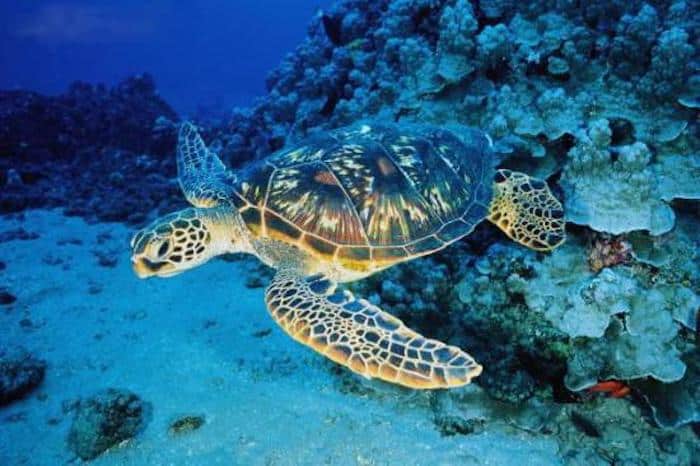 For one of the best destinations for snorkelling in America, make your way to Florida. With its warm weather, crystal-clear waters of the Atlantic Ocean and a wide variety of sites, snorkelling in the Sunshine State is suitable for all ages and abilities. Not only that, in Florida, you'll find the only living coral reef in the continental United States. In fact, the Florida Reef is the third-largest coral barrier reef in the world. These coral reefs are a playground for colourful, tropical fish and marine life. The best time to go snorkelling in Florida is from late November through to May. This way you avoid hurricane season. Ready to explore the underwater world? Here are some of the best snorkelling destinations in Florida.
1. Jose Cuervo Bar
If you are looking for a beach snorkelling site – no boat needed – then don your fins and make your way to the Jose Cuervo Bar at Miami Beach. Here, you'll find a sunken artificial reef approximately 150 yards southeast of the Second Street lifeguard station. Yes, this is an actual concrete underwater margarita bar! It was sunk during the Cinco de Mayo Festival back in 2000. Expect to see lots of reef fish as well as bar stools and a mermaid. Just remember: never drink and dive.
2. John Pennekamp Coral Reef State Park
The John Pennekamp Coral Reef State Park is the first undersea park in the United States of America. The coral reef here is so beautiful and diverse too. It is the perfect spot to come and enjoy picnics, walks and hikes. However, most people come here to scuba and snorkel the coral reefs and the marine life that calls the coral home, for instance, parrotfish, wrasses, damselfish, snappers, grunts and barracudas. You also see lobster, sea cucumbers, urchins, shrimp and anemones.
3.
Bahia Honda State Park
For great snorkelling, water sports, and long walks on soft sand, plan a visit to Bahia Honda State Park, located south of Seven Mile Bridge at mile marker 37. This breathtaking state park is a super spot for beginners and children. Underneath the wonderfully clear waters, you'll spot sponges and soft corals and a variety of marine species, for example, lobsters.
4. Neptune Memorial Reef
Located 3.25 miles east of Key Biscayne in Miami, Neptune Memorial Reef is a beautiful man-made reef some 40 feet under the sea. You'll see an abundance of marine life including 56 different fish species, for instance, bluehead wrasse, sergeant majors, bar jacks, rainbow parrotfish and tomtates. You'll also see spiny lobsters, spotted and green morays, corals and urchins.
5. Florida Keys National Marine Sanctuary
The Florida Keys National Marine Sanctuary covers 2,900 square nautical miles and protects the thriving, vibrant underwater world of the Florida Keys. There are loads of different snorkelling spots here to suit all ages, abilities and interests, including a series of shipwrecks you can explore.
6.
Cottrell Key
Cottrell Key is situated northwest of Key West, roughly eight miles into the Gulf of Mexico and is only accessible by boat. This snorkelling spot is a patch coral reef and sponge garden with relatively shallow waters that are suitable for children and beginners. It's also a great site to see large marine life, for instance, dolphins, sharks, stingrays and Goliath groupers.
7. Emerald Reef
Emerald reef is one of the largest natural reefs in Miami. Located one mile east of Key Biscayne, the conditions at this shallow patch reef are usually always good for snorkelling. You will see lots of underwater life as the large rocks are home to many interesting critters, for example, lobsters, grunts and barracuda. The reef is home to numerous hard corals, gorgonians and sponges.