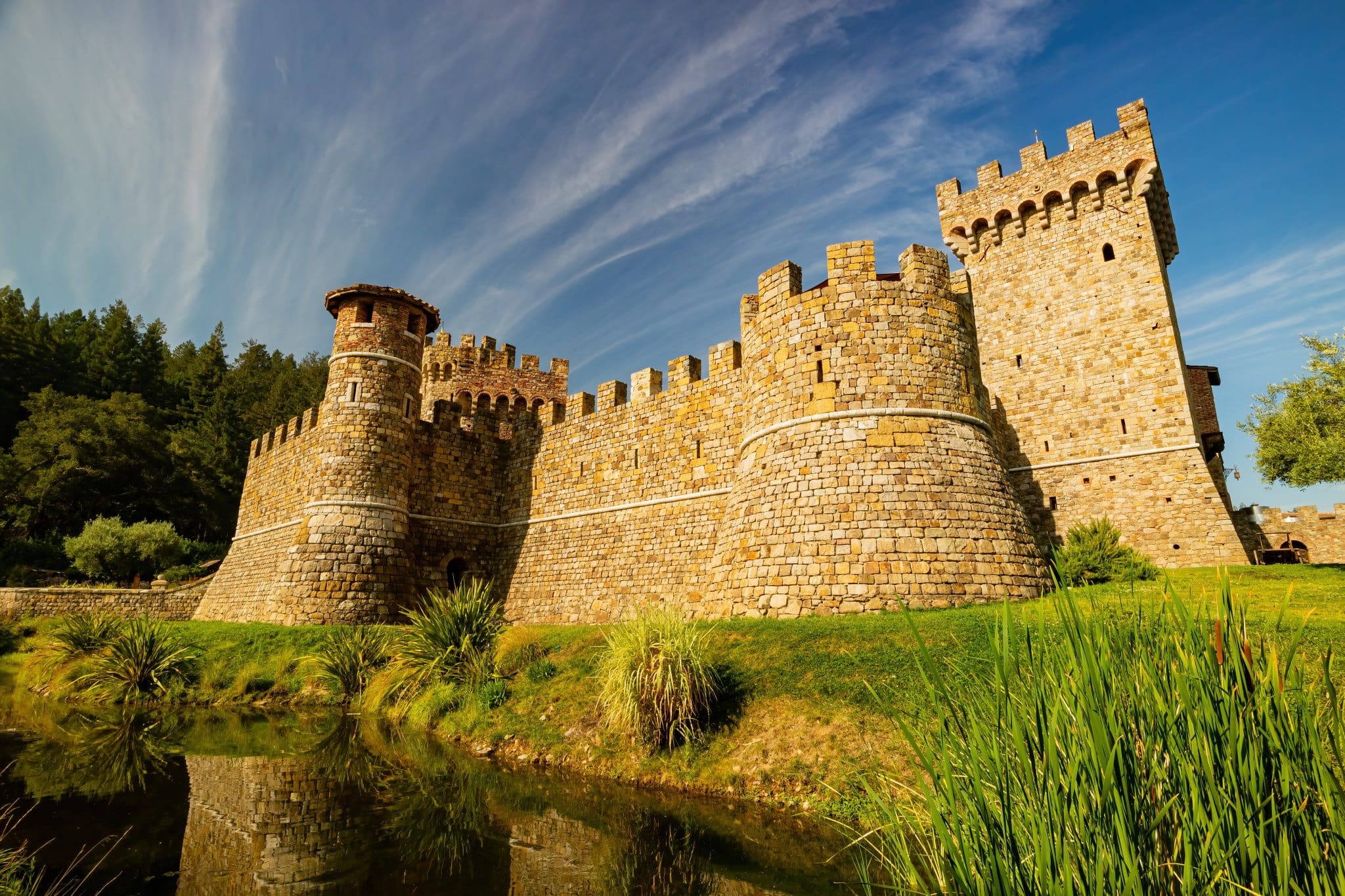 There's no need to hop over to Europe for storybook castles, you can find them dotted all around California. While you might not associate castles with sunny California, the Golden State has a few tricks up its sleeve. These impressive buildings might not technically be castles, but they're fit for royalty nonetheless. Curious to find out more? Here are 7 of the best castles in California.
1. Hearst Castle
Of all the castles in California, the Hearst Castle is likely the most well-known. Newspaper publisher William Randolph Hearst started building his Mediterranean Revival-style castle in 1919 because he wanted a "little something" in San Simeon. Hearst was one of the richest people of his day, and the structure ended up being far from little. Sprawling across 68,500 square feet, it has over 165 rooms and two huge pools. As if that wasn't impressive enough, the massive structure sits on top of a hill, giving it amazing views. The castle itself was designed by Julia Morgan, and it took her over three decades to complete. It's an impressive structure and luckily, it's open to visitors.

2. Rubel Castle
In Glendora, the Rubel Castle looks like something straight out of a fairy tale. It took 25 years, but Michael Rubel built this elegant castle completely by hand. Formerly a water reservoir, Rubel was considered a kid at heart who never grew out of his passion for building forts, which is how this structure came to be. He lived in his work of art until his death in 2007, and today guests can tour the two-acre castle. It has some unique features, including a water tower, windmill, swimming pool, cemetery, and fake canons.
3. Castello di Amorosa
Castello di Amorosa, also known as the Amorosa Winery Castle, is located in Napa Valley. The 13th-century castle covers 121,000 square feet with at least 107 rooms. It also has flour floors underground, so it's even bigger than it looks! It's the only authentic medieval Italian Tuscan castle and winery built in America, possibly the closest thing to a 'real castle' that you'll find in California. To add to its medieval look, it has a drawbridge, courtyard, church, and stable on-site. It officially lowered its drawbridge for business in 2007 and today it's known for hosting weddings, tours, and wine tasting.
4. Sleeping Beauty Castle
The Sleeping Beauty Castle in Disneyland might not be historical like the other buildings, but it's still a must-see. It's actually based on Neuschwanstein Castle in Bavaria, Germany which was built in the late 1800s.  It's only 77 feet tall, but it uses optical illusions to make it seem bigger. Walt Disney did want to make the castle even bigger than it is, but he feared it would overwhelm visitors. In truly 'castle-style', this castle does have a moat and a drawbridge. However, the drawbridge has only been down twice before. It's said that there's a secret attraction inside the castle, but not just anyone can access it.
5. Magic Castle
The Magic Castle is definitely not a typical castle, but being built in the Châteauesque architectural style has earnt its right on this list. It's a clubhouse for the Academy of Magical Arts, so it truly lives up to its name. Notoriously difficult to get into, it considers itself 'the most unusual private club in the world'. To get in, you need to be a magician and get a membership or join a lengthy waitlist. It's full of wacky attractions, like secret passageways, a piano-playing ghost, and a spooky phone booth. The castle even has a dress code that's strictly enforced. Unless you're a magician, it's unlikely you'll get in. But there is a Magic Castle Hotel nearby that could get you dinner and a show.
6. Lobo Castle
The Lobo Castle is located about 20 minutes from Malibu, in the Agoura Hills. Denise Antico-Donion had always been interested in medieval design and decided to build her own after a trip to Scotland. It's a more modern castle, having been completed in 2008. Antico-Donion calls the castle home, but everyone's invited to stay. Unlike the other castles in California, this one isn't open for public tours daily. But you can rent it as a vacation getaway or an event venue. How about that for feeling like royalty!
7. Knapp's Castle
Knapp's Castle in the Santa Ynez Mountains near Santa Barbara has been abandoned since 1940. A lot of the castle is no longer there, but what remains is truly enchanting. It was built in 1916, and in 1940, Frances Holden and famous opera singer Lotte Lehmann moved in. Sadly, only five weeks after Holden and Lehmann moved in, there was a fire at the castle that destroyed a good portion of the structure. Even though it remains on private property, it's open for tours. Being located in the Los Padres National Forest, it's become a popular hiking trail.