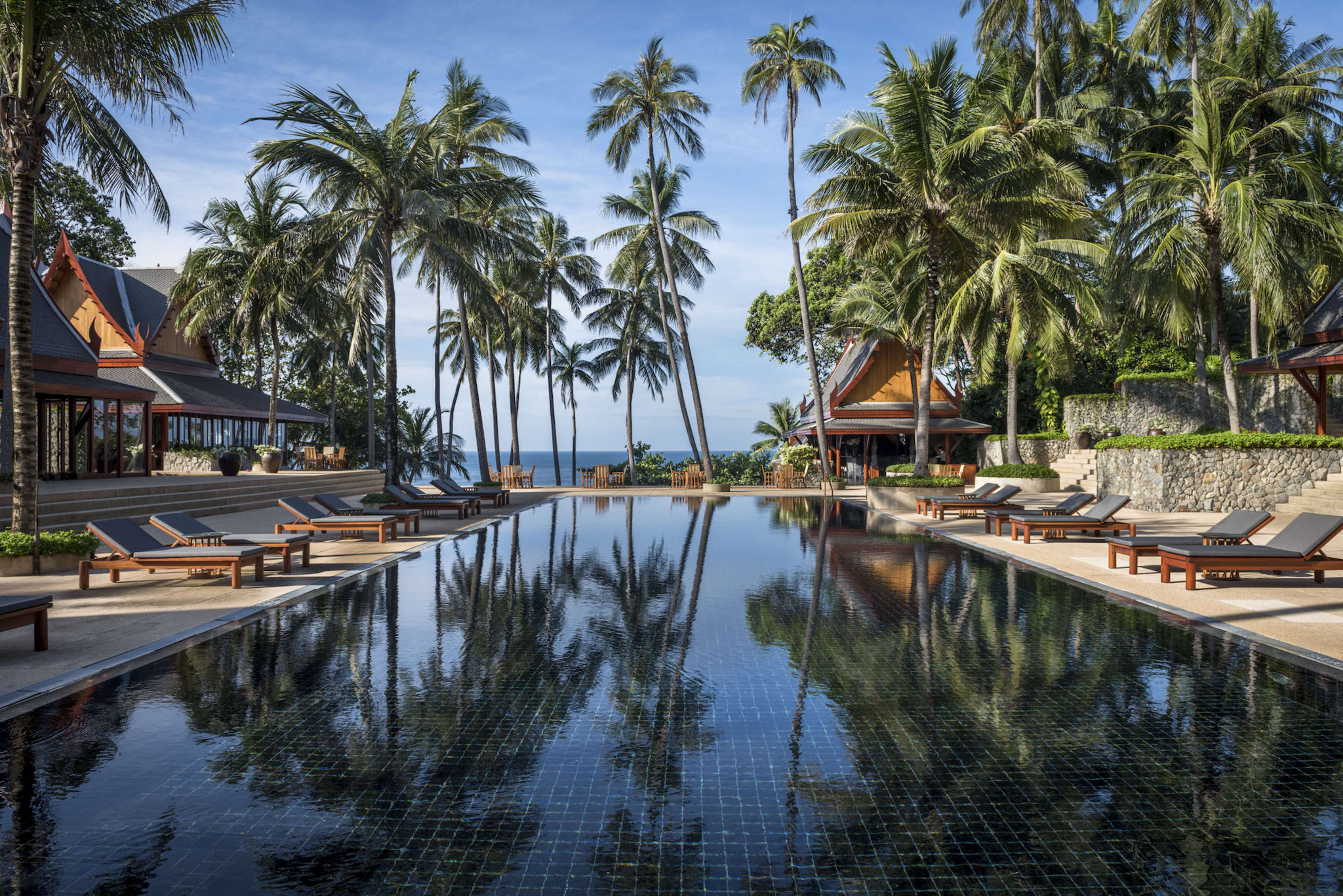 After two years in this pandemic, we all deserve an unplugged retreat to revitalise and reboot our systems.
With more and more VTLs from Singapore announced, the travel industry is beginning to flourish again. But if navigating a busy city or rushing through an itinerary sounds exhausting,  you might be doing it wrong — you need a wellness retreat. We don't mean a simple spa break but a getaway that targets your specific health concerns through tailored programmes that necessitate nutrition, fitness, therapies and meditation. Most of all, these afford you the time and space to slow down, recharge and refresh your body and mind. Such a Herculean treat requires only the very best, so we've picked the ten finest luxury wellness resorts in Asia.
Header image: Amanpuri Phuket 
The 10 best luxury wellness resorts in Asia:
It's hard to imagine anything more invigorating than a stay at Revivo – the word does mean "I'll live again" after all. Huddled in Nusa Dua's hills, Revivo's retreats are anchored on mind transformation to achieve optimal state of being. Check in to a minimum three-day programme if it's bad sleep, poor gut health, weight gain or stress that's ailing you, or have your experience customised to your specific health concern. Retreats are holistic in nature, and encompass nutrition, holistic treatments, and fitness classes. With  lavishly-appointed suites with private gardens and swimming pools, menus of fresh and wholesome produce, forest surrounds, the resort has all the trappings of your classic, wellness retreat. 
Address
Jalan Desa Sawangan, Benoa, Kec. Kuta Sel., Kabupaten Badung, Bali 80361, Indonesia
Chiva-Som's Hua Hin is one of Southeast Asia's most revered wellness destinations. Meaning "a haven of life", the resort first begun as a beachfront holiday home for its founder Boonchu Rojanastien, before he transformed it into a sanctuary for wellness-seeking individuals. Located on the pristine coast of Hua Hin, the resort is an opulent oasis with myriad fitness facilities, swimming pools and restaurants to complement your stay. Its retreats are personalised experiences that begin with a consultation with a wellness advisor to shape your stay and hang on six wellness tenets: Physiotherapy, holistic health, nutrition, fitness, spa and aesthetic beauty. These cater to a range of needs from the ailment-specific such as Migraine-Relief, Tension Release for people with high blood pressure and Cell Vitality for those in remission to more general health concerns such as Spa Wellbeing for those looking to relax.
Address
73/4 Petchkasem Road, Tambon Nong Kae, Hua Hin District, Prachuap Khiri Khan 77110, Thailand
The mystical Kingdom of Bhutan consistently ranks as one of the happiest places in the world, cementing its status as the perfect destination for spirituality seekers. Como Uma Paro is a serene landing point for your wellness journey. Perched on a hill overlooking the town of Paro, the property's clean-lined design of handcrafted stone, wood and tiles instantly puts one at ease for the calm awaiting inside. Outside of the guest rooms (made up of nine private villas and 20 rooms), serenity is found in its complimentary daily yoga classes, two private Bhutanese hot-stone bathhouses and an indoor pool with an al fresco sundeck adjacent to mountains across the valley. A full suite of therapies are available, but one must not leave without trying the Bhutanese Traditional Hot Stone Bath and Massage treatment that incorporates heated river stones to relieve aches and pains. For a holistic healing experience, check in for its Himalayan Wellness Discovery programme. Over the course of six nights, you'll enjoy morning yoga sessions, meditations in sacred monasteries, Ayurvedic treatments, nature hikes and spa therapies.
Address
Paro Valley Paro, 00000, Bhutan
Shed the stress at Amanpuri. Translated to a "a place of peace" in Sanskrit script, the sleek resort was the first of the Aman properties and boasts a design inspired by the ancient temple ruins of Ayutthaya. For maximum peace, it is located on a private peninsula in Phuket's west coast and is surrounded by turquoise waters with palm tree-studded shores. Every day at Amanpuri is a chance to heal, with guided meditation, spa treatments and nutritional meals essential to the programme.  Its wellness immersion programmes are available in the Original or Intensive options. The former span a minimum of three nights, and are based on screenings and assessments to instil change with shifting unwanted weight, detoxing for renewed awareness or managing stress. The latter, on the other hand, are five nights or longer and feature an in-depth medical consultation and examination on arrival, medical diagnostics, prescribed medical treatments, as well as a personalised nutrition plan and specialised treatments.
Address
Pansea Beach, 83110 Phuket Thailand
Lauded as one of the world's most beautiful destination spas, Ananda Spa is as close as you can get to heaven — it's situated on the Himalayan foothills in Northern India. Founder Ashok Khanna had one goal in mind for the resort: For it to be a hub of holistic wellness for the mind, body and soul. Surrounded by the mythical Sal forests and overlooking the Ganges river, the property boasts colonial hill architecture and is connected to the restored and resplendent Vicegeral Palace. Take your pick from 13 wellness packages — each of these target a different health concern, which ranges from a five-night fitness programme to a 21-day cleansing ayurvedic therapy, and are tailor-made by nutritionists, therapists and health consultants. The property has also added a Post Covid Rejuvenation programme, which entails a protocol to build immunity and revitalise through better nutrition, Ayurvedic therapies, herbal medicines yoga and pranayama.
Address
The Palace Estate, Narendra Nagar, Uttarakhand 249175, India
Kamalaya is as spiritual as it gets. Koh Samui, the island it sits on, is said to have a sacred energy that enriches and enlightens one's soul. The property also encircles a monk's cave, which carries centuries of spirituality and meditative energy. The resort champions the "unfolding of the human spirit"; wellness programmes are meant to deepen one's inner disposition, detox and counteract stress. One of its most rigorous programmes is the Comprehensive Detox, which features herbal remedies and supplements, and colon hydrotherapy sessions. Once the day is done, float in the rocktop pool villa perched above the coastline, or relax in your penthouse suite with stunning treetop views.
Address
102/9 Moo 3, Laem Set Road, Na-Muang Koh Samui, Suratthani, 84140, Thailand
More than two years were spent hunting for Santani's location, and the efforts paid off – the property is a former tea plantation, tucked into an unspoilt forest in Sri Lanka's spiritual heart. Do not expect opulent or plush furnishings here. Spread across 48 acres, the resort features deliberately minimally designed and naturally ventilated rooms devoid of televisions. WiFi is only available on demand to reward your mind with the rest it deserves. As its name, which means "in harmony with", suggests, reconnecting with your soul comes easy here with no distractions and views of a misty, surrounding mountain range. The resort recognises that no two bodies are alike, and curates each package according to your body composition, lifestyle, emotional state and future goals. The wellness experiences are available in a variety, with ayurveda, detox, healthy living, de-stress and yoga as the main ones. There are no strict, regimented routines here – you're free to choose, seek and thrive however you want.
Address
Aratenna Estate, 00013, Sri Lanka
45 minutes from the ancient city of Borobudur is MesaStila: A twenty-two hectare paradise encircled by eight volcanoes, gardens and thick vegetation. Only twenty-three villas are located on-site, with each paying homage to a bygone era. Some are built to resemble a Javanese antique Limasan, while others are like traditional Joglos. Retreats take on a pampering approach, with massages, hammam baths and calming therapies rostered in a schedule of activities. Those looking for a more intense weight management programme have fitness sessions included, while detoxing involves heat treatments to cleanse the lymphatic system and Javanese herbal remedies to boost your metabolism.
Address
Jl. MesaStila Jl. Losari, Rw.3, Losari, Kec. Grabag, Kabupaten Magelang, Jawa Tengah 56196, Indonesia
One wouldn't typically think of Ipoh as a wellness hub but The Banjaran Hotsprings proves its naysayers wrong. Nestled amid a deep valley, the resort is blessed with otherworldly surrounds. It's cradled by 260 million-year-old Paleozoic limestone hills, rainforests, geothermal hot springs, natural caves and waterfalls. Your personal restorative journey hinges on detoxification, longevity, rejuvenation, weight management and fitness. These can vary between two to 21 days, and depends entirely on your needs. Whatever abode you choose, the massive garden, lake and water villas come equipped with king-sized beds topped with rich-linens and thick mattresses, private pools and gardens.
Address
1, Persiaran Lagoon, Sunway 3, 31150 Ipoh, Perak, Malaysia
A recent rebranding from the former Fusion Maia Resort has birthed Tia Wellness Resort. The chic property now sports white and neutral furnishings and exteriors for its elegant private pool villas. While it is easily located near three UNESCO sites, its star attraction for the weary is its wellness programmes, which are more than spa holidays. The four-day, three-night Creative Possibility retreat is available in two variations. Stillness are for those who wish to reconnect with themselves and learn mindfulness, while Splash is designed for those searching for purpose and motivation. Guests will experience two wellness therapies per night and be led by their own personal TIA wellness guide who will customise their wellness journey, including plant-based full-board meals.
Address
109 Võ Nguyên Giáp, Khuê Mỹ, Ngũ Hành Sơn, Đà Nẵng 557276, Vietnam
The post 10 luxury wellness resorts across Asia for detox retreats appeared first on Prestige Online – Singapore.