Today, on Place de la Madeleine, where it has shone in a Haussmann-style building since 1953, time seems to have had no hold on the Kaspia setting, which has since conformed to what its founder imagined almost a hundred years earlier. The house has remained a family business and its current owner, Ramon Mac Crohon, intends that it should lose none of its charm. After the ground floor shop, which is full of delicious dishes (caviar, smoked fish…), the restaurant on the first floor still has its emblematic "Troika" on the wall, a precious painting by Nicolas Swertschkoff, painter of the Imperial Court, better known for having immortalized battle scenes than such charming shows. In the display cases too, the antique porcelain and even the seal of Nicolas II hold their place. The place, renovated almost imperceptibly every year, stands out as the guarantor of an incredible tradition and the memory of fabulous stories. Here seems to float the soul of the Ballets Russes, princesses, painters and poets, as well as the greatest names in couture, whose label will always remain as mythical as the Parisian institution to which they were accustomed. Today, moreover, tradition obliges, Caviar Kaspia, which regularly welcomes the greatest stars of the time, is also recognized worldwide as THE "French fashion canteen", particularly in times of "fashion week". To its credit, its delicacies, its unique setting, its atmosphere as muffled as it is festive, and – an important quality – its discretion, even beyond its private rooms. Even if the place is a must when it comes to sublimating the party, no pictures are taken here and nothing filters out the incredible evenings that bring together a chic and heterogeneous assembly that would have something to panic Instagram. But there's no question of cutting ourselves off from modernity for all that. Installed since 2018 under the dome of the Galeries Lafayette Haussmann, the Caviar Kaspia house has thus multiplied the number of one-off events, from the opening of restaurants and pop-up boutiques (New York, Monaco…) to the launch of new references and limited editions created with renowned artists, creators and designers such as Giambastista Valli, Carine Roitfeld or Olympia Le Tan. Not to mention the recent collaboration with Jacquemus for Lemon and Sea Urchin, where on the most beautiful avenue in the world, the Slavic institution looks out over the Mediterranean. In the light of black gold, a perfect alchemy between yesterday, today and tomorrow.
Quelques dates …
1927
Fondée par un émigré russe, Arcady Fixon, au début des années 20, la Maison Kaspia se situait originellement rue des Mathurins, avant de s'installer, en 1953, au 17 place de la Madeleine. Peuplé de souvenirs évoquant la Grande Russie, ce lieu devint au fil des années le rendez-vous des plus grands amateurs de caviar authentique.1929
Ouverture d'un luxueux magasin près de l'Opéra à Paris. Des amis de la Maison, invités le plus souvent, consomment joyeusement Caviar, Vodka et Champagne. C'est la grande époque des ballets russes de Monte-Carlo : Diaghilev, le jeune Lifar, les peintres Korovine, Mokovski, Lakovlev (auquel Kaspia doit son ancien logo) s'y succèdent parmi tant d'autres émigrés russes aux grands titres, mais souvent dans la gêne.1930
Kaspia s'implante à Nice puis à Cannes. Création des bars automatiques réfrigérés distribuant des sandwiches au Caviar.1939
Pendant la guerre, Kaspia vend du Caviar de la Gironde.1947
Les importations de Caviar Russe reprennent. La consommation ne cessera alors de croître.1953
Le Président de Kaspia, Arcady Fixon, installe la société au 17 place de la Madeleine, ouvre une boutique au rez-de-chaussée et un restaurant au premier étage. Arcady Fixon s'est éteint dans les années 70. Le restaurant rénové et agrandi conserve dans les moindres recoins l'atmosphère que son fondateur a voulu lui donner : une tranquille sérénité dans un décor chaud, peuplé de souvenirs de la Grande Russie indissolublement liés à ce mets légendaire qu'est le caviar.1987
Kaspia ouvre un restaurant à Londres, réplique du Kaspia Madeleine, avec les mêmes boiseries, mêmes tons chauds, mêmes vitrines s'enrichissant année après année d'authentiques objets d'art russe.1995
Lancement de l'activité Réception pour tous types d'événements de 20 à 6000 convives.1997
L'esturgeon devient une espèce rare et protégée avec la conclusion de la Convention Internationale CITES. Elle vise à assurer la pérennité de l'espèce, mise à mal par la surexploitation due au braconnage dans la mer Caspienne. Les amateurs de caviar seront rassurés : ce produit exceptionnel ne disparaîtra pas. Kaspia fête ses 70 ans en rénovant entièrement le restaurant de la place de la Madeleine. La tradition est sauvegardée pour faire valoir toute son âme.1999
Tourné vers l'avenir, Kaspia lance son nouveau site web sur Internet proposant la vente en ligne de toute la gamme des produits Kaspia : caviar, saumon fumé, médaillon de langouste, crabe du Kamchatka, foie gras, jambon Ibérique, …2000
Après avoir suivi de près l'évolution récente de la production du caviar de France, les spécialistes de Kaspia lancent leur sélection de caviar français de qualité, provenant de la région aquitaine. Et c'est au tour de Kaspia Londres de se rénover, tout en gardant intact la tradition et l'esprit du restaurant de Bruton Place à Mayfair !2001
Installation des corners Kaspia. Lancement de la signature Kaspia "Par Amour, par, Passion, par Folie"2002
Ouverture du Corner Kaspia aux Galeries Gourmandes, au Palais des Congrès de Paris.2004
Lancement de la nouvelle identité visuelle Kaspia. Mise en place d'une gamme de produits secs d'exception à la griffe Kaspia.
First opened in 1927 by Russian émigré Arcady Fixon, this discreet but prominent fixture on the Paris scene has been situated in its current spot since 1953. And although we love its old world elegance – it instantly appealed to the city's Russian aristocracy and members of Paris' privileged society – the restaurant attracts a decidedly more contemporary, Céline-clad crowd today.
Jay-Z and Beyoncé can be found among members of the Parisian style set, including everyone from Betty Catroux and Ines de la Fressange to Sofia Coppola and Charlotte Gainsbourg. And once a favorite dining spot of the late Yves Saint Laurent, it attracts fellow designers, such as Tom Ford and Giambattista Valli, as well as brands, who often host dinners there. Even on a regular night, it's not uncommon to have Grace Coddington to your right and Carine Roitfeld at your left.
Despite the changing face of its clientele, the atmosphere at Caviar Kaspia has remained constant over the decades, and its inherent sense of camaraderie keeps us, and the fashion crowd, coming back.
Perhaps its popularity is due to the fact that the restaurant manages to successfully maintain an air of exclusivity and secrecy, despite its prominent position in the 8th arrondissement. It is accessed through the caviar shop on the ground floor and up flight of narrow wooden stairs, and the intimate décor gives the space the feel of a private members club, rather than a public restaurant.
Numerous benefits
Caviar is thus an exceptional food, not only because of its rarity but also because of its nutritional value.
The nutritional values of caviar are numerous and precious: it is a very nourishing food with a subtle taste and a tasty aroma. Sturgeon eggs have even more gastronomic, stimulating and nutritional qualities than the sturgeon from which they are extracted. It is a product full of vitamins, phosphorus and protein and is low in calories. Rich in omega 3 and good polyunsaturated fats, it has been used for centuries as a product with aphrodisiac and energizing virtues.
Caviar is therefore ideal for health and fitness. In the Caspian Sea region, it was sometimes prescribed to sick people after an operation or to children suffering from weight loss. Caviar has the same vital substances as the skin in greater quantities. It is therefore a product often used in the development of cosmetics in order to give a new youthfulness to the skin.
Rich in Omega 3, vitamin D, phosphorus and amino acids – an important player in anti-ageing care – caviar is full of qualities. Add to all this its refinement and exquisite taste, and that makes it a delicacy to be consumed without moderation!
AMINO ACIDS: HISTIDINE, ISOLEUCINE, LYSINE, METHIONINE, ETC.
Amino acids have all kinds of roles in the human body. Recently, we are seeing a certain craze around these amino acids, for their inclusion in body creams and anti-wrinkle creams.
OMEGA 3 AND LECITHIN
Its anti-inflammatory action has a great protective value against several medical conditions. Indeed, Omega 3 is very popular among people suffering from heart problems, mental disorders or depression.
Very rich in choline and inositol, lecithin is essential to our body. Thanks to these components, it contributes to the construction of cell membranes and plays an important role in reinforcing skin protection against dehydration.
VITAMIN B12 AND VITAMIN D
Best friend of depression and mental illness, vitamin B12 is indicated to improve mental and sports performance and to give a little boost to tired souls. Vitamin D, for its part, has the advantage of increasing immune activity.
PHOSPHORUS
Along with calcium and magnesium, phosphorus is an essential component of bone cells: about 85% of the phosphorus in stock is associated with calcium in the bones. It is also an essential component of all cells.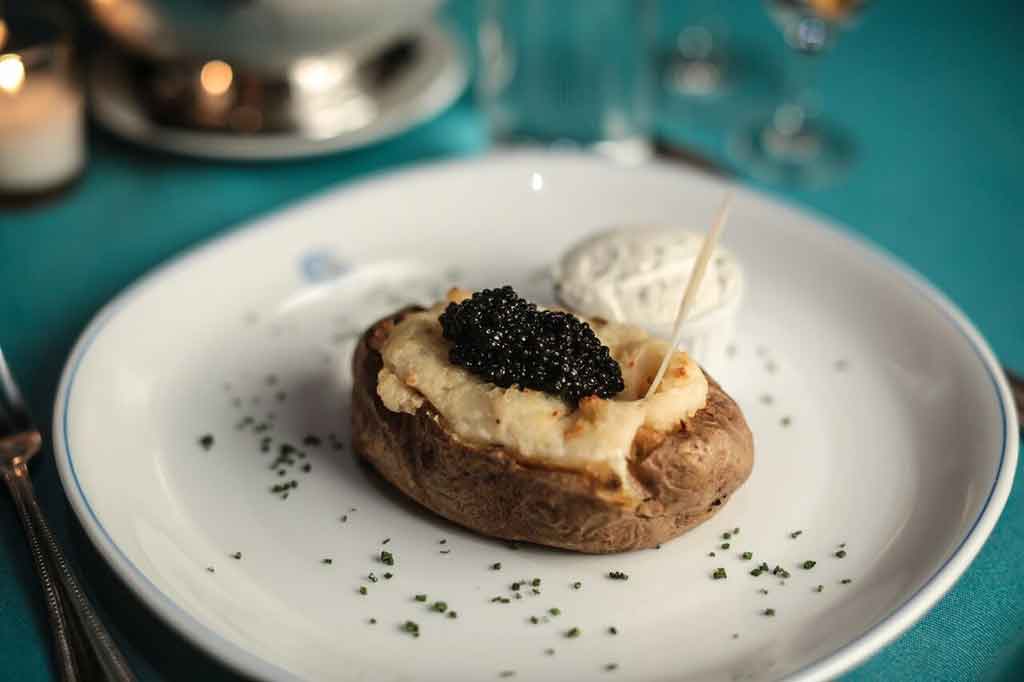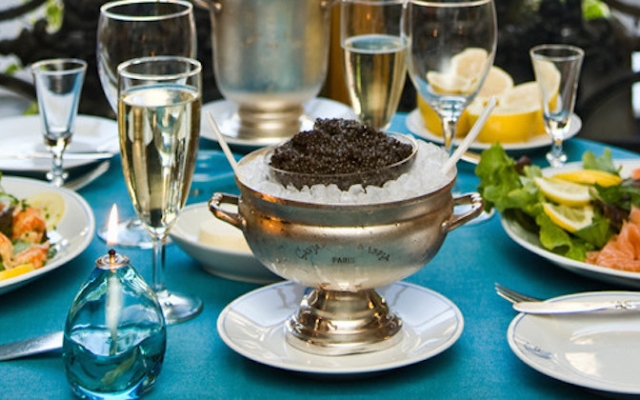 The regulars on the first floor of 17 Place de la Madeleine know it: at Caviar Kaspia, we toast and dine, but we also have vodka for lunch. First of all, because in such an authentic universe, it would be incongruous to deviate from an indisputable Slavic ceremony. But also, because to accompany delicious potatoes with caviar, we can't imagine anything better than the homemade "little water" that is served here in pretty carafons. The shop on the ground floor is the perfect place to take home and let others discover this exceptional vodka. But in fact, this is also a problem for true connoisseurs, since until today, it was only available here, and of course, you don't always have the time to make the trip. It was therefore by general demand that the Parisian institution finally decided to extend the range of possibilities. As of this autumn, its mythical vodka will finally be available in a selective distribution network.

If the restaurant Caviar Kaspia contains magnificent works of art (paintings, engravings, porcelain …) brought from Moscow or St. Petersburg after the Revolution by a few white Russians, it is also to one of them that we owe the perpetuation of this ancestral vodka. This one, who had taken the precious recipe with him in his luggage and had kept it jealously for a few years, had the idea when he discovered the magic of the restaurant of Arcady Fixon, founder of Caviar Kaspia, to share it with him to finally reproduce this perfectly unique elixir. In 1927, the original awake formula, which became Kaspia Vodka, achieved the ingenious feat of encasing in a bottle the magic of a vodka like no other, powerful, mysterious and delicate at the same time, and the soul of a place full of subtlety and wonderful stories. Produced exclusively in Poland, as is customary, it is characterised by its rare purity. It is made from the best rye – harvested from a single, carefully selected farm – to obtain a brandy that is distilled no less than five times, and also benefits from the exceptional quality of a spring water that dates back to the Cretaceous period. The ancestral formula doing the rest, Kaspia vodka offers a taste of a rare sweetness, with a subtly spicy final note, which makes it definitely incomparable.
An art of living
Because the container had to match the contents, Kaspia vodka will now benefit from a bottle decorated with the famous illustration already found on the house's caviar tins. Designed by one of its regulars on a table in the restaurant, this flamboyant vessel, inseparable from the institution since 1929, will also find its place on the box containing the bottle. A model of glamour and sophistication, in the image of the high place whose colors it bears. But it is also the hallmark of a certain art of living, which means that elegance isn't just in appearances. With its exceptional quality, Kaspia vodka is in keeping with the spirit of the times, which wants us to take care of ourselves, starting with the choice of what we consume. As such, the most authentic recipes have never been more up-to-date. There is still the magic, the "twist", the inexplicable soul of this rare beverage, which, after you have tasted it, will give you the impression that you finally understand what, for true connoisseurs, vodka can be so special.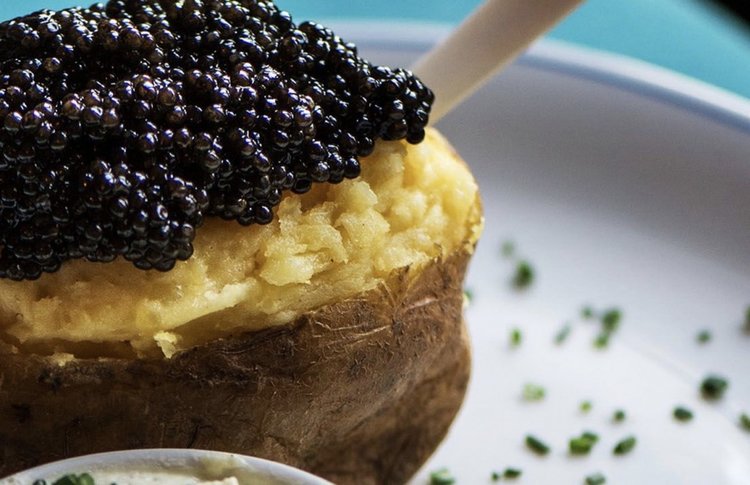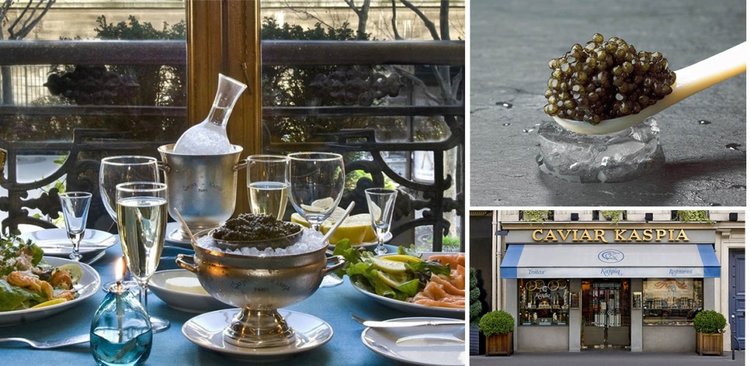 Our caviar-topped baked potato arrives, just in time. With the slimmest of windows between Dior and the Giambattista Valli shows, we've just dashed over to Caviar Kaspia at Place de la Madeleine – known as the fashion professionals' canteen – for a taste of what has become the restaurant's cult classic. But as we take our first bite of caviar and fluffy potato, we notice several well-known fashion editors finishing up. How did they manage that? Did they miss Dior? Unlikely, but the industry's unfailing allegiance to this little bit of Russia in the heart of Paris is intriguing. In honor of the spring/summer 2016 Haute Couture shows that started in Paris this week, we examine why this niche restaurant has us returning.